Ten things under $5 you need in your horse show bag
Can you say stocking stuffers? Consider these 10 perfect stocking stuffers under $5 for the horse lover in your life.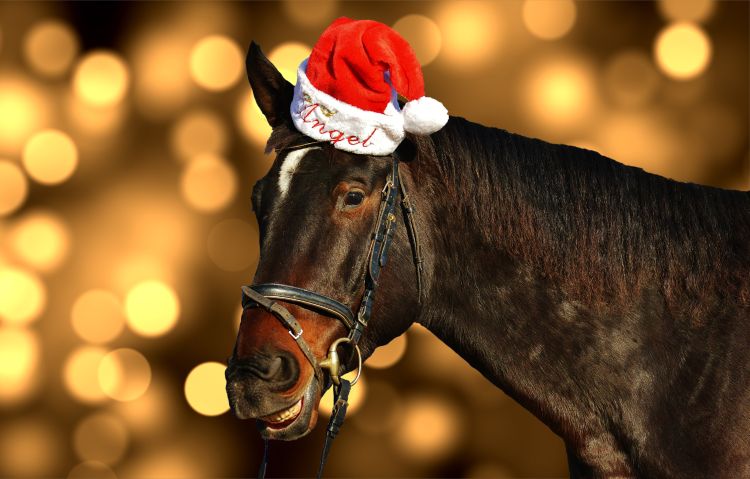 Many of us are eagerly awaiting the upcoming holidays. With that anticipation, many are also experiencing gift shopping anxiety. What in the world do we get for the special people in our lives? How do we get them something thoughtful while staying within a strict budget? I'm here to tell you that if you have a horse show enthusiast on your holiday shopping list, this article is just what you've been searching for.
In addition to great gift ideas, this article is scattered with horse show tips that will help you and your equine partner look their best in 2017. Michigan State University Extension suggests the following 10 things under $5 for that horse-crazy person in your life.
Baby wipes. As a mother of two, I've discovered the need for baby wipes in every area of my life, and the horse show is no different. Whether it's wiping off a horse's dirty muzzle, a smear of lipstick from your cheek, dust from hunt boots or cleaning your hands before grabbing a lunchtime snack, baby wipes are great to have on hand. Be sure to get the resealable package so your wipes remain moist and useable throughout the show season.
Baby powder. This is an underutilized, yet inexpensive product that can work miracles. If your horse has white socks, then this is a must-have. Do you have a white or gray horse that likes to lay in a dirty stall? This may help you as well. After clipping and cleaning the white socks, apply baby powder liberally to the sock to brighten it, which will result in an overall more polished final look. You'll want to make this application close to show time, and potentially repeat throughout the show day. Be sure to walk the horse in a small circle after initially applying the baby powder to allow for the excess powder to fall off. Grab a baby wipe to wipe any remaining powder off the hooves before using any other products on the hooves.
Baby oil gel. Are you seeing a theme yet? It's OK, this is the last "baby" item, I swear. I use this product in lieu of "face grease." I find it to be very safe, even horses with sensitive skin, very inexpensive and comes in a variety of scents. To apply, start with a small amount (diameter of a quarter) in the palm of your hand. Rub your hands together to spread evenly before gently rubbing it on your horse's muzzle, then over their eyes, and then any small amount remaining on your hands onto their ears. If you haven't clipped your horse well, this can make the hair look greasy, especially if over used on their ears. This product, and any similar product, looks much better on a well-trimmed face.
Disposable razors. Speaking of trimming, I like to keep a few disposable razors in my tack box at all times. After using the large clippers to trim off my horse's long whiskers, I then use a razor—similar to something you may use on yourself—to go over my horse's muzzle gently. Keeping the razor lubricated will help it more safely glide around your horse's muzzle. Does it seem like we're getting too picky or splitting hairs (see what I did there?)? It's important to keep in mind these details will add up to a more finished and polished final look. As I've said in my previous articles, try to do all the free or nearly-free things to help you and your horse stand out in the show ring. The more costly things can be invested in over time.
Invisible hair nets and…
Bobby pins. If you haven't read my article on horse show hair, bookmark that now. It gives you a step-by-step tutorial on how to achieve the ideal look. Inexpensive, invisible hair nets are the absolute key to having polished horse show hair. Can we all agree to not use the big, crocheted bun sacks? Please, do it for me. No one wants to see a big, bulky, colorful net on a ballerina—same goes in the show pen.
Vet wrap. This product, which you can often find on the prize table at any show, can come in handy for a number of reasons. Besides its intended use of bandaging wounds, one popular use is to quickly wrap around a tail. Wrap the product once or twice around the middle of a horse's tail while it's in the stall or on a break between classes. This will prevent the tail from getting tangled, saving you from a mess to take care of before your next class. Another "pro-tip" is for the showmanship ring. Many times you'll see top exhibitors wrapping the tops of their cowboy boots more tightly to their calves with this product. This will create a more streamline look, allowing your pants to fall neatly along your leg, and your boots won't show at the bottom of your pants. What makes this product so user-friendly is how it sticks to itself and doesn't leave a sticky residue or pull hair off when removed.
Large safety pins. Every seasoned horse show exhibitor has a container full of very large safety pins in their tack boxes. These are imperative for pinning on your number, especially on your thick saddle pad, which can be difficult for a smaller pin. Ideally, you'll have enough pins and printed numbers so you don't have to keep removing them from outfits and saddle pads throughout the show weekend. While many people are fans of the decorative magnets for holding on back numbers, personally I don't prefer them. They allow the number to shift and could result in a crooked back number. One benefit is that you don't have to poke a pin through delicate or expensive show clothing.
Scissors. While I may not be able to list all of the tasks you'll need a nice pair of sharp scissors for, trust me when I say they'll be needed often. Cutting bailing twine, trimming manes and tails, opening packages—you'll need a good pair of scissors to be designated for your horse show bag.
Peppermints. Or really any similar, non-perishable treat. It's great to have something to "thank" your horse for a job well done. If you need to freshen up your breath, you're set too!