The 2012 Great Lakes Education Program – don't miss the boat!
The Great Lakes Education Program begins its 22nd year of advancing Great Lakes literacy among K-12 students throughout Southeast Michigan.
Since 1991, the Great Lakes Education Program (GLEP) has introduced more than 87,000 K-12 students, teachers and adult chaperones to the unique features of the Great Lakes through a combination of classroom learning and hands-on experience. The program is designed to stimulate interest in the Great Lakes and help students and adults understand their role in protecting these vital freshwater resources.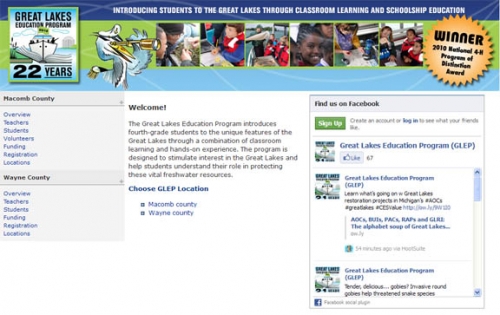 Winner of both the John A. Hannah Award for MSU Extension Program Excellence and a National 4-H Program of Distinction Award, the Great Lakes Education Program is seen as a leader in vessel-based education. Developed as a collaborative effort between MSU Extension, Michigan Sea Grant, the Huron-Clinton Metroparks, the National Oceanic and Atmospheric Administration, and a host of K-12 teachers and education specialists, it has served as a national model for implementing effective vessel-based education, as when in 2001, Texas Sea Grant used the GLEP as the developmental model for its Floating Classroom Program.
The GLEP has documented program outcomes through university research and seasonal assessments. Michigan State University research, focusing on student participants, found a highly significant increase in student Great Lakes knowledge and a significant increase in girls' positive attitudes toward the Great Lakes. A second MSU study investigated ways to strengthen GLEP education and ensure the sound development of similar programs in the Great Lakes region. And a third MSU study found participants effectively shared knowledge learned with family members and friends, and the parents of participants scored significantly higher on the Great Lakes behavior intentions scale than parents of non-participants.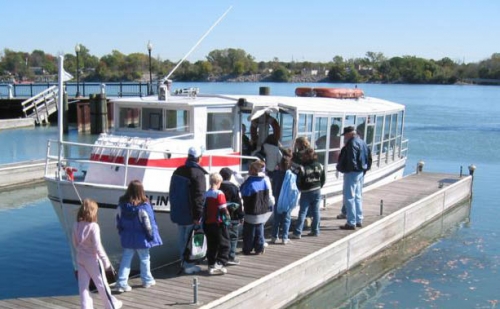 Annual seasonal evaluations are conducted with GLEP teachers and adult chaperones. Teacher evaluations have shown that their participation results in a high incidence of increased Great Lakes subject matter used in the classroom. Teachers also report the GLEP curriculum provides excellent support for addressing Michigan's Grade Level Content Expectations and Great Lakes Literacy principles. The 2011 teacher evaluations found that following GLEP participation, 88% felt a greater responsibility for the Great Lakes; 80% included more Great Lakes science content in their classroom; and 22% involved their students in Great Lakes stewardship activities.
The 2012 Great Lakes Education Program begins its 22nd year this April and classes can still register for both our Lake St. Clair and lower Detroit River locations. For more information or to register, go to www.glep.us. And be sure to check out other opportunities MSU Extension and Michigan Sea Grant offer to learn more about our Great Lakes, such as our Summer Discovery Cruises, 4-H Great Lakes & Natural Resources Camp, and Teaching with Great Lakes Data workshops.
---