The 2013 Summer Discovery Cruises season approaches – don't miss the boat!
The 2013 Summer Discovery Cruises season will offer new opportunities in Southeast Michigan to learn about the Great Lakes by being on the Great Lakes. Registration is open!
Since 2002, some 12,000 informal learners have been introduced to the wonders of the Great Lakes through the Summer Discovery Cruises program. These educational cruises, offered on Lake St. Clair, the Detroit River and Lake Erie, are designed to stimulate an interest in the Great Lakes and help both young and old understand their influences on the Great Lakes, and the Great Lakes' influence on them.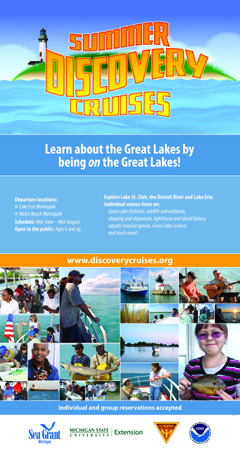 Developed as a companion to the Great Lakes Education Program, Summer Discovery Cruises are a collaborative effort between Michigan State University Extension, Michigan Sea Grant, the Huron-Clinton Metroparks, the National Oceanic and Atmospheric Administration, and a number of program partners, including DTE Energy, Michigan DNR, the Detroit River International Wildlife Refuge, and the National Weather Service. Additional funding is provided this year by the Great Lakes Restoration Initiative. This summer, twenty-six different cruise themes will allow participants to learn about a wide range of Great Lakes topics. New for 2013 is the War on the Waterfront cruise, which looks at how the War of 1812, World War II, and even the American Civil War all shaped the Detroit River and western Lake Erie.
Favorite cruises from previous seasons will again be offered and will explore the Great Lakes fishery, the use of Remotely Operated Vehicles (ROVs), coastal wetlands, Great Lakes lighthouses, shipwrecks, the Great Lakes' influence on weather, how teachers can use Great Lakes science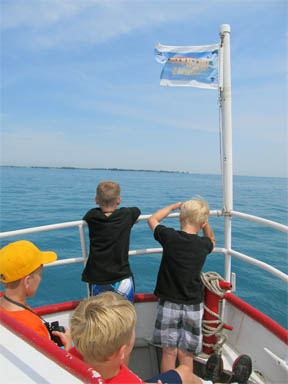 in the classroom, aquatic invasive species, and much more.
Evaluations of the Summer Discovery Cruises program have documented positive program outcomes that are both widespread and significant. Data from 2012 participants show that 93 percent felt a greater responsibility for the Great Lakes following their participation, 90 percent shared information learned, 74 percent sought more information on Great Lakes topics of interest, and 24 percent engaged in new Great Lakes stewardship activities.
The 2013 Summer Discovery Cruises season begins July 12 and registration is open for both individuals and groups. For more information or to register, go to www.discoverycruises.org. And be sure to check out other opportunities MSU Extension and Michigan Sea Grant offer to learn more about our Great Lakes, such as through our 4-H Great Lakes & Natural Resources Camp, Great Lakes Education Program, and the new Center for Great Lakes Literacy.
---