The 2015 State 4-H Horse Show was a success
The 2015 State 4-H Horse Show resulted in three days of intense competition at the MSU Pavilion.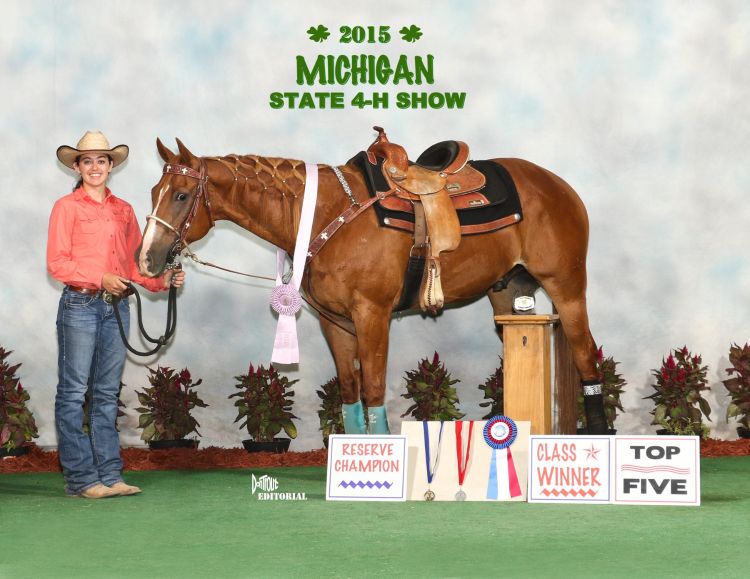 The 2015 Michigan 4-H State Horse Show drew to a close Sunday, Aug. 9, at the Michigan State University Pavilion for Livestock Education Pavilion in East Lansing, Michigan. The State 4-H Horse Show is an annual, three-day event that brought together roughly 590 4-Hers from 48 counties across Michigan. Members are selected by their county 4-H programs to participate in this event. Competing at the show and being able to represent their home county is a great honor for youth.
Over the three-day show, members compete in English, dressage, western, trail, jumping and gymkhana with some of the most accomplished young equestrians in Michigan. Many have spent months, even years, preparing themselves and their horses or ponies for the show in hopes of bringing home a gold medal or even being named a state champion. In addition, the State 4-H Miniature Horse Show takes place in the south barn of the MSU Pavilion on Saturday, Aug. 22.
What is unique about the State 4-H Horse Show is that it is almost entirely run by volunteers. A committee of approximately 15 family and friends of 4-H from across the state come together during two annual meetings to plan and run the show. When the actual event occurs, an additional 135 individuals step up to make the event happen. It is truly a "Michigan 4-H" show. Without their help and the support of the many sponsors and commercial vendors, the show simply could not occur.
For information on the 2015 State 4-H Horse Show, including complete results, please visit the MSU Department of Animal Science's Horse Youth Programs webpage. For more information on the Michigan 4-H Horse Program, contact your local Michigan State University Extension county office. Professional photos by Don Trout Photography of champions and reserve champions for press purposes are available upon request. Please contact me at tenlenta@msu.edu for more information.
2015 State 4-H Horse Show champions

Class

Exhibitor name

County

Final placing

Gymkhana Showmanship

Elaine Schwingel

Lenawee

Grand

Lily Atkinson

Ottawa

Reserve

Samantha White

Lapeer

3

Kyle Russell

Branch

4

Speed and Action 16-19

Amanda Brandt

Lapeer

Grand

Regina Scharboneau

Monroe

Reserve

Bailey Brown

Isabella

3

Kaitlyn Britten

Clinton

4

Megan Opheim

Macomb

5

Keyhole 16-19

Abigail Byers

Tuscola

Grand

Tyler VanVelsen

Barry

Reserve

Ana Moreno

Kent

3

Justin Dewitt

Montcalm

4

Marissa Marz

Huron

5

Indiana Flag 16-19

Kaitlyn Britten

Clinton

Grand

Brianna Tramelli

Lenawee

Reserve

Colin McGeen

Oakland

3

Amanda Brandt

Lapeer

4

Julia Boyce

Tuscola

5

Cloverleaf Barrels 16-19

Regina Scharboneau

Monroe

Grand

Kaelyn Green

Tuscola

Reserve

Jessica Ziegler

Monroe

3

Brianna Tramelli

Lenawee

4

Lauren Voelker

Mecosta

5

Pole Bending 16-19

Jessica Ziegler

Monroe

Grand

Taylor Holcomb

Hillsdale

Reserve

Ana Moreno

Kent

3

Kaitlyn Jansen

Montcalm

4

Regina Scharboneau

Monroe

5

Speed & Action 13-15

Jasmine Atwell

Clinton

Grand

Shannon Good

Kent

Reserve

Aubrieana Sanchez

Gratiot

3

Conrad Strecker

Saginaw

4

Emma Holden

Allegan

5

Keyhole 13-15

Kali Reeg

St. Joseph

Grand

Lexie Edick

Gladwin

Reserve

Megan Zinsmaster

St. Joseph

3

Destiny Schmidt

Lenawee

4

Shannon Good

Kent

5

Indiana Flag 13-15

Ronald Sarka

Lapeer

Grand

Kaycee Paksi

Gratiot

Reserve

Ben Littlefield

St. Joseph

3

Mackenzie Lambka

Eaton

4

Aubrieana Sanchez

Gratiot

5

Cloverleaf Barrels 13-15

Kaycee Paksi

Gratiot

Grand

Hunter Hayes

Eaton

Reserve

Shannon Good

Kent

3

Shannon Carey

Montcalm

4

Kali Reeg

St. Joseph

5

Pole Bending 13-15

Kaycee Paksi

Gratiot

Grand

Ronald Sarka

Lapeer

Reserve

Ben Littlefield

St. Joseph

3

Jessica Holcomb

Hillsdale

4

Justin Clark

Hillsdale

5

Showmanship 16-19

Micah VanLaar

Kent

Grand

Michelle McDowell

Barry

Reserve

Caitlyn Myers

Midland

3

Nicole Musgrove

Oakland

4

Emily Brines

Midland

5

Hunt Seat Pleasure 16-19

Charlotte Chubb

Kalamazoo

Grand

Chandler Benham

Lenawee

Reserve

Micah VanLaar

Kent

3

Austin VanVelsen

Barry

4

Jennifer Hall

Calhoun

5

Saddle Seat Pleasure 16-19

Melanie LeDuc

Macomb

Grand

Abigail Peterson

Muskegon

Reserve

Caitlyn Myers

Midland

3

Jasmine Shubel

Sanilac

4

Hunt Seat Equitation 16-19

Jordan Hirst

Washtenaw

Grand

Micah VanLaar

Kent

Reserve

Kendall Gesek

Washtenaw

3

Hannah Draigh

Kent

4

Julia Green

Ottawa

5

Saddle Seat Equitation 16-19

Emma Buist

Ottawa

Grand

Melanie LeDuc

Macomb

Reserve

Caitlyn Myers

Midland

3

Katelyn Green

Calhoun

4

Western Pleasure 16-19

Chandler Benham

Lenawee

Grand

Anna Orr

Lenawee

Reserve

Samantha Drake

Clinton

3

Jordan Hirst

Washtenaw

4

Haley Kopkau

Iosco

5

Western Horsemanship

Taylor Schrock

Washtenaw

Grand

Jordan Hirst

Washtenaw

Reserve

Kelsey Prosch-Jensen

Barry

3

Emily Brines

Midland

4

Kali Smolen

Kent

5

Showmanship 13-15

Cassidy Ryder

Ottawa

Grand

Cassie McNeil

Ingham

Reserve

Stefanie Beckley

Muskegon

3

MacKynzie Slatinsky

Monroe

4

Natalie Baker

Ingham

5

Hunt Seat Pleasure 13-15

Peyton Zorn

Monroe

Grand

Madison Jonkman

Kalamazoo

Reserve

Olivia Hock

Kent

3

Jordan Kok

Ingham

4

Cassie McNeil

Ingham

5

Saddle Seat Pleasure 13-15

Felishia Block

St. Clair

Grand

Jenna Swinkowski

Macomb

Reserve

Alexis Coates

Calhoun

3

Camryn Mallery

Genesee

4

Kayla Brown

VanBuren

5

Hunt Seat Equitation 13-15

Peyton Zorn

Monroe

Grand

Jordan Kok

Ingham

Reserve

Averie Latson

Livingston

3

Hannah Flickinger

Kalamazoo

4

Athena Lewandowski

Washtenaw

5

Saddle Seat Equitation 13-15

Maddie Nowosielski

Lenawee

Grand

Taryn Frey

St. Clai

Reserve

Felishia

Block

3

Emily Kragenbrink

Jackson

4

Western Pleasure 13-15

Peyton Zorn

Monroe

Grand

Alyssa Whitmore

Gratiot

Reserve

Maggie Finn

Washtenaw

3

Sara Jex

St. Clair

4

Molly Lavery

Tuscola

5

Western Horsemanship 13-15

Sara Jex

St. Clair

Grand

Peyton Zorn

Monroe

Reserve

Savannah Bremer

Oakland

3

Kyah Shumake

Ottawa

4

Breanna Larson

Barry

5

Dressage Seat Equitation 16-19

Ansley Haan

Kalamazoo

Grand

Emma Buist

Ottawa

Reserve

Olivia Orennan

Kalamazoo

3

Rachel Wothius

Kalamazoo

4

Dressage Seat Equitation 13-15

Brooke Pfeiffer

St. Clair

Grand

Tiffany Nyenhuis

Montcalm

Reserve

Sloan Bladowski

Eaton

3

Nicole Wilkie

Montcalm

4

Abigale Kuntzleman

Jackson

5

Hunter Hack 16-19

Ansley Haan

Kalamazoo

Grand

Jacqueline DeBlaay

Kent

Reserve

Amber Gillis

Macomb

3

Kelly Cadman

St. Clair

4

Hunter Hack 13-15

Brooke Pfeiffer

St. Clair

Grand

Abigale Kuntzleman

Jackson

Reserve

Avery Wiersema

Newaygo

3

Brooke Mhnet

Clinton

4

Erin Ross

Oceana

5

Trail 16-19

Haley Kopkau

Iosco

Grand

Kali Smolen

Kent

Reserve

Molly O'Reilly

Iosco

3

Caitlyn Myers

Midland

4

Jordan Hirst

Washtenaw

5

Trail 13-15

Savannah Bremer

Oakland

Grand

Kaylee Benton

Ingham

Reserve

Kylee Skuta

St. Clair

3

Stefanie Beckley

Muskegon

4

Violet Orr

Lenawee

5

Dressage Test 16-19

Ansley Haan

Kalamazoo

Grand

Brianna Seymour

Macomb

Reserve

Lilia Fingas

Calhoun

3

Audrey Carlson

Ingham

4

Esther Stauffer

St. Joseph

5

Dressage Test 13-15

McKenzie Borst

St. Joseph

Grand

Hannah Waraway

Washtenaw

Reserve

Tiffany Nyenhuis

Montcalm

3

Brooke Pfieffer

St. Clair

4

Jenette Gleason

Tuscola

5

Carolyn VanCise Memorial Dressage Award

Ansley Haan

Kalamazoo