The many life stories of Nic Massey: Former Michigan 4-H'er
Former Michigan 4-H member, Nic Massey is making an impact on his college town with skills developed through the 4-H program. Massey has created a motorized couch which he uses to encourage people to get out of their comfort zones.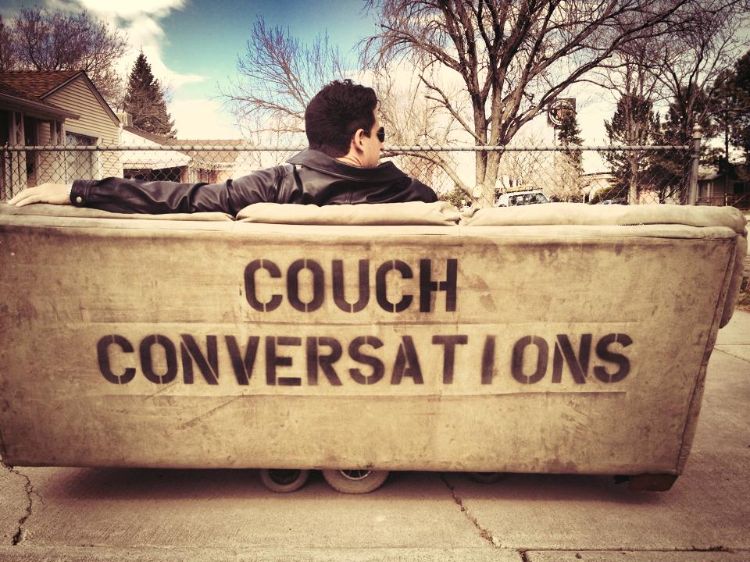 Typically, 4-H encourages its members to get off the couch, get active and find ways to benefit their communities. Former Michigan 4-H member Nic Massey was able to accomplish all of this by never leaving the couch. Massey is making an impact in the college town of Cedar City, Utah, where he is a student at Southern Utah University (SUU). By using the technology experience gained through 4-H, Massey has created a motorized couch. However, to the residents of Cedar City, the couch has become more than just a unique piece of furniture. Massey's couch experiment, now known as "Couch Conversations," has turned into an opportunity for local residents and students to share stories and experiences together while hitching a ride on a motorized couch.
Massey's fascination with mechanics and engineering is nothing new. He developed these skills for many years throughout his 4-H career. During his time in 4-H in Van Buren County, he learned to weld and work on vehicles. He and his team built the first 4-H demolition derby car to be created in the U.S. Later, he used those skills to restore a 1974 Honda 360 motorcycle and a 1976 Jeep, which won him the State 4-H Award in science and technology. However, it is Massey's latest project that has all of Cedar City talking ‒ literally.
While living in Michigan, Massey had built a similar contraption, a motorized recliner, which he enjoyed using at tailgates. After moving to SUU, he realized he still had the extra parts from the recliner and decided to test his experiment on a couch instead.
"When I originally came up with the idea, some of my friends said it would never work and no one would like it," said Massey. "But having prior experience with the recliner, I knew it was bound for success."
Massey's intuition was correct. Students and local residents have embraced Couch Conversations as a part of the community. Massey and his friends drive the couch all over town conducting interviews, meeting new people and filming society's reactions.
"The goal is to get people out of their comfort zones. With every person we meet and give a ride to, they bring new ideas to the table. What once started as our Sunday drive has blossomed into the social network of Couch Conversations," said Massey.
Massey feels that the future of Couch Conversations is bright. The group recently took the couch on a canyoneering trip. Not stopping there, Massey would like to attempt a coast-to-coast couch ride and provide travel transportation for those who have never had the means to do so.
"There have been so many fun times on the couch! One time we were driving through campus heading downtown for a coffee when this student saw us rolling toward him. He stopped walking, sat his bag down, and watched us drive past open mouthed and dumb founded. I tried speaking to him several times, but I think he was too amazed to speak."
Massey's mother, Denise Noble, was involved with 4-H as a youth and wanted her children to experience the same opportunities that she received from the program. She got Massey involved with 4-H when he was 6 years old. He was an active member of the program for 12 years. In addition to his notable talents in science and technology, Massey has also been recognized for his achievements in the Companion Animals Program. These 4-H experiences led him to become the international world canine freestyle (dancing with dogs) junior champion, traveling to Amsterdam with his faithful companion Jacob Peters. Massey was also on Animal Planet to compete in a televised freestyle competition and was a finalist competitor for the TV show "America's Next Top Dog."
"When Nic was in 4-H, he often mentioned that he was 'voluntold' to do many things, like Capital Experience, Great Lakes and Natural Resources Camp and Citizen Washington," said Noble. "After he graduated, I heard him telling a younger member that their parents were going to sign him up for a lot of stuff that he may not necessarily want to do. He told him to do it anyway, because it would be fun and he would come back with a story. Nic's life has become about the story."
After high school, Massey's interest in flying found him serving his country with the U.S. Air Force for three years of active duty in Afghanistan. He is now in the Air National Guard and enrolled in the SUU helicopter pilot program.
"The tools I have learned through 4-H last a life time. I'm still working on cars, showing dogs and meeting new faces. I would recommend 4-H for the same reason I would recommend taking a ride on a couch. It's something new that you may have not tried yet. It's another small step outside of your comfort zone that will only make you stronger. I am proud to say 4-H is a big part of me and without it I wouldn't be where I am today."
Those that are interested in participating in 4-H projects like the ones Nic Massey participated in should visit the 4-H website. For more information on Couch Conversations, visit the Couch Conversation Facebook page.