The MEDC and Patronicity's Public Spaces, Community Places completes successful first year: Part 1
Co-Founder of Patronicity, Ebrahim Varachia, updates MSU Extension educator regarding the hugely successful Public Spaces, Community Places crowdfunding grant program with the MEDC.
In 2014, the Michigan Economic Development Corporation (MEDC) launched "Public Spaces, Community Places". It is the first state sponsored grants program that pairs crowdfunding with community development.
The MEDC partnered with Patronicity to revolutionize the way grants are applied for, evaluated and approved. Through the Public Spaces, Community Places grant process, projects that qualify receive matching dollars to those crowdfunded.
According to data provided by Patronicity between June 2014 and September 2015, 49 projects were activated with forty-seven attaining their goal; one project is still active, leaving one project that did not meet their goal. The initial $1,461,000 granted during this time frame produced $1,787,354 in crowdfunding donations and $10,858,777 in private investment. The return on investment for this program is an outstanding 9.65 percent!
Ingrid Ault, Michigan State University Extension Community Development educator interviewed Patronicity co-founder Ebrahim Varachia who explains it this way: "[the MEDC] is looking to expand the program as it has been wildly successful. Grantors are looking for community members to propose projects, as donations are viewed as more meaningful."
The first project was The Green Alley Project by Midtown Detroit Inc. They are a nonprofit planning and development organization that supports the physical maintenance and revitalization of the Midtown Detroit neighborhood, while working to enhance public awareness, appreciation for and use of the district.
Midtown Detroit has been going through a cultural renaissance in large part because of the focus on placemaking, which focuses on making a community a place where people want to live, work and play in. When a space is seen as negative and underutilized and is suddenly recreated as something unexpected and positive, people really respond to it.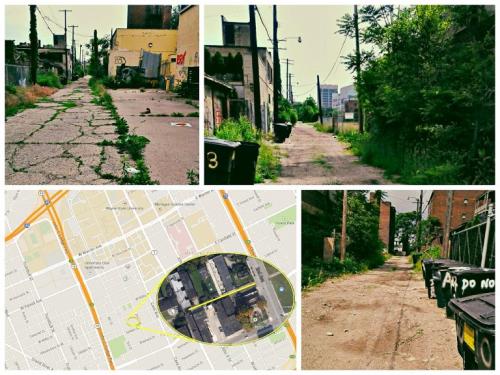 This project demonstrated the positive community, environmental and economic impacts when alleys are transformed from linear wastelands to thriving community greenways. The Green Alley project transformed a 415 foot long alley with the purpose of connecting future developments, promoting walk-ability, and community connectivity. It opened in June of 2011 to great success, and shortly thereafter the Shinola Company pledged an additional $100,000 to further the project.
Due to the undeniable success of this program, another $2,000,000 has been pledged to continue the program next year. This is remarkable as the MEDC was forced to cut their staff by 25-30 percent in 2015. "Essentially [the Michigan State legislature] took away the MEDC's budget and used it to fund potholes," explained Varachia.
The MEDC will approve projects that qualify, but ultimately it is the community that determines the support for the project by voting with their dollars. "It is one thing to press a "like" button, but it is another thing if that like button has a dollar sign attached to it," affirmed Varachia. "By voting with their credit cards for projects that are meaningful to them the impact is far greater."
Read more about how this programs works in Part 2 of this article.