The new Flint Fresh Food Hub breaks ground in Flint
A new food hub space to make it possible for locally produced food to reach broader markets in the metro Flint area just broke ground.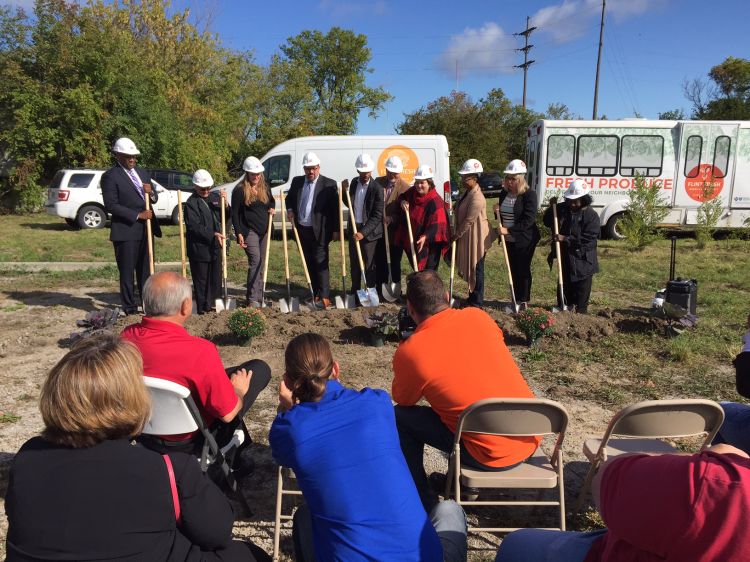 The Flint Fresh Mobile Market and its Veggie Box subscription program, two new, innovative food access initiatives in Flint, will have a permanent base of operations in the form of a 26,800 square foot building on Flint's east side in the spring of 2018. A groundbreaking ceremony was held on the site of what will be the new Flint Fresh Food Hub on Sept. 8, 2017. Through the rehabilitation of an old building on the site, the project will transform the space into a climate-controlled food hub warehouse with aggregation space to bring together products from multiple producers to generate the volume required to cost-effectively sell to larger purchasers. Distribution and shipping are part of the food hub's function as well. Retail businesses like grocery and convenience stores, restaurants and institutional food purchasers like schools, hospitals and senior care facilities will be able to conveniently source and order high quality, locally grown produce, meats and dairy products for the customers they serve.
The Flint Fresh Mobile Market has been offering a way for Flint's residents to access healthy foods in underserved neighborhoods with transportation challenges since last fall. It is a nonprofit market that accepts most forms of food assistance benefits, including Double Up Food Bucks and the Michigan Bridge card. It is a partnership between the Flint Farmers' Market (a leader in utilizing innovative food assistance programs), the Community Foundation of Greater Flint, the Flint YMCA, the Neighborhood Engagement Hub and the Local Grocer. This May, it added the Flint Fresh Veggie Box program, a subscriber-based produce delivery program (to homes and businesses in Flint) aimed at ensuring that more Flint residents have access to fresh food, and that local farmers have access to new markets and sources of revenue. The collaboration around the mobile market and its veggie box program includes support for farmers from a staff member of edible flint, a grass-roots organization with a mission to support Flint residents in growing and accessing healthy food, which is supported through a partnership with Michigan State University Extension
The local food movement in Flint had been active for many years, working with limited resources to address the income and health disparities present in Flint and Genesee County's residents and their need for healthy food access. The situation in Flint was made worse by the recent lead in the water crisis, and the increased need for healthy foods to help mitigate lead exposure brought to the forefront additional resources and the partnership of numerous state and local organizations collaborating to give Flint residents a better food system.
Funding for the Flint Fresh Food Hub to improve Flint's healthy food access comes from local foundations and the Michigan Department of Education. This food hub will be an integral part of the Flint Fresh mission to improve healthy food access for Flint's residents; increase the capacity of families to take responsibility for their own health by organizing wrap around health services; support local farmers and growers; increase the number of local food related businesses; and provide additional jobs in Flint.
Several notable figures were part of the ground breaking ceremony in Flint, including Michigan Senator Jim Ananich, Genesee County Commissioner Brenda Clack, Flint City Councilwoman Monica Galloway, Michigan Department of Education Deputy Superintendent Kyle Guerrant, Community Foundation of Greater Flint President Isaiah Oliver, specialists from Michigan State University Center for Regional Food Systems' Michigan Food Hub Network along with state and local food systems advocates working to improve healthy food access in Flint. The architect for the building project is Gazell, Lewis and Associates Architects. The construction company for the project is DW Lurvey Construction.