The North Farm Skill Seeker Workshop series
Interested in learning about small-scale agriculture in a hands-on, experiential learning environment? Consider the MSU North Farm's Skill Seeker Workshop series.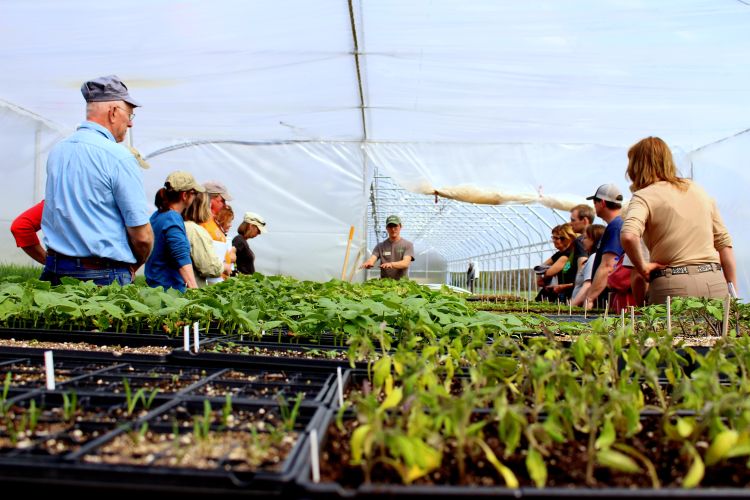 The Michigan State University North Farm will be offering its annual Skill Seeker Workshop series for the 2018 season. These workshops, focused on topics relevant to small-scale farmers, homesteaders and home gardeners, will provide participants the opportunity to learn from university staff, local professionals and seasoned farmers.
Each workshop will consist of a classroom component hosted at the MSU North Farm in Chatham, Michigan, located in the central Upper Peninsula. Following classroom learning, participants go on a field trip to a local farm where they will get to ask farmers questions and see applications of concepts. This year's topics include:
Livestock on the Small Farm · June 10 · 1-5 p.m.
Livestock can be a great addition to the small farm or homestead, providing a wide range of benefits, including land management services, meat, fiber and income. This workshop will focus on the basics of pig and sheep management for the small-scale producer with presentations by Ben and Denise Bartlett, Log Cabin Livestock and Dale Rozeboom, MSU Animal Science.

Plasticulture: Season Extension 201 · July 15 · 1-5 p.m.
Plastic can work to the grower's advantage by extending the production season in cool climates, managing weeds and disease pressure. See season extension using hoophouses, greenhouses, plastic mulch and weed control tarps with Collin Thompson, MSU North Farm.

Flower Production · August 19 · 1-5 p.m.
Flowers are a great addition to any operation, whether for pleasure or profit. Learn about variety selection, production management, bouquet arrangement and marketing with Shailah Bunce, Rock River Farm and Jeff Heidtman, Color Blind Gardens.
​
Forest Resource Management · September 30 · 1-5 p.m.
Wooded areas can provide food, fuel and habitat for wildlife. Find out about forest resource management, developing a forest management plan and identifying the value of what may lie just outside your back door with Dan and Mary Rabine, Reh-Morr Farm, Holly Wendrick, MAEAP, and Matt Watkeys, District Forester.
Participation fees are $30 for each course or $100 or all four courses. Families, couples or farm units can attend for $45 per course or $150 for all four courses. Registration is strongly encouraged.
Workshops qualify for education hours for MSU Extension Master Gardeners and MAEAP Phase 1 credit.
Collin Thompson is the Farm Manager of The North Farm at the Michigan State University Upper Peninsula Research and Extension Center in Chatham, Michigan and a Small Farm Educator with MSU Extension.