Think twice before using 2,4-D in grape-growing areas
Grape vines are very sensitive to 2,4-D, therefore MDARD has restrictions on the use of 2,4-D for several counties in southwest Michigan.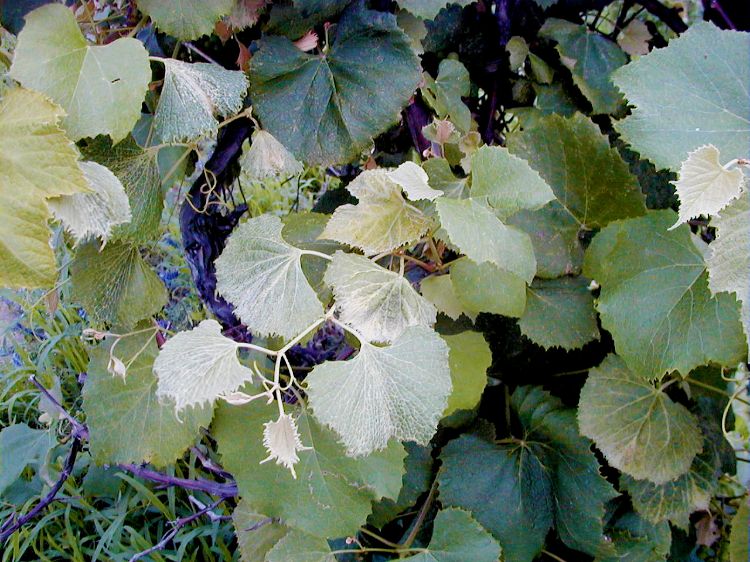 2,4-D is a common and useful active ingredient in many herbicide products used to kill broadleaf plants without harming grasses, especially in lawns and pastures. 2,4-D is available in two forms, an ester and an amine form, which are similar and have the same mode of action. However, the ester form is volatile, which means it easily evaporates into a gaseous form. Once it volatilizes, it can then move easily and quickly on the wind away from the site where it is sprayed. When it comes into contact with grapevines, it will damage their growing portions and fruit.
For these reasons, the Michigan Department of Agriculture and Rural Development (MDARD) issues an order every year restricting the use of 2,4-D and a related phenoxy herbicide, MCPA, in grape-growing areas of Berrien, Cass, Kalamazoo and Van Buren counties. Only the amine formulations may be used in these restricted areas.
Workers for Michigan State University Extension have documented occasions when farmers, property owners or commercial pesticide applicators have not been aware of these restrictions, applied the 2,4-D in the ester form and damaged grapes. In each case, this damage to the grape crop resulted in the payment of damages to the growers. Unless you want to pay for part of your neighbor's grape crop, and possibly a fine for the misuse of pesticides, be careful when selecting any herbicide product containing 2,4-D!
Remember that any off-site damage caused by the application of pesticides is the applicator's responsibility. Even when using other herbicides less likely to volatilize or damage fruit crops, always practice the following strategies to reduce risks:
Avoid applying these compounds directly adjacent to vineyards, unless there is a buffer zone between the two sites.
Do not spray during high winds, high temperatures, very low humidity or during a temperature inversion.
Coordinate and communicate with experienced grape-growing neighbors – many have had experience with herbicide damage in the past and understand the risks.
The townships where 2,4-D use is restricted legally in Berrien County are Bainbridge, Benton, Berrien, Baroda, Chikaming, Coloma, Hagar, Lincoln, Lake, Oronoko, Pipestone, Royalton, Sodus, St. Joseph, Watervliet and most of Weesaw, Buchanan, Niles townships. In Van Buren County, the townships affected are Antwerp, Paw Paw, Porter and most of Almena, Covert, Decatur, Hamilton, Hartford, Keeler, Lawrence and Waverly. In Cass County, the townships affected are Pokagon and Silver Creek, and in Kalamazoo County, the townships affected are Texas and most of Oshtemo. Click on the PDF attachments below to see maps showing the 2,4-D exclusion zones.