Thirty years of economic collaboration and cooperation
Northern Lakes Economic Alliance celebrates 30 years of building partnerships for economic development in Northern Michigan.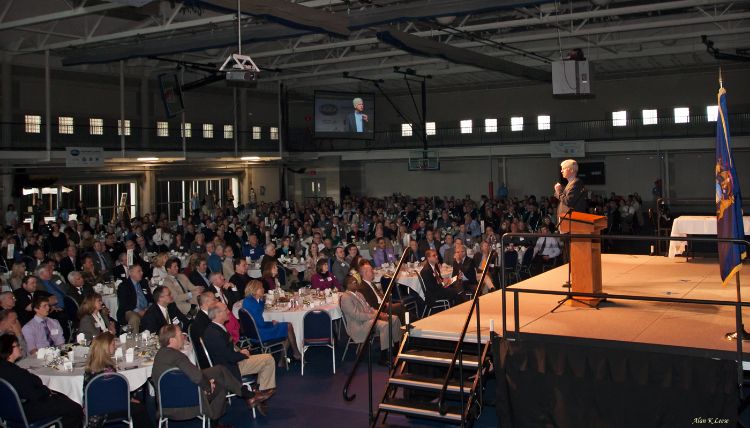 Michigan State University Extension partner, Northern Lakes Economic Alliance (NLEA), a public/private non-profit organization serving Antrim, Charlevoix, Cheboygan and Emmet Counties in Michigan, recently celebrated 30 years of successful partnerships at a prestigious Annual Luncheon event. The NLEA strategically works with public and private organizations including government officials, community and business leaders, area entrepreneurs, local, state and federal program leaders and all partners involved in growing the economic vitality of Northern Michigan.

Established in 1984, the NLEA collaborates with local units of government on infrastructure projects, which facilitates local company growth. They also assist many local companies on a wide range of issues that helps retain existing jobs and create new jobs. The NLEA utilizes a proactive approach to economic development and views it as a "team sport" as they work to strengthen partner relationships, network in public and private sectors and work collaboratively to address economic development challenges and opportunities in their region.
Governor Rick Snyder, along with more than 700 partners, helped celebrate the NLEA's 30th Anniversary recently at their Annual Luncheon. During the luncheon, projects and partners who contributed significantly to the region's economic development in the past year were recognized. This spirit of cooperation has been a trademark of the NLEA since its inception and is part of the day to day culture in which they operate. Their motto is "When we work together...we win together!"
Some examples of strategic partnerships include: implementing an employer retention call program along with the Michigan Economic Development Corporation (MEDC) and Michigan Works; conducting a community retention program with the MEDC Community Assistance Team; and working with six local and state agencies to establish the Northwest Michigan Regional Agricultural Business Team. The NLEA has also collaborated with the Northwest Michigan Council of Governments on projects ranging from area transportation planning to sustainable business forums.
Michigan State University Extension has had a unique relationship with the regional economic development organization Northern Lakes Economic Alliance (NLEA) for more than 20 years. Recognizing the strength of combining resources, this partnership focuses on economic development, entrepreneurship growth and community infrastructure throughout a four-county region in the northwest Lower Peninsula, specifically Antrim, Charlevoix, Cheboygan and Emmet counties. As a result, the NLEA utilizes resources offered through MSU Extension as it provides leadership to state-wide programs sponsored by MSU Extension.