This summer's final Breakfast on the Farm event is hosted in Hillsdale County
Have you made it to a Breakfast on the Farm this summer? Your last chance is Aug. 29!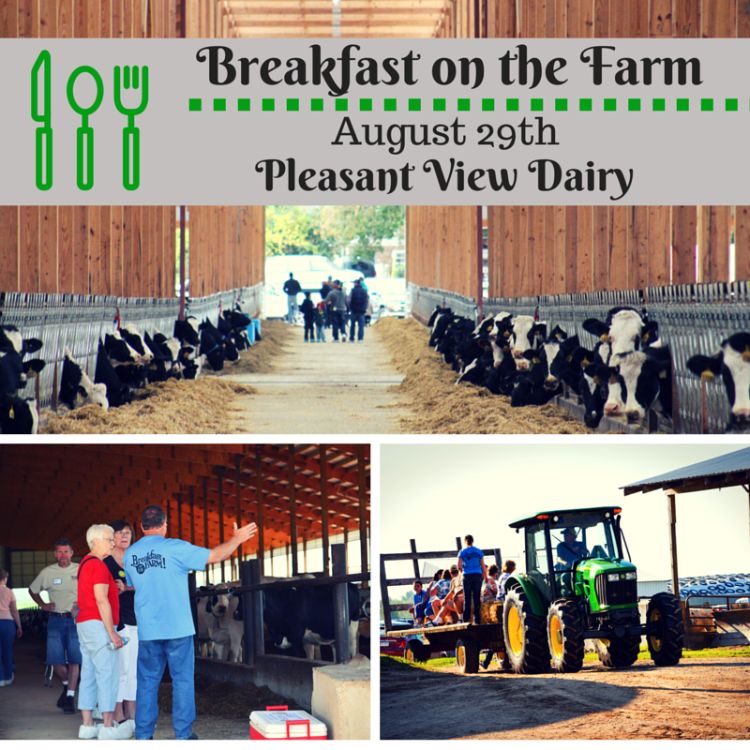 Pleasant View Dairy in Hillsdale County will welcome visitors Aug. 29 for the final Michigan State University Extension Breakfast on the Farm (BOTF) program of the summer. BOTF provides people of all ages an opportunity to learn about where their food comes from and enjoy a free breakfast featuring Michigan products.
Pleasant View Dairy is owned and operated by third-generation farmers Bruce and Jennifer Lewis and their children. Their farm is MAEAP (Michigan Agriculture Environmental Assurance Program) verified and houses more than 650 cows. The Lewis family also grows 2,700 acres of corn, soybeans, wheat and hay. They pride themselves on being a family farm and are continuing to grow for future generations.
"We take excellent care of our animals, both large and small," Jennifer Lewis said. "Consumers today care about the food they eat. It is important to show them how food is produced, how animals are cared for, how the land and air are of utmost concern to today's farmers."
The farm is located at 4840 N. Sand Lake Rd. in Jonesville. The event runs from 9 a.m. until 1 p.m., with breakfast being served until noon.
"It is absolutely important for everyone to know where their food comes from and who the families are who produce it. We are extremely happy to showcase our farm for one and all," Lewis said.
At BOTF, visitors will be able to enjoy the free breakfast before setting out on a self-guided walking tour of the farm. The Lewis family is excited to show off how they care for their animals, as well as their modern-day feed and grain storage facilities. Knowledgeable volunteers will be stationed around the farm to answer questions about farming practices.
"We want visitors to interact with us and the professionals that will be available that day to learn about the many people and companies that are involved in running a modern-day dairy farm," Lewis said. "Since 1941, our family has taken pride in the care we have for the animals, the environment and the people that work with us every day."
Pleasant View Dairy has been recognized many times for its outstanding operation. The Lewises were the 2013 MSU Dairy Farmers of the Year and received the National Dairy Quality (Gold) Award and the 2014 MMPA Gold Quality Award. They are also National Dairy FARM program certified.
Breakfast on the Farm is free, but tickets are required to eat breakfast. Tickets are available from the following businesses:
Adrian: MSU Extension, Lenawee County
Ann Arbor: MSU Extension, Washtenaw County
Branch County: all Chemical Bank branches
Calhoun County: all Chemical Bank branches
Camden: Southern Michigan Bank & Trust
Coldwater: MSU Extension, Branch County; Southern Michigan Bank & Trust main office
Hillsdale: Dr. Colin A. Mayers office; Hillsdale Community Library; Market House; MSU Extension, Hillsdale County; Southern Michigan Bank & Trust
Hillsdale County: all Chemical Bank Branches; all County National Banks
Homer: County National Bank
Hudson: County National Bank; Market House
Jackson: MSU Extension, Jackson County
Jackson County: all County National Banks; all Jackson District Library branches
Jonesville: Jonesville District Library; The Udder Side
Manchester: Wacker Oil and Propane
Marshall: MSU Extension, Calhoun County
North Adams: North Adams Community Library
The statewide sponsors for the 2015 BOTF events are the Corn Marketing Program of Michigan, Dairy Farmers of America, Dairyland Seed, GreenStone Farm Credit Services, Kroger, McDonald's, Michigan Ag Council, Michigan Farm Bureau, Michigan Farm Bureau Insurance, Michigan Milk Producers Association, Michigan Soybean Promotion Committee, Michigan Wheat Program, Northrop Trucking and United Dairy Industry of Michigan.
For more information about the Hillsdale County Breakfast on the Farm or other BOTF events, visit www.breakfastonthefarm.com, or contact Ashley Kuschel at kuschela@anr.msu.edu or Mary Dunckel at dunckelm@anr.msu.edu.