Thumb Ag Research and Education 2011 Field Trial results available
Thumb Ag Research and Education (TARE) variety trials and agronomic trial results and meetings provide data for management decisions.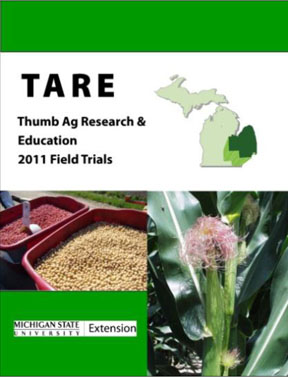 The results of the TARE 2011 field trials have recently been published and are available to farmers to help them make management decisions for the coming growing season.
TARE is a multi-county program that provides a platform for evaluating corn hybrids, soybean varieties, alfalfa varieties and agronomic practices. The unbiased results are made possible through funding support from commodity groups such as the Corn Marketing Program of Michigan and the Michigan Soybean Promotion Committee. Additional financial and in-kind support is provided by farmers, seed companies and agribusinesses in the Thumb region of Michigan.
MSU Extension educators Bob Battel, Martin Nagelkirk, Mark Seamon and Phil Kaatz hosted and presented information concerning the TARE results and the bioeconomy. These meetings represent nearly 187,000 acres that are farmed or managed in the seven-county area. Seventy-nine percent of evaluations rated the TARE results as a very good to great value and 64 percent rated the value of the meeting information as very good to great information.
For more information concerning the TARE results, contact Phil Kaatz, Bob Battel, Martin Nagelkirk or Mark Seamon.