Top four tips for staying active with your horse this winter
Discover ways to keep your horse active during the cold winter season.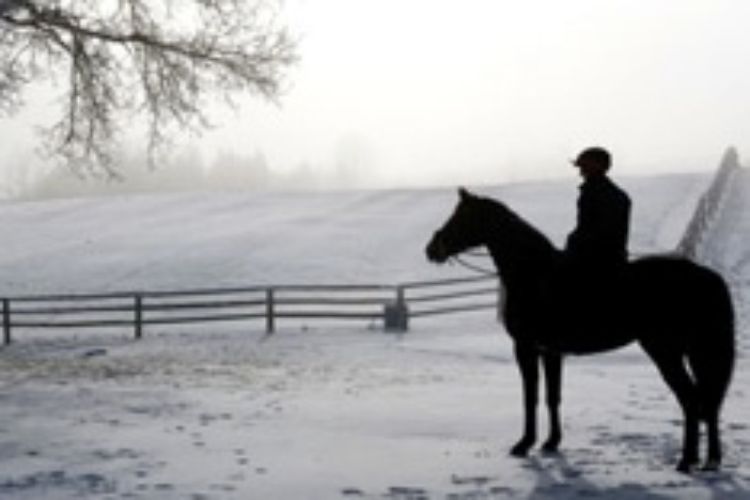 The cold winter season can often cause a lack of activity or involvement with your horse. Sometimes, this problem is caused by an absence of knowledge of how to keep up with your horse and maintain health and physical strength during this generally less than ideal riding season. But, keeping up with and maintaining your horse's health is just as important during the winter as any other season. Here are some tips from Michigan State University Extension to help make sure you are prepared for the winter season ahead.
Do your homework: I realize this may not be the most thrilling tip, but if followed, it can certainly be the most useful. I understand that when the sun is shining, the light hours are long, and the temperatures are in the seventies, it's hard to pull yourself away from the barn. However, when you feel like the blizzard conditions have you trapped indoors, use that time wisely to research all those equine conundrums that have puzzled you over the years. Start by visiting MSU Extension's equine news article section to see articles on a wide variety of topics. Then, explore how you can use webcasts to further your education; there's a plethora of free webcasts available at My Horse University. Looking for even more information?

Check out the horse page on the eXtension website to find just about anything equine related from Extension experts from Universities across the nation, including Michigan State University.
Keep active: As we've mentioned, it's easy to fall in a rut of inactivity, but it's just as important to keep up the conditioning of you and your horse. Review these two MSUE news articles on Equestrian exercises for the off-season Part 1 and Part 2. Take this opportunity to also learn a bit more about Basic Conditioning of the Equine Athlete. Recognize that the less you're active in winter, the longer the recovery period will be when you increase activity in the springtime.
Don't skip your maintenance program: The winter months, even without intense exercise, can be very calorically draining months for your horse, so be sure to maintain that same high level of care that you'd provided throughout the summer. Do you keep your horse on supplements? It is likely a good idea to maintain that program that their digestive system and joints have grown accustomed to. Not sure about using supplements? No worries, they aren't for everyone! Here's a great article to help you make some of those nutrition decisions. Additionally, check out this article on importance of maintaining your horse's hoof care in the winter months.
Skip the saddle: Now admittedly, riding bareback is something appropriate for only a seasoned horse a rider combination. Additionally, if your horse hasn't been worked as often as they are in the warmer months, they may also have more energy, making riding more of a challenge. But, if you feel comfortable riding sans saddle, you'll be pleasantly surprised how much nicer it can make winter rides. Certainly, there's benefit and ease in skipping 15 minutes it takes to tack up, but more importantly, the shared body heat between you and your horse will help keep you both at a comfortable temperature. And there's no denying that an active bareback ride can provide you with a great opportunity for exercising your leg muscles. Your proof will be the pain felt tomorrow…