Tracking southern rust: A new disease for Michigan corn growers
Calling all citizen scientists! Scout your fields and submit samples to track this new disease in Michigan corn.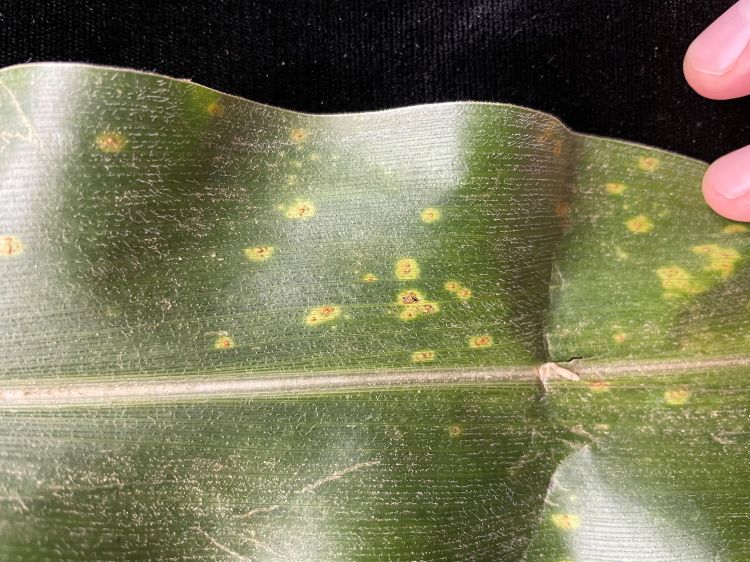 What is southern rust?
Southern rust is a foliar disease of corn caused by the fungus Puccinia polysora. The spores of the fungus are carried north by wind currents from tropical and southern corn growing regions. Infection results in small, orange to tan pustules on the upper leaf surface, similar to symptoms of common rust infection. Pustules are masses of the fungus spores and can be rubbed off easily using your fingers and onto clothing. Severe infections can result in lodging and up to 45% yield loss in other parts of the U.S.
In 2021, southern rust was found in Michigan in Shiawassee and Ingham counties. It is suspected that southern rust is present in more Michigan counties. To understand how widespread this disease is in Michigan, the Michigan State University field crops pathology team is asking people to send in corn samples they suspect are southern rust.
What is the difference between southern rust and common rust?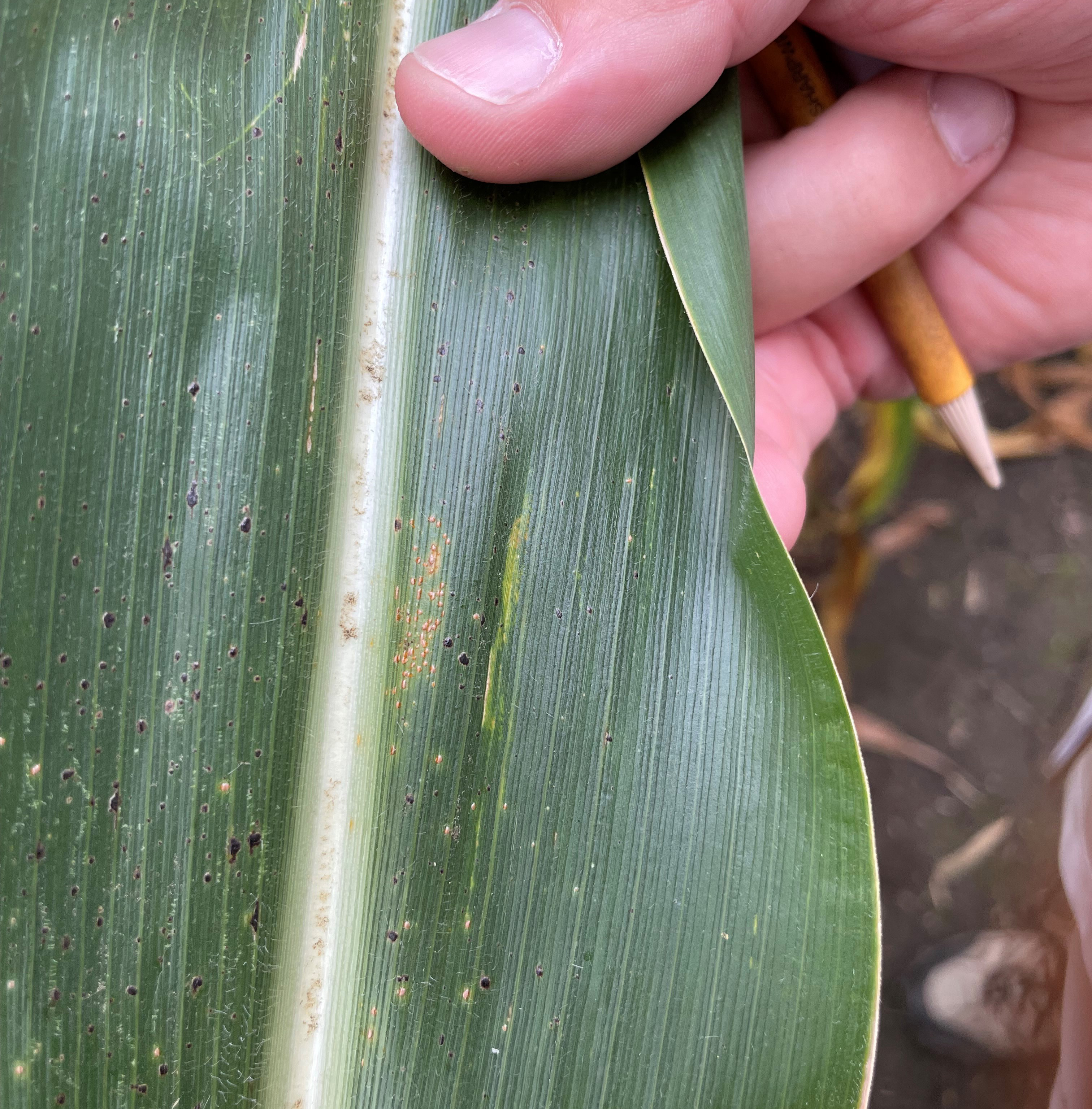 Common rust, caused by the fungus Puccinia sorghi, has been a disease of minor importance in Michigan. It is widespread throughout the state but is rarely seen at levels that warrant management. Distinguishing between the two diseases in the field can be difficult. Pustule color, pattern and location are the key features used to distinguish these two diseases.
Common rust pustules tend to be less densely packed and a darker red-brown color than southern rust pustules. Southern rust pustules are more commonly on the upper leaf surface with only chlorosis visible on the underside of the leaf. Common rust pustules can be found on both the upper and lower side of the leaf.
Determining which rust disease is in your field can be important for management decisions. Common rust infections rarely warrant fungicide application because most yellow dent hybrids have moderate to high resistance to common rust. However, foliar fungicide applications may be needed to protect yield when southern rust is present.
Management of southern rust
Most fields in Michigan have not required management due to southern rust, but management is achieved primarily by foliar fungicide applications. Fungicides can be used to protect uninfected leaf area, but application timing depends on growth stage, yield potential and environmental conditions. Best protection can be offered by an application between silking (R1) and milk (R3) stages when southern rust is present, but multiple applications are often needed, particularly in the southern U.S. where disease pressure is high.
The availability of resistant hybrids is limited but hybrids that are moderately susceptible may be available. Tillage and crop rotation offer very little protection due to the movement of spores long distances. Growers should scout for southern rust prior to corn tasseling because sprays during the reproductive stages of growth are most beneficial.
How to get a confirmation of southern rust and where to send samples
To help us establish where southern rust can be found throughout the state, we are asking you to scout corn fields for this disease and send in samples of suspected southern rust to the Chilvers lab at MSU. To send samples, collect about five leaves with southern rust symptoms and allow them to air dry in a paper bag. Once the leaves are dry, the fungi in them will be relatively stable. Samples can be shipped via regular mail to:
Chilvers lab
Attn: Southern rust project
578 Wilson Road, CIPS 107
East Lansing, MI 48824
Phone: 517-353-9967
Please also include a note with the name of the nearest town where the sample was collected if it is different from the shipping return address. We realize that many corn fields are beginning to senesce; dry leaves with rust pustules are useful to us as well. The information gathered from the samples submitted will help us track where the disease is found throughout the state.
Where to find more information on southern rust
For more information, check out the Crop Protection Network's publication on southern rust. Confirmations of southern rust are also being tracked across the U.S. via the Corn ipmPipe and confirmations of samples sent to our lab will be reported.