Tree fruit irrigation and fertigation workshop recap
The MSU Northwest Michigan Horticultural Research Center hosted irrigation and fertigation specialist Denise Nielsen to discuss water and nutrient management in orchards.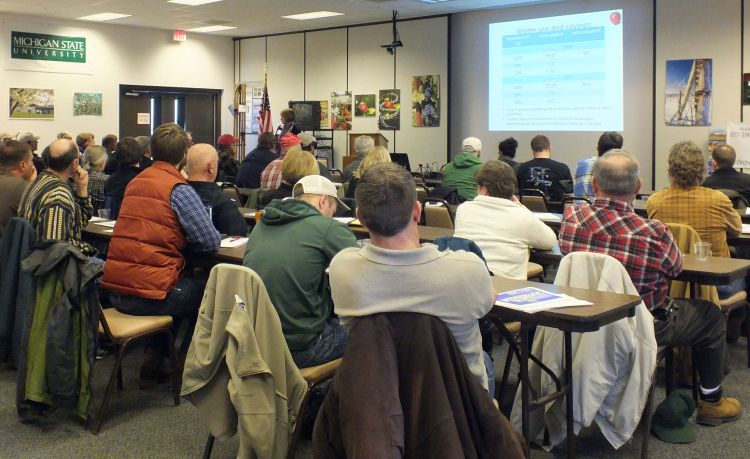 A one-day workshop on irrigation and fertigation was held at the Northwest Michigan Horticultural Research Center (NWMHRC) early March 2014. This workshop, and other trainings across Michigan, was part of a statewide effort to deliver educational programming on irrigation and fertigation to farmers. Because the landscape in the northwest region of Michigan's Lower Peninsula is dominated by orchard and vineyard production, the NWMHRC workshop focused on aspects of irrigation and fertigation applicable to commercial tree fruit and vineyard producers.
The NWMHRC irrigation and fertigation workshop hosted guest speaker Denise Nielsen from Pacific Agri-food Research Center in British Columbia. Nielsen is one of very few irrigation and fertigation specialists worldwide, and the NWMHRC was very fortunate and pleased to have hosted her. Nielsen presented valuable information on both irrigation and fertigation in apples and cherries to the workshop attendees. More specifically, Nielsen discussed the importance of monitoring soil moisture and nutrient availability and uptake, as well as optimal timing for water and nutrient applications that corresponds to fruit tree growth and development during the growing season.
Research conducted by Nielsen and colleagues demonstrated that optimal timing for fertigation varies depending on the nutrient that is applied and the purpose of the application. For example, nitrogen taken up by fall foliar applications of urea is stored through the winter and supports spur growth in the following spring. Nitrogen fertigated post-bloom in apples is taken up by plant roots and supports shoot and fruit growth. In sweet cherries, water uptake beginning around first white likely influences rapid uptake of nitrogen by tree roots. Nielsen's research also revealed that nitrogen applied in excess can be detrimental to tree and fruit growth. Therefore, nitrogen should only be applied to trees that need it. Nielsen stressed the importance of annual leaf analysis to determine tree and orchard needs.
Additional speakers at the NWMHRC irrigation workshop included Lyndon Kelley, MSU/Purdue Extension irrigation educator; Steve Miller, MSU Extension irrigation specialist; Dan Busby, Michigan Agriculture Environmental Assurance Program verifier; Jessica Rasch and Garrett Coggon, MAEAP technicians with the Grand Traverse Conservation District; Ron Goldy, MSU Extension vegetable production senior educator; Beau Shacklette and Tom Anderson, Trickle-Eez Co.; and a panel of northwest Michigan farmers: Ken Engle of Engle Ridge Farms, Mark Miezio of Cherry Bay Orchards and Leonard Ligon of Ligon Farms.
These speakers presented information on water-use rights (Kelley), the relationship of soil characteristics and irrigation (Miller), generally accepted agricultural and management practices related to on-farm irrigation (Busby, Rasch, Coggon), drip irrigation (Goldy), optimizing scheduled irrigation and designing irrigation systems (Shacklette, Anderson), and on-farm experiences with irrigation (Engle, Meizio, Ligon).
As tree fruit production systems evolve to higher-density plantings, researchers and farmers are working out the kinks of more precise management techniques for these systems. Modern irrigation systems allow farmers to more precisely provide plants with adequate water that is necessary for growth and quality fruits during, particularly in years of low or variable rainfall. In systems that have irrigation systems installed, fertigation can be used to deliver precise amounts of nutrients to plant roots, thereby reducing excess fertilizer applications and other inputs associated with nutrient management.
A special thanks to Spring Brook Supply and White Water Irrigation, the generous sponsors of the 2014 irrigation and fertigation meeting at the NWMHRC. This meeting was also supported by Northwest Michigan IPM Think Tank, AgBioResearch and Michigan State University Extension.
Dr. Rothwell's work is funded in part by MSU's AgBioResearch.