True 4-H science teen leaders: Grand Traverse County
Grand Traverse County has a True 4-H Science Teen Leader in robotics.
The next generation of empowered 4-H True Science Leaders are growing in Michigan! This article is part of a series featuring True 4-H Science Teen Leaders from around Michigan.
Grand Traverse County has a true 4-H teen science leader in Granite Winowiecki. Winowiecki is active in both Grand Traverse and Leelanau 4-H. He is a member of the Leelanau Livestock Lovers Club, the 4-H Learn to Ski program, United Youth Leadership 4-H program, a participant in 4-H Archery and 4-H Exploration Days.
Rosali Collier, 4-H program coordinator for Leelanau County, commented that Winowiecki is actually, as a teen leader, a chaperone for the Leelanau County Downhill 4-H Ski Club. He works with two different ski groups. People at The Homestead are so impressed with how he works with the kids that they are encouraging him to apply to be a ski instructor there. Winowiecki also participated in 4-H Capitol Experience and 4-H Citizenship Washington Focus. Beyond 4-H, Winowiecki competed in the Regional and World VEX Robotics competition last year.
In an interview with Grand Traverse County 4-H program coordinator Karin Stevens, she commented on why she believes Winowiecki is a true robotics science teen leader.
"Granite has been involved in 4-H since he was 5 years old, first raising and showing rabbits and then lambs," said Stevens. "I remember the first time he went to 4-H Exploration Days there was some kind of a class or tour at the Superconducting Cyclotron at MSU. Granite was sharing with me what he learned about neutrons and other nuclear science things. I admit, did not understand any of what he learned! Now in high school he is in leadership and on the school's robotics team and shares his robotics learning, knowledge and enjoyment with youth at the elementary school level. He is involved in both Leelanau and Grand Traverse 4-H clubs. He has participated in our 4-H Learn to Ski program and 4-H Archery."
Stevens also offered advice for other youth interested in becoming a 4-H teen leader.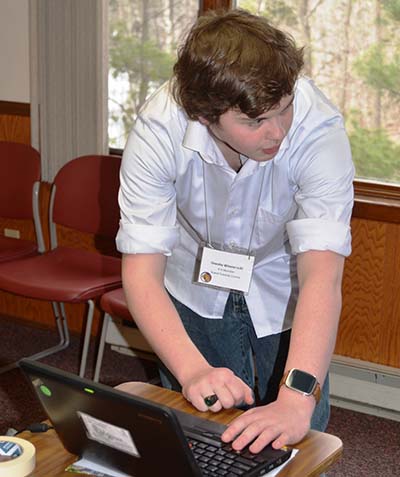 "I think youth interested in teen leadership should be open to new experiences and try new learning opportunities," said Stevens. "Get involved in their local 4-H councils and even leadership programs offered through 4-H and their community. Granite is a very active young man and very willing to help out wherever he can. He has spoken at our local Farm Bureau on his experiences with Capitol Experience and Citizenship Washington Focus, he has represented 4-H and his school last year at the World VEX Robotics competition. He has been an MC for our local awards ceremony and did a fabulous job. He is inquisitive and very articulate. A great young man!"
Grand Traverse 4-H is growing a true 4-H teen science leader in Granite Winowiecki!
Winowiecki facilitated the VEX Robotics session at the 4-H Robotics Workshop held at the 4-H Kettunen Center in Tustin, Michigan, in 2016. If you want to see this true teen science leader in action, he will be facilitating again at the March 18-19, 2017, 4-H Robotics Workshop. Youth ages 13-19 and volunteers can learn about LEGO Mindstorms EV3, VEX Robotics, Underwater ROVs, Unmanned Aerial Systems, Robotics and STEAM (for younger 4-Hers), and Junk Drawer Robotics. Registration information can be found at 4-H Robotics Workshop. The deadline to register is Feb. 24.
Michigan 4-H is proud to be part of the National 4-H tradition of supporting and growing true leaders. One of every seven adult Americans is a former 4-Her. Some 4-H alumni true leaders you may know include country singer Luke Bryan, who sang the National Anthem at the 2017 Super Bowl; TV network actress and writer Nancy Grace; nighttime TV host David Letterman; and American politician Ben Nighthorse Campbell.
Michigan State University Extension and the Michigan 4-H Youth Development program help to create a community excited about STEM (Science, Technology, Engineering, and Mathematics). 4-H STEM programming seeks to increase science literacy, introducing youth to the experiential learning process that helps them to build problem-solving, critical-thinking and decision-making skills. Youth who participate in 4-H STEM are better equipped with critical life skills necessary for future success. To learn more about the positive impact of Michigan 4-H youth in STEM literacy programs, read our 2015 Impact Report: "Building Science Literacy and Future STEM Professionals."
Michigan 4-H has many 4-H science programming areas for youth to explore. Science is everywhere with many questions to ask and discoveries to be made. For more information about 4-H learning opportunities and other 4-H programs, contact your local MSU Extension office.
Other articles in series