True 4-H science teen leaders: Allegan County
Allegan County has a true 4-H science teen leader in the animal science area.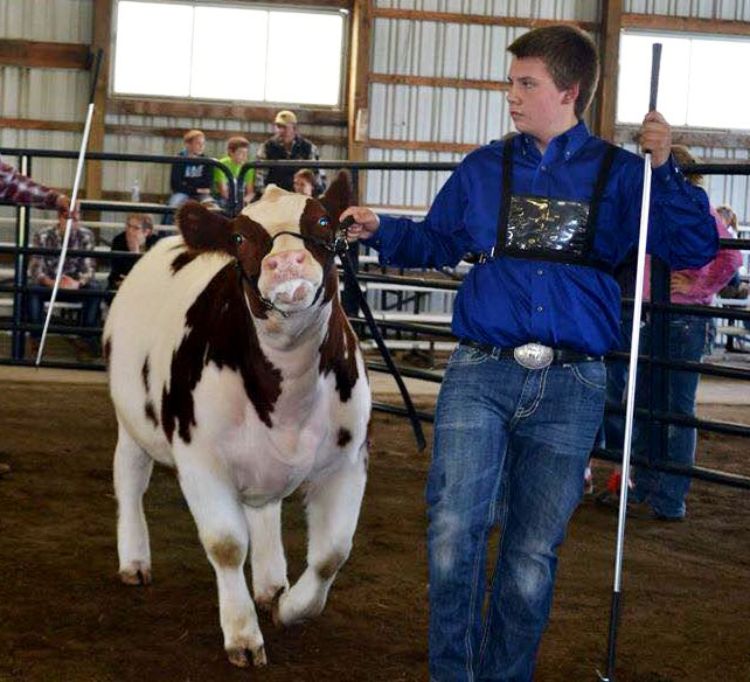 The National 4-H Council launched the 4-H Grows True Leaders campaign knowing every youth has the potential to be a true leader. Youth development is the foundation of 4-H. It has focused on helping youth strengthen life skills. While 4-H has long focused on building confidence, responsibility, independence and compassion in today's youth, it has also provided leadership opportunities. 4-H empowers youth with real leadership opportunities. The next generation of empowered 4-H True Science Leaders are growing in Michigan.
Allegan County 4-H has a true 4-H teen animal science leader in Miles Wixom. Wixom is a member of the Milk and Honey 4-H Club in the livestock project area. He has been a member for nine years and has received many awards. Some examples of Wixom's many accomplishments include the Mark of Excellence Awards, Allegan County 4-H Above and Beyond Teen Award, Farmers Exchange Exceptional 4-Her in 2015, Top Fair Showman 2015 and 2016, and Reserve Champion Beef Carcass.
Wixom has also been actively involved in Allegan County, representing the Livestock Leaders as a teen representative for four years. He has promoted the beef project at leader banquets and public events. He has hosted a fitting clinic for Van Buren County beef exhibitors and has taught several members how to train, fit, clip and present their project animals. Wixom has also attended several state conferences.
Furthermore, he is active nationally, having been selected to be on the Livestock Judging Team representing Michigan at national competitions in Harrisburg, Pennsylvania, and Louisville, Kentucky. He has been globally connected with teens when his family opened their home and hearts, twice hosting a youth in the 4-H Japanese summer exchange.
In an interview with Allegan County 4-H program coordinator Dian Liepe, she commented on why she believes Wixom is a true animal science teen leader.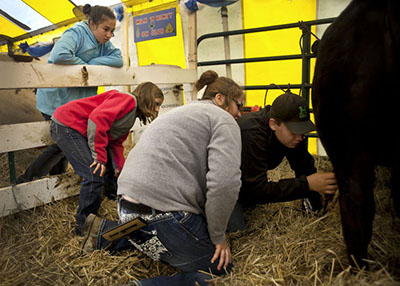 "Miles has taken his 4-H livestock projects beyond marketing an animal through the auction," said Liepe. "He has developed his own herd of beef animals; breeding, showing and selling from his own herd. He has participated in the local 4-H Beef Carcass contest, learning more about cuts of meat. Miles has participated in beef shows at MSU as well as 4-H livestock judging at MSU. The last two years, Miles was selected to be on a team to go for national competition. The last two years, Miles also was the top showman at the Allegan County Fair. In 2015, Miles won the Farmers Exchange 4-H Award. But Miles hasn't stopped—he helps younger youth learn and teaches them what he knows. Miles has also been a vital part of the Allegan County 4-H Dairy Quiz Bowl team and has won many awards at state competitions."
Liepe also offered advice for other youth interested in becoming a 4-H teen leader. "Some youth might think you have to be a born leader. However, I believe those that want to be a teen leader need to pick a project they have a passion for. If you have a passion for something, it will help you want to learn all you can. Then, share your knowledge."
Allegan County 4-H is growing a true 4-H teen animal science leader in Wixom!
This article is part of a series featuring "True 4-H Science Teen Leaders" from around the state of Michigan. Michigan 4-H is proud to be part of the National 4-H tradition of supporting and growing true leaders. Some 4-H alumni true leaders you may know include national 4-H spokesperson Jennifer Nettles, former Vice-President Al Gore, country singer Reba McEntire, astronaut Jerry Ross, creator of Garfield Jim Davis and former Michigan Governor John Engler.
Michigan State University Extension and the Michigan 4-H Youth Development program help to create a community excited about STEM (Science, Technology, Engineering, and Mathematics). 4-H STEM programming seeks to increase science literacy, introducing youth to the experiential learning process that helps them to build problem-solving, critical-thinking and decision-making skills. Youth who participate in 4-H STEM are better equipped with critical life skills necessary for future success. To learn more about the positive impact of Michigan 4-H youth in STEM literacy programs, read our 2015 Impact Report: "Building Science Literacy and Future STEM Professionals."
Michigan 4-H has many 4-H science programming areas for youth to explore. Science is everywhere with many questions to ask and discoveries to be made. For more information about 4-H learning opportunities and other 4-H programs, contact your local MSU Extension office.
Other articles in series