True 4-H science teen leaders: Eaton County
Eaton County has a True 4-H Science Teen Leader in robotics and engineering.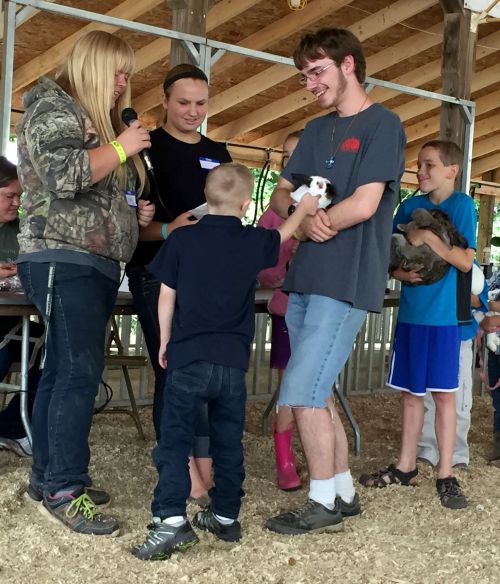 The National 4-H Council launched the 4-H Grows True Leaders campaign knowing every youth has the potential to be a true leader. Youth development is the foundation of 4-H. It has focused on helping youth strengthen life skills. While 4-H has long focused on building confidence, responsibility, independence and compassion in today's youth, it has also provided leadership opportunities. 4-H empowers youth with real leadership opportunities. The next generation of empowered 4-H True Science Leaders are growing in Michigan!
Eaton County 4-H has a true 4-H teen science leader in Jonah Wojnar. Wojnar is a member of the We-R-A-4-H Club, encompassing animal, robotics and engineering projects. He has been a 4-H member for seven years, is very active in his community and club, plus he has received impressive awards.
Wojnar has been the secretary for the Small Animal Association for several years and a teen ag innovator for two years, leading the international teaching in 2016 communicating with Poland. He has helped teach sessions at 4-H Exploration Days, is the teen leader for the Wind Track for 4-H Renewable Energy Camp, has held multiple offices in his club and is the teen leader for crochet in his club. He has received the teen leadership award at the Eaton County Fair and his 4-H robotics team took first place at the 2015 4-H Robotics Challenge. He also designs, plants and maintains gardens at the Eaton County Fairgrounds each year. He has won the teen leader award three years in a row.
Wojnar also provides teen leadership in non-4-H areas. He is the lead clarinet for his high school band and plays in the Charlotte Community Band. He volunteers one day a week at Wildside Animal Rehabilitation Facility. Furthermore, Wojnar is part of the Charlotte High School FIRST Robotics team.
In an interview with Kristy Oosterhouse, Eaton County 4-H program coordinator, she commented on why she believes Wojnar is a true animal and robotics science teen leader.
"Jonah loves science and engineering and always excels at what he puts his mind to," said Oosterhouse. "When I first met Jonah, he was readily absorbing all knowledge that he could, participating in his club, our county Small Animal Association, our county 4-H Science Club and attending state events. Just a few years later, Jonah is leading, helping with and teaching at the meetings and events he used to participate in. Jonah is passionate about sharing his knowledge with others—adults and youth alike—and has been a strong leader for our 4-H programs."
Oosterhouse also offered advice for other youth interested in becoming a 4-H teen leader.
"Find what you have a passion for and take advantage of and participate in the opportunities that are available to you," said Oosterhouse. "There is so much you can do in 4-H, not just with your club, but at a county, state and national level. Becoming a teen leader starts by participating in these opportunities—the meetings, events, workshops, camps. Soak up the knowledge you can, find what speaks to you, and as greater leadership opportunities come your way, seize the day!
Eaton County 4-H is growing a true 4-H teen science leader in Wojnar!
This article is part of a series featuring True 4-H Science Teen Leaders from around Michigan. Michigan 4-H is proud to be part of the National 4-H tradition of supporting and growing true leaders. Some 4-H alumni true leaders you may know include country singer Dolly Parton, chef and TV personality Anne Burrell, actress Julia Roberts and former First Lady Jacqueline Kennedy Onassis.
Michigan State University Extension and the Michigan 4-H Youth Development program help to create a community excited about STEM (Science, Technology, Engineering, and Mathematics). 4-H STEM programming seeks to increase science literacy, introducing youth to the experiential learning process that helps them to build problem-solving, critical-thinking and decision-making skills. Youth who participate in 4-H STEM are better equipped with critical life skills necessary for future success. To learn more about the positive impact of Michigan 4-H youth in STEM literacy programs, read our 2015 Impact Report: "Building Science Literacy and Future STEM Professionals."
Michigan 4-H has many 4-H science programming areas for youth to explore. Science is everywhere with many questions to ask and discoveries to be made. For more information about 4-H learning opportunities and other 4-H programs, contact your local MSU Extension office.
Other articles in series