True 4-H science teen leaders: Ionia County
Ionia County has a true 4-H science teen leader in companion animals.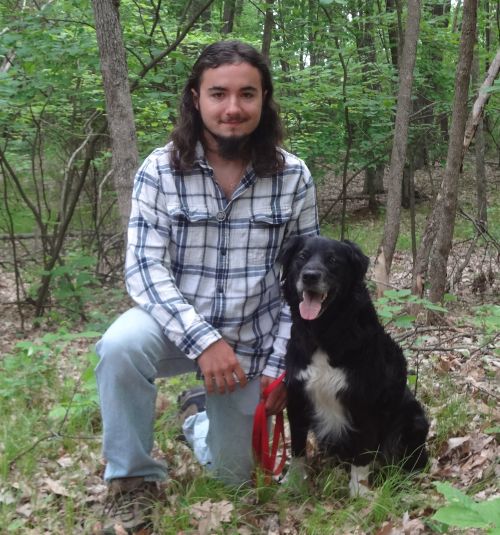 Ionia County 4-H has a true 4-H teen animal science leader in Jesse Pline. Pline has been actively involved for seven years as a member in Ionia County's "4-H 4 Paws" 4-H club in the companion animals project. He has been involved with the Michigan 4-H Companion Animal Camp annually since its beginning. It was a pleasure working with Pline this year in creating a "Eureka! Companion Animal Camp Game" from the Backpack to Adventure: Youth Leaders in a Global World Curriculum for participants to enjoy.
"Jesse has been an awesome camp participant since the camp's inauguration in 2015," said Katie Ockert, MSU Extension educator and Michigan 4-H Companion Animal Camp coordinator. "He has been a great teacher, friend and role model for the younger youth who attend camp and his fellow club members. I am looking forward to him coming back to camp as an instructor in 2018!"
Pline was honored to win the Best of Show last year at the Ionia Fair Dog Show. He also graduated in the top of his class at Portland Virtual School. Pline has been involved in his community as a trainee instructor at Ionia Pitchford's ATA Taekwondo. Recently, he has been accepted by the Student Conservation Association for a conservation internship in Alaska.
In an interview with Haley McLean, 4-H program coordinator in Ionia County, she commented on why she believes Jesse is a true companion animal science teen leader.
"Jesse has been very committed to the dog program since he started," said McLean. "He is willing to help the younger youth and demonstrate how a dog should be trained and showed."
McLean also offered advice for other youth interested in becoming a 4-H teen leader.
"The best way to be a teen leader is to be knowledgeable about your project," said McLean. "Ask your leaders and others questions in order to learn more and take it upon yourself to read and research more on your project. You can then teach others what you know."
Ionia County 4-H is growing a true 4-H teen animal science leader in Jesse Pline!
Michigan 4-H is proud to be part of the National 4-H tradition of supporting and growing true leaders. One of every seven adult American's is a former 4-Her. Some 4-H alumni true leaders you may know include NASCAR two-time champion Ned Jerrett, pro football Hall of Famer Dan Reeves, astronaut Alan Shepard and 42nd Vice President of the United States Walter Mondale.
The next generation of empowered 4-H true science leaders continues growing in Michigan!
Michigan State University Extension and the Michigan 4-H Youth Development program help to create a community excited about STEM (Science, Technology, Engineering, and Mathematics). 4-H STEM programming seeks to increase science literacy, introducing youth to the experiential learning process that helps them to build problem-solving, critical-thinking and decision-making skills. Youth who participate in 4-H STEM are better equipped with critical life skills necessary for future success.
To learn more about the positive impact of Michigan 4-H youth in STEM literacy programs, read our 2016 Impact Report: "Building Science Literacy and Future STEM Professionals."
Michigan 4-H has many 4-H science programming areas for youth to explore. Science is everywhere with many questions to ask and discoveries to be made. For more information about 4-H learning opportunities and other 4-H programs, contact your local MSU Extension office.
Other articles in series