Turfgrass pest and disease diagnostic services offered free to northern Michigan turf managers
The Northwest Michigan Horticulture Research Center is now accepting turf samples for insect and disease diagnoses.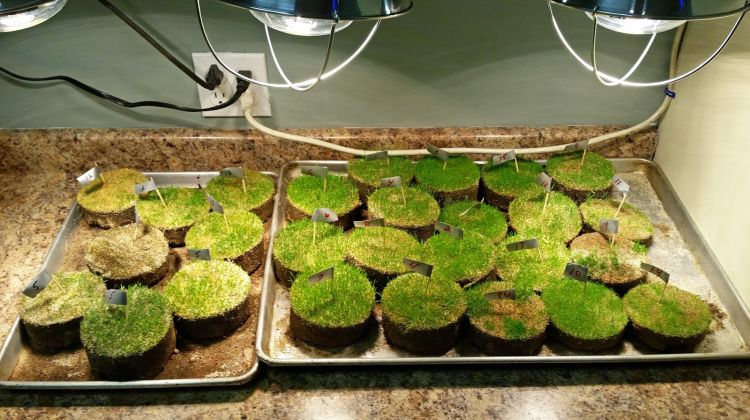 Michigan State University Extension is fortunate to have a turfgrass entomology expert as director of the Northwest Michigan Horticulture Research Center (NWMHRC). Nikki Rothwell completed a M.S. degree in turfgrass entomology at MSU, followed by a PhD in turfgrass entomology at University of Massachusetts. Rothwell is now director of the MSU AgBioResearch station in Traverse City, Michigan, where she oversees research and demonstration projects with cherries, apples, hops and many other crops grown in northwest Michigan. However, Rothwell has not forgotten her turfgrass roots.
The NWMHRC has a diagnostics lab that looks at crop samples for growers. Rothwell has offered her expertise in turfgrass entomology and turfgrass pathology (insects and diseases) in diagnosing turfgrass samples coming from northwest Michigan. Some golf course superintendents in that part of the state may prefer to drive cup-cutter samples to Traverse City, Michigan, rather than sending them to East Lansing, Michigan, or another diagnostic lab. The preferred type of sample is a golf course cup-cutter cylinder of turf and soil, trimmed so that the soil core is no more than 3 inches deep (see photo).
The Michigan Turfgrass Foundation and I have arranged to cover the labor cost for the NWMHRC to look at turf samples in the first year to determine if this is a service that northern Michigan turf managers need.
If you would like to take samples to the NWMHRC, their address and phone number follows:
Dr. Nikki Rothwell
Northwest Michigan Horticulture Research Center
6686 S. Center Highway
Traverse City, MI 49684
Phone: 231-946-1510
Dr. Smitley's work is funded in part by MSU's AgBioResearch.