Twenty-five years of global education: 4-H Michigan China Art Project
The 4-H Michigan China Art Project is celebrating 25 years of global education exchange with China.
Beginning in 1988, Michigan 4-H formed a unique partnership with China. One of the many significant efforts coming from this relationship is the 4-H China Art Project. In 1991 the 4-H Children's Art Exchange began asking youth in Michigan to create "visual letters" to send to youth their own age in China. Since then, the Art Exchange partner has been Binzhou (bin-joe) City, Shandong Province. Over 3,000 students, kinde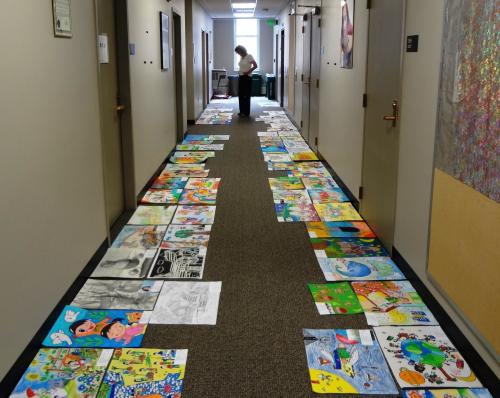 rgarten through 6th grade, have participated in the 2013 4-H Art Exchange with China. Of those, 80 pieces were selected to send to China from 12 Michigan Counties; Binzhou has sent about the same number to Michigan. Each Michigan school, or youth group, participating in the Art Exchange receives one to two pieces of Chinese children's artwork. All the Michigan children's artwork becomes part of the on-line art exhibit, "Visual Letters—The Art of Michigan Children Traveling Art Exhibit."
As part of the art exchange, Michigan children are asked to paint or draw "visual letters" for Chinese children. A visual letter is like a written letter in that both tell stories, share important ideas and feelings, and connect youth regardless of where they live. The medium is different as visual letters use images rather than written letters that use words; therefore the youth are communicating a story that can be understood by one another. Collected evaluations of the program continue to remain consistently positive and impactful. Some written comments from 4-H Resource China Art teachers or 4-H Club Leaders include, "My students look forward to the China Art exchange every year" and "Love this program and so do the students!" One teacher shared how a disabled youth was greatly moved when their artwork was chosen knowing that they were treated and selected equally amongst their peers. The Michigan children's artwork sent to China will be exhibited in schools in Shandong Province. Similar to the artwork sent to China, only a certain number of pieces could be sent to MSU for the selection process. This year the 12 participating counties had 25 schools and afterschool groups who sent children's artwork to represent them as part of the Art Exchange.
Michigan State University Extension believes global education is important in preparing youth to become the future leaders in a globalized world. An important aspect of youth global leadership is a competency in culture; this includes knowing and appreciating the culture of others. The China Art Project is a hands-on educational exchange that is a resource appreciated by educator's who are culturally preparing youth. The program has had an impact on thousands of Michigan youth and has brought cultural awareness to them as well. These "visual letters" share important ideas and feelings that connect children on two sides of the globe. They take shape as the primary means of communicating, culturally educating, inspiring, exciting, and impacting Michigan and Chinese youth through the exchange.