Two blueberry management meetings scheduled before bloom
Join us for our 2017 pre-bloom blueberry meetings in South Haven on Thursday, April 27, and West Olive on Thursday, May 11.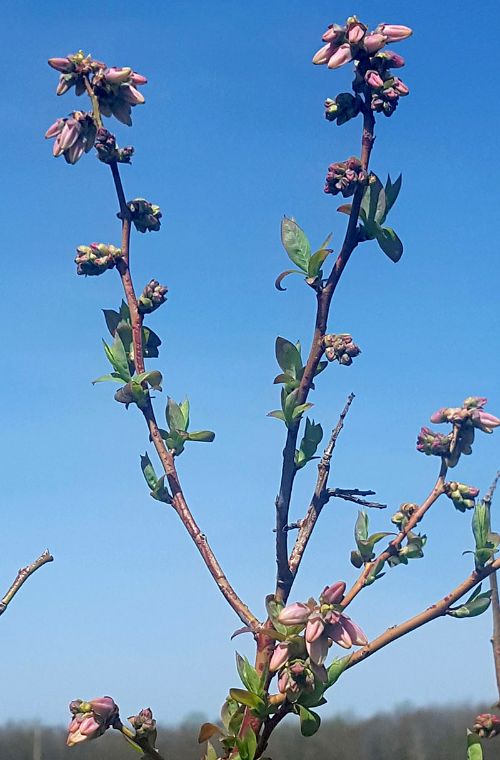 Blueberry growers and consultants are invited to attend one of two in-season blueberry management meetings taking place in Van Buren and Ottawa counties in 2017. Two Michigan pesticide applicator recertification credits will be available to attendees and no registration is necessary.
The first meeting is from 5:30-7:30 p.m. Thursday, April 27, at Haven Harvesters, 165 Veterans Drive, South Haven, MI 49090. This meeting is sponsored by Haven Harvesters LLC, Bronsink & Bros. Equipment of Mattawan and New Age/Landmark Laboratories of South Haven. The sponsors are providing a light supper at the beginning of the meeting.
The second meeting is from 5:30-7:30 p.m. Thursday, May 11, at the Ottawa County Fillmore Complex, 12220 Fillmore Street, West Olive, MI 49460.
The agenda of both meetings is the same with talks on:
Irrigating blueberries and using sprinklers of reduce freeze injury during bloom by Mark Longstroth, MSU Extension small fruit educator
Bloom and post-bloom blueberry disease control by Annemiek Schilder, MSU small fruit pathologist
Blueberry pollination and managing blueberry stem gall wasp by Rufus Isaacs, MSU small fruit entomologist
Managing cherry and cranberry fruit worms in blueberries by Carlos Garcia, MSU Small fruit educator and weed control
Blueberry bloom management update by Eric Hanson, MSU small fruit horticulturist