Understand rural health ahead of National Rural Health Day
Participate in National Rural Health Day on Nov. 16, 2017.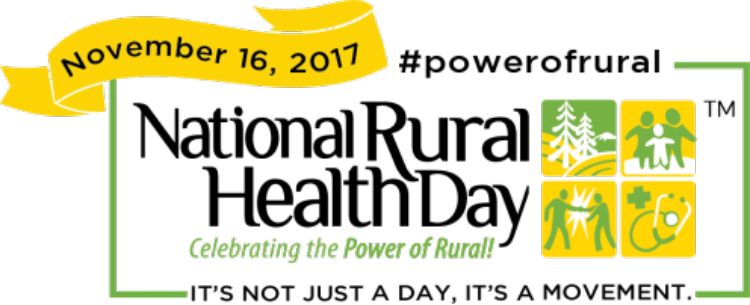 No matter if you live in a rural or urban area, good health is an essential goal for all of us. National Rural Health Day is set aside to celebrate rural communities and bring to light the unique healthcare challenges they face. The Health Resources & Services Administration (HRSA) has identified a framework to support the health of rural communities, including funding opportunities, rural health policy, rural hospital programs, rural community programs, telehealth programs and rural health research programs.
Defining rural
The definition developed by the Census Bureau identifies two types of urban areas:
Urbanized Areas (UAs) of 50,000 or more people
Urban Clusters (UCs) of at least 2,500 and less than 50,000 people
The Census does not actually define "rural." "Rural" encompasses all populations, housing and territories not included within an urban area. Whatever is not urban is considered rural. Their definition does not follow city or county boundaries, so it is sometimes difficult to determine whether a particular area is considered urban or rural. Under this definition:
About 21 percent of the US population in 2000 was considered rural but more than 95 percent of the land area was classified as rural.
In the 2010 Census, 59.5 million people (19.3 percent of the population) were classified as rural while more than 95 percent of the land area was still classified as rural.
Are you living in an area considered rural?
Approximately 62 million people – nearly one in five Americans – live in rural and frontier communities throughout the United States. To learn more about the health of your community visit Robert Woods Johnson community health rankings.
Health factors, health outcomes, policies and programs are all a part of measuring healthy communities. Under HRSA definition, areas defined as rural are based on health care providers who are located in geographic areas.
While poverty and disease can be found in both rural and urban living, approximately 15.4 percent of rural U.S. residents live in poverty compared to 11.9 percent of urban residents (rural health statistics). There is an association to poor rural health outcomes and health-hardships associated with rural areas. Chronic disease outcomes among health populations particularly in rural or isolated areas share common barriers:
Fewer primary health providers
Limited access (transportation)
Diverse pockets of segregated populations
Health literacy issues
Fewer mental health care treatment centers
Simple ways to support National Rural Health Day include, education (talk with community stakeholders about the issues facing rural health), collaboration (share rural health improvement ideas within your neighborhood & workplace) and communication (stay connected to others who have an interest in rural health)
Michigan State University Extension works to bring about measurable improvements in community health for all Michigan residents.