Understanding GRAS for the Pet Food Industry
The FDA recently made several rulings concerning the additives that pet food manufacturing companies can and cannot include in their products. Haskell discusses the concept of "generally recognized as safe" (GRAS) in relation to animal food.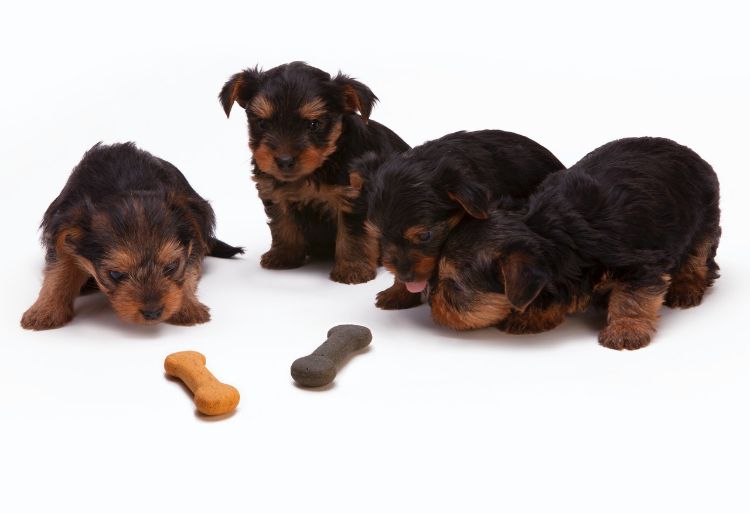 Learn more in the online course "US Food Laws and Regulations" with Neal Fortin, or "Animal Health, World Trade, and Food Safety" with Scott Haskell (both offered this fall semester 2021). Haskell also touches on this in his course "The Law of the Preventive Controls for Human Food Rule" (spring semester 2022).
In the United States, pet foods are regulated at both the state and federal levels. Under the Federal Food, Drug, and Cosmetic Act and the Food Safety Modernization Act (FSMA), the US Food and Drug Administration (FDA) has legal jurisdiction over all animal feeds in interstate commerce as well as imported food products. However, even with FSMA many states utilize (at least in part) the Association of American Feed Control Officials (AAFCO) Model Regulations for Pet Food and Specialty Pet Food. The FDA additionally regulates dietary supplements under the Dietary Supplement Health and Education Act of 1994 (DSHEA), but DSHEA does not apply to animal feeds.
All pet foods that enter interstate commerce or are imported must fulfill FSMA mandated pet food labeling requirements. Pet food labels may not make false or misleading claims, and they may not claim to reduce or treat disease. Adulterated and misbranded pet foods may be subject to enforcement actions.
The purpose of this paper is to explore the concept of Generally recognized as safe (GRAS) by scientific experts. Within this context, animal feed ingredients must be GRAS or approved as food additives. "Under sections 201(s) and 409 of the Federal Food, Drug, and Cosmetic Act (FDCA), any substance that is intentionally added to food is a food additive, that is subject to premarket review and approval by FDA, unless the substance is generally recognized, among qualified experts, as having been adequately shown to be safe under the conditions of its intended use, or unless the use of the substance is otherwise excluded from the definition of a food additive."
Under sections 201(s) and 409 of the FDCA, and FDA's FSMA implementation regulations in 21 CFR 570.3 and 21 CFR 570.30, the use of a food additive may be GRAS either through scientific procedures or, for a substance used in food before 1958, through consensus among scientific experts in the field regarding the safety based on the experience of common use in food.
"Under 21 CFR 570.30(b), general recognition of safety based upon scientific procedures requires the same quantity and quality of scientific evidence as is required to obtain approval of a food additive. General recognition of safety through scientific procedures must address safety for both the target animal and for humans consuming human food derived from food-producing animals and is based upon the application of generally available and accepted scientific data, information, or methods, which ordinarily are published, as well as the application of scientific principles, and may be corroborated by the application of unpublished scientific data, information, or methods."
"Under 21 CFR 570.30(c) and 570.3(f), general recognition of safety through experience based on common use in food requires a substantial history of consumption of a substance by a significant number of animals of the species to which the substance is intended to be fed (and, for food-producing animals fed with such substance, also means a substantial history of consumption by humans consuming human foods derived from those food-producing animals)."
The FDA has recently made several rulings and subsequent announcements concerning compliance with regulations and the additives that pet food manufacturing companies can and cannot include in their products. On December 10, 2020, the government finalized their guidance documents CVM GFI #262, Pre-Submission Consultation Process for Animal Food Additive Petitions (FAPs) or Generally Recognized as Safe (GRAS) Notices, "to facilitate consultations between FDA and stakeholders prior to submitting an animal FAP or GRAS notice for an animal food ingredient. The guidance includes recommendations from the FDA Center for Veterinary Medicine (CVM) on "the information that should be included with (1) pre-petition consultations prior to animal FAPs; (2) pre-submission consultations for animal food GRAS notifications; and (3) Food Use Authorization (FUA) requests to use, in human or animal food, products derived from animals that have been administered an investigational substance intended for use in animal food." (Hartung, 2018)
"The guidance, details non-binding recommendations for submissions to investigational food additive (IFA) files and FDA's review process for IFA submissions, use of foreign data in submissions, the circumstances under which a stakeholder should submit their study protocols, and how to best communicate with FDA regarding regulatory submissions. The guidance encourages early communications between stakeholders and CVM in the FAP or GRAS. New appropriations in the last year have allowed CVM to improve its capacity for animal food ingredient reviews, and it is working to reorganize the Division of Animal Feeds to expedite reviews and improve the process's efficiency. This guidance furthers its goals of facilitating better communications with stakeholders to bring safe new animal food ingredients to the market." (AAFCO, 2021)
GRAS is important because it allows manufacturers to add new substances to animal food expeditiously. A key feature is that GRAS generally does not require pre-market review or approval by the FDA for the inclusion of substances into food. Therefore, the GRAS process can be more efficient and can allow the addition of a substance or substances into a manufacturer's final products much more rapidly. Essentially, Congress decided that not all additives to foods and feeds require FDA's scrutiny and approval. Many foods with a history of safety in our food supply are allowed in feed without an FDA-mandated approval. This process can in many instances, allow manufacturers to determine the GRAS use safety without the FDA involvement.
Discretion is definitely necessary when a company is trying to determine whether a substance's use is GRAS. The FDA does have the authority and right at all times to review and comment on industry-developed GRAS determinations. Again, the government requires that scientific food safety assessments by scientific experts determine the safety of these ingredients. It should be noted that manufacturing companies requiring the addition of a non-GRAS ingredient generally are required to file a food additive petition. Within the classification of approval by the FDA, controlled sound scientific studies and testing are required for these proposed ingredients. Finally, these ingredients must be found safe and the use of the product within the correct species must be evaluated.
FDCA Standards Requiring Freedom from Adulteration (Source: AAFCO site accessed April 23, 2021)
All animal feeds must be considered unadulterated. "Adulteration is a prohibited act under state and federal law covering animal feed and pet food. The Federal Food Drug and Cosmetic Act (FDCA) describes unsafe substances and practices regarding adulteration."
AAFCO Feed and Ingredient Process Control Standards (Source: AAFCO site accessed April 23, 2021)
Process controls are required procedures, which are designed to ensure an ingredient is acquired, handled, mixed, stored, used properly during manufacturing. This helps assure the product safety and effectiveness of the ingredient in the feed.
Upcoming Regulatory Changes to Pet Food Safety
The ongoing development of rules and regulations of FSMA is exciting and has made significant improvements to domestic food safety of both human and animal foods. Additionally, the FDA and the CVM have been designing the Animal Feed Safety System (AFSS) as an ongoing project to improve our animals' safe food supply. AFSS importantly is reflective of FSMA, CVM, and AAFCO's commitments to develop GMPs for the improved production of animal feeds. Along with FSMA, additional federal legislation has passed that requires the FDA and the CVM to "evaluate, design, develop, and improve" existing regulations to enhance new ingredient standards. Federal and state legislation has been developed which requires additional enhanced food safety and ingredient regulations. FSMA has been an excellent component to enhance food safety since its adoption.
References
FDA, (2016) Substances Generally Recognized as Safe. Federal
Register Federal Register / Vol. 81, No. 159 / Wednesday, August 17, 2016. Accessed May 5, 2021
https://www.federalregister.gov/documents/2016/08/17/2016-19164/substances-generally-recognized-as-safe
Hartung, T. (2018) "Rebooting the generally recognized as safe (GRAS) approach for food additive safety in the US", ALTEX - Alternatives to animal experimentation, 35(1), pp. 3-25. doi: 10.14573/altex.1712181. Accessed May 1, 2021, https://www.altex.org/index.php/altex/article/view/95/140
CVM (2020) CVM GFI #262 Pre-Submission Consultation Process for Animal Food Additive Petitions or Generally Recognized as Safe (GRAS) Notices Docket Number FDA-2020-D-0064. Accessed May 6, 2021
https://www.fda.gov/regulatory-information/search-fda-guidance-documents/cvm-gfi-262-pre-submission-consultation-process-animal-food-additive-petitions-or-generally
Burdock, GA, Carabin, IG (2004) Generally recognized as safe (GRAS): history and description Toxicology Letters Volume 150, Issue 1, 15 April 2004, Pages 3-18. Accessed April 25, 2021 https://www.sciencedirect.com/science/article/abs/pii/S0378427404000347?via%3Dihub
FDA. Pet Food Labels https://www.fda.gov/animal-veterinary/animal-health-literacy/pet-food-labels-general Accessed May 6, 2021
Association of American Feed Control Officials. https://www.aafco.org/ Accessed April 23, 2021
Documents of Interest Dealing with GRAS
GRAS Regulations Documents
GRAS Guidance Documents