Understanding the role of forages in Upper Peninsula potato rotations
Soil health continues to be a hot topic in production agriculture, and in Upper Peninsula potato production, this is no different.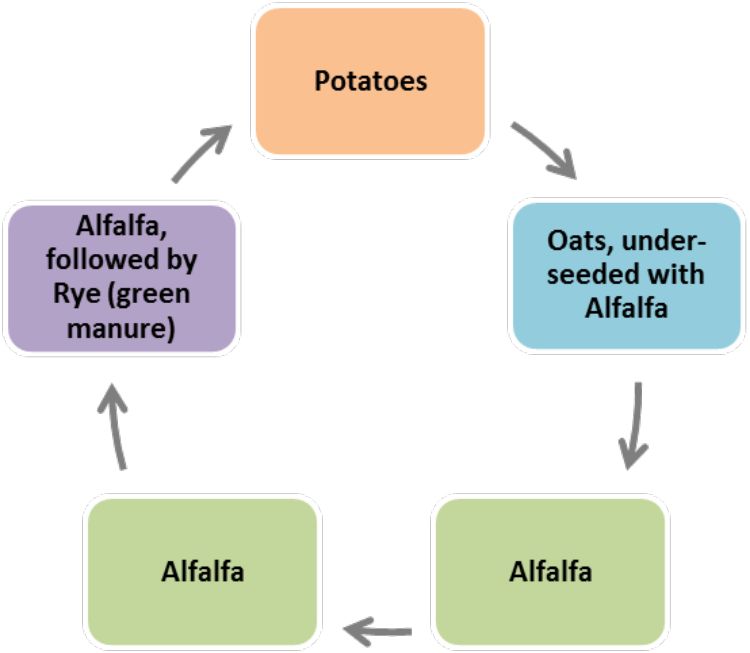 It is a common practice to utilize both small grains and forages in Upper Peninsula (U.P.) potato rotations, although the real benefit of this use has not been determined. Forage crops, like alfalfa, bring obvious fertility benefits to the soil through nitrogen fixation, but can also host verticillium, leading to early-die in potato plants. A group of researchers from Michigan State University have developed an experimental design to look at a five-year potato cropping rotation (Figure 1). The design includes soil and plant sampling to better understand the impact of forages on potato production.
The first year of the study is funded through the Michigan Department of Agriculture and Rural Development Specialty Crop Block Program, and is focusing on collecting baseline soil data to support future work (Figure 2). The study is hosted at the Hanson Seed Potato Farm in Cornell, Michigan, and is being managed locally by the Upper Peninsula Research and Extension Center Crops Researcher, Christian Kapp. Other researchers involved include; Chris Long (Potato Extension Specialist), Noah Rosenzweig, Ph.D. (Research Associate), and Dr. Kim Cassida (Forage Specialist).
Due to the high demand for locally-sourced U.P. potatoes, soil health is an increasing concern as farmers must become more efficient on their land and with their cropping practices. This study has employed an intensive soil health monitoring program to assess the microbial community, including species of various nematodes. During each rotation, soil and plant sampling will occur to determine the impact of the various crops. Furthermore, information was gathered at time of harvest, including yield, tuber size, and scab rating. The sampling protocol is carried out in both a random and grid pattern. The same points will be sampled each year, and the data will be uploaded to GIS (geographical information system), so that it can be spatially analyzed over time.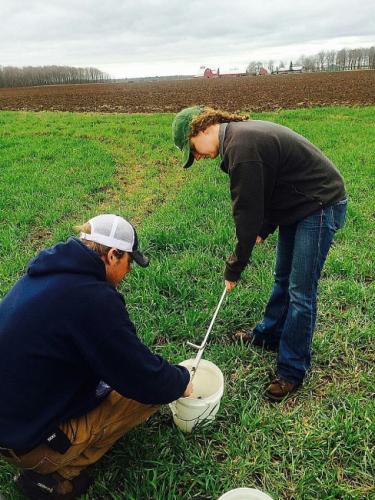 This information is extremely valuable to U.P. agriculture because of the difference in the cropping rotation that is typically used and understood in the Lower Peninsula of Michigan. At the conclusion of the study, researchers hope to understand if and how forages improve potato yield, and whether inclusion of forages in the U.P. potato rotation should be recommended as a 'best practice'.
Updates on this project and all other research supported by the Upper Peninsula Research and Extension Center and Michigan State University Extension will be relayed through the UPREC updates newsletter. Specific questions can be addressed to Christian Kapp at 906-439-5114 or kappchri@msu.edu.