Upper Peninsula residents benefit from MSU Extension's Master Gardener Virtual Class
Registration is now open through Aug. 12, 2021, for the upcoming Upper Peninsula Michigan State Extension Master Gardener class.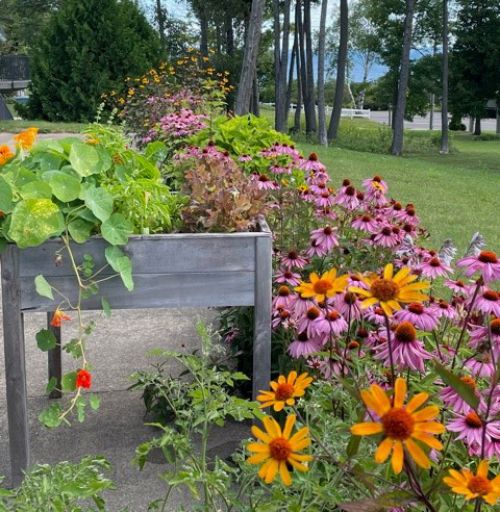 If you love gardening and are interested in learning more, now is the time to register for the Upper Peninsula Extension Master Gardener Virtual Class. Learn the latest research-based garden information from many specialized instructors in the comfort of your home without the need to commute the longer distances or worry about winter weather conditions. Michigan State University Extension Master Gardener staff created an online learning module where class participants interact, access learning materials, complete activities related to weekly class topics and attend live presentations by the experts. Past participants have shared many positives about their online experiences.
Is the Extension Master Gardener program for me?
If you like to garden and enjoy helping others learn more about gardening, then this program is for you. You do not need to be an expert in gardening as the class is open to everyone from beginners to those who have been gardening many years. Anyone ages 18 and above is invited to register.
It is a volunteer training program which first includes an application to become an MSU Extension volunteer, followed the 14-week online training course and then a 40-hour volunteer requirement. This volunteer requirement focuses on teaching others in a community setting about research-based gardening practices learned from the course. You can start your own volunteer project or join many other ongoing projects around the Upper Peninsula. Learn more about the Michigan Extension Master Gardener Program.
Will I learn as much from an online experience?
Here's what recent past participants have to say.
"As we went through the course, I (after 50-plus years of indoor and outdoor gardening) found out all kinds of new ways to make my gardening projects perform better, have healthier plants (in the right locations) and produce more. It was an eye-opener to find out how many things I have been doing the hard way and learning science-based ways to do it all better."
"Here's the best part: the faculty! They were always interesting and sometimes even amusing. Who knew pest identification, management and prevention could include funny parts? Instructors presented materials that were useful, answered questions and emails, guided us to resources, and guess what? They still do! It's wonderful to be able to get science-based information on gardening questions, from design to clean-up, all-inclusive, from people who know it inside and out."
What's in it for me?
From the over 1,000-page instructional manual, the 14 different gardening topics and their instructors to the many online learning resources, participants provided more positive feedback. One stated, "It helped me get an overall understanding of so many different aspects of gardening. Helped me try new projects/ideas (trying to grow flowers from seed, diversifying what I plant, just looking at my yard and the environment around me with a whole new perspective)."
Another noted, "The class material was just what I wanted—good (and thorough) information on aspects of gardening that you're not going to find in a newspaper or magazine article. Basic botany, soil science, water resources, integrated pest management, plant propagation, composting, as well as chapters on lawns, tree fruits, annual and perennial flowers, small fruits, woody ornamentals, and lots more!"
How do I register?
Your registration and payment is due by Aug. 12, 2021 and occurs online at: Extension Master Gardener Program Training Course - Upper Peninsula. Following registration, you will be directed to the Volunteer Selection Process, which is required for your enrollment in the Extension Master Gardener Training Course.
For questions, email kransr@msu.edu.