Upper Peninsula winter 2020 forage program offered as online recordings
The Recipes for Forage Success meeting cancelled at Escanaba and Mass City is now available in recorded segments online.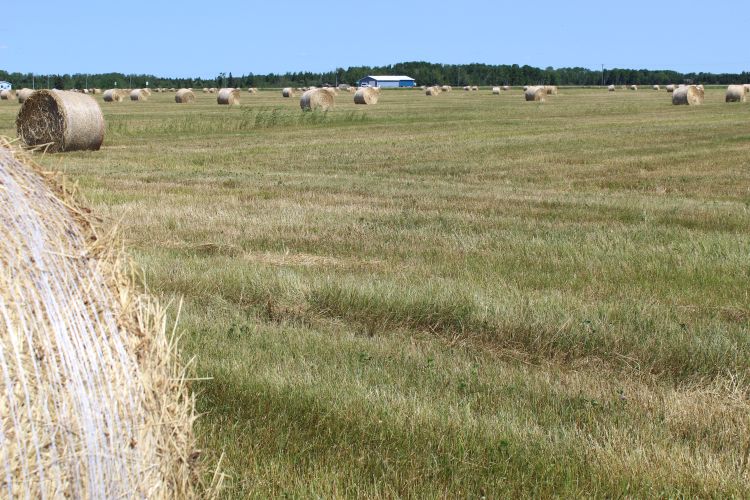 Forage production is a key component of most farm operations in Michigan's Upper Peninsula. The term forage means different things to different farmers: dry hay, pasture, corn silage, haylage, baleage, peas and oats, alfalfa. The list could go on. Michigan State University Extension and MSU researchers continually explore options to improve forages systems on Michigan farms. Kim Cassida, MSU's forage specialist, includes forage trials in the Upper Peninsula in her statewide program. Her website, MSU Forage Connection, contains a wealth of Michigan forage information. In addition, local staff from the MSU Upper Peninsula Research and Extension Center and county-based MSU Extension staff conduct trials based on farmer interest and input.
Statewide and locally generated forage information is shared through newsletter articles, the MSU Extension website, ag media and face-to-face educational meetings with farmers. These meetings are usually scheduled in winter months when farmers have more time available to attend.
This year, the Recipes for Forage Success meeting was scheduled for locations in Chippewa, Delta and Ontonagon counties. Unfortunately, the Governor's "Stay Home, Stay Safe" executive order resulted in the cancellation of two of these meetings. To make the meeting content available, presenters have provided video recordings of their segments of the meeting. These recordings are available online at any time and include captions to improve accessibility. The presenters have agreed to respond to any questions you may have about their presentations. Their contact information is included below along with the internet links to their presentations.
Intro, new forage bulletins, alfalfa nurse crop study
Intro, new MSUE forage bulletins, alfalfa nurse crop study (25 min, 0 sec) – presented by Jim Isleib, MSU Extension Upper Peninsula crop production educator based in Alger County
Description: An introduction and description of three recent MSU Extension forage-related publications as well as results of a 2018-2019 alfalfa nurse crop study in Chatham, Michigan.
MSU Upper Peninsula forage trials and results
MSU U.P. Forage Trials and Results (26 min, 0 sec) presented by James DeDecker, director of the MSU Upper Peninsula Research and Education Center in Chatham.
Description: An overview of several forage research projects conducted at the Center and on various cooperating farms in the region.
Annual forages and bale grazing
Annual Forages (20 min, 24 sec) and Bale Grazing (13 min, 57 sec) presented Jeremy Sweeten, farmer from Dafter, Michigan, and forage agronomist for CISCO Seeds. Cell phone: 765-427-7966. Email: jeremysweeten@ciscoseeds.com
Description: Annual forage options and bale grazing.
Fertilize with hay
Fertilize with Hay (13 min, 50 sec) presented by Frank Wardynski, MSU Extension livestock educator based in Ontonagon County
Description: Improving soil fertility through feeding hay on pastures.