Using fungicides to suppress Fusarium head scab in wheat
Wheat fields are beginning to show signs of head emergence. This marks the time to consider applying fungicides to reduce the risk of head scab and leaf diseases.
The wet weather this spring has greatly elevated the risk of Fusarium head scab. At this point, the use of a fungicide at flowering is the best response for trying to curb the disease and suppress its associated mycotoxin (a.k.a. DON or vomitoxin). A fungicide application at the flowering stage offers the added benefit of helping keep leaf diseases in check.
Head scab is favored by moderate temperatures (56 to 86 degrees Fahrenheit) and high relative humidity (particularly in excess of 90%) around and during the flowering stage. Michigan State University Extension recommends utilizing the Fusarium head scab risk assessment tool. This prediction model provides a daily level of risks for specific locales. For southern Michigan where wheat is heading, the model is suggesting some of the highest risks levels that we have seen in recent years. For those in central Michigan where the flowering stage may still be a week away, the level of risk may be significantly less or even low depending on weather. The model is correct most of the time, but growers are also encouraged to rely on their knowledge of localized environments and their own experience.
Another important consideration is the innate resistance level individual varieties possess to fend off the disease. Below is a table providing a list of some common, established varieties and their respective resistance rating. Another good source of information is the Michigan State Wheat Performance Report. Table 3 of this updated report provides the resistance ratings for varieties from the 2018 season.
Relative susceptibility of winter wheat varieties to Fusarium head scab

Soft white winter wheat

Soft red winter wheat

variety

rank*

variety

rank*

variety

rank*

variety

rank*

Ambassador

VS

Pioneer 25R40

S

Branson

MS

MCIA Roane

MS

Skeet Safety

VS

Wellman 206

S

Red Devil

MS

Pioneer 25R50

MS

Jupiter

S

Hopewell

S

AgriMax 413

MS

Red Dragon

MR

AC Mountain

S

Shirley

S

DynaGro 9223

MS

DF 112R

MR

Aubrey

S

DynaGro 9243

S

Pioneer 25R39

MS

Pioneer 25R25

MR

Pioneer 25W36

S

Pioneer 25R47

S

DF 105R

MS

Agrimax 415

MR

E6012

S

Red Ruby

S

Sienna

MS

Steyer Hunker

MR

Venus

S

Pioneer 25R62

S

Rupp 907

MS

L334

MR

DynaGro 9242W

MS

Whale

S

Sunburst

MS

Rupp 972

MR

Pioneer 25W43

MS

DF 109R

S

DynaGro 9171

MS

Syngenta 901

MS

Agrimax 438

S

AgriMax 444

MS

Pioneer 25W31

MS

DF 045

S

DynaGro 9053

MS

DynaGro 9353W

MS

SC1342

S

DynaGro 9042

MS

DynaGro 9522

S

Wellman 123

MS

* the relative susceptibility of varieties are ranked as VS (very susceptible), S (Susceptible), MS (moderately susceptible), or MR ( moderately resistant)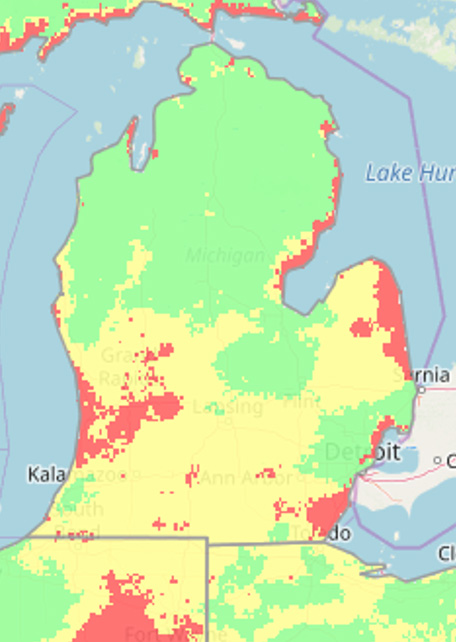 Ground application is generally recommended for applying wheat fungicides. However, aerial application of fungicides may be necessary where wet conditions prohibit ground rigs from operating. Fungicides applied by air may have reduced head deposition compared to ground rigs, but they still can offer significant protection against head and leaf diseases. See Aerial Application of Fungicides from work in North Dakota for application recommendations.
The best fungicides for head scab include Prosaro, Caramba and Miravis Ace. These products usually reduce the severity of the disease and the associated mycotoxin (D.O.N. or vomitoxin) level by half if applied correctly. To optimize the benefit of these fungicides, growers should treat 2 to 7 days after the heads have begun to flower. An information piece, Managing Fusarium head blight, is available as a resource.