Vegetable entomology insect tools
New tools on the vegetable entomology website facilitate scouting and management of insect pests for Michigan vegetable growers, scouts and Extension educators.
The MSU Vegetable Entomology website now provides growers with weekly updates on pest numbers in different vegetable crops. Currently, three crops are being monitored for different insects: Asparagus, cabbage and sweet corn. The information displayed on the website is useful to find out if a particular insect is present on the crop in the monitored fields, the change in their numbers over time and for some insects, the abundance of the different life stages. This information enables growers to stay informed about the status of a pest and to guide scouting efforts in their fields. Our goal in the vegetable entomology laboratory is to help improve the timing of management applications and reduce pesticide use.
MSU Extension educators are monitoring sweet corn pests such as the European corn borer, corn earworm, western bean cutworm and fall armyworm at different sites across Michigan. To view the insect numbers, click on the "Extension" tab at the top of the Vegetable Entomology webpage and choose "Sweet corn insect map" from the drop down menu.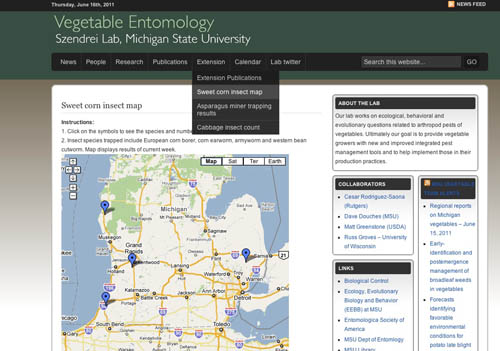 The blue symbols on the map represent trapping locations in sweet corn. Click on these symbols to view the dialog box with the names of insects trapped in that area. Following the name of the insect, a number displays how many adults were collected in a pheromone trap in a week. The map is interactive, so you can move it in all directions and zoom in or out. Numbers of insects are updated every week as data becomes available during the growing season.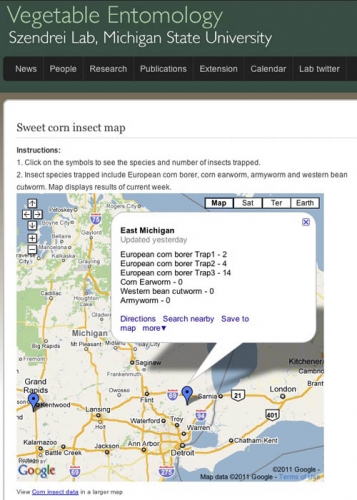 Information on adult asparagus miner numbers can be found by choosing the "Asparagus miner trapping results" tab from the "Extension" drop down menu at the top of the Vegetable Entomology webpage.
The asparagus miner graph displays the average number of adult flies caught on yellow sticky traps at five commercial asparagus farms in the Hart area. As new data comes in every week during the growing season, a new time point is added to the graph. This provides information on when a generation begins and ends, and when the adult flies are abundant. To see a picture of the adult asparagus miner, click here.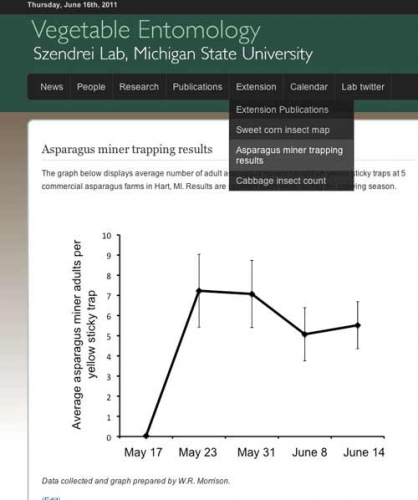 Cabbage insect pests are counted each week on plants in an experimental plot in East Lansing. Currently, the abundance of two species, the diamondback moth and the imported cabbageworm, are displayed on graphs on this website. Click on the "Extension" tab at the top of the page and choose "Cabbage insect count" from the drop down menu to reach this page at the Vegetable Entomology website.
As new data comes in every week during the growing season, a new time point is added to each graph. These graphs provide information on the abundance of different life stages. To see pictures of the adult diamondback moth and imported cabbageworm (cabbage white), click here.