Vineyard IPM can save grape growers money, reduce losses
Video highlights how MSU grape team provides pest and disease information to growers in a timely and accessible way.
June 5, 2018 - Author: Rufus Isaacs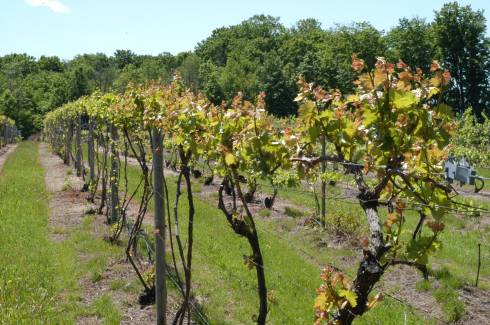 Thanks to funding from the Michigan Grape and Wine Industry Council, the Michigan State University grape team recently developed a short video, "Michigan Vineyard IPM Extension Program," that provides an overview of an ongoing vineyard scouting project, in which MSU research and Extension staff provide summertime updates of insect pests and diseases. Weekly vineyard scouting reports are provided through the MSU Extension Grapes website and the MSU Extension Fruit & Nuts news, plus we highlight integrated pest management (IPM) techniques in our winter Extension programs.
In "Michigan Vineyard IPM Extension Program," we provide an overview of recent activities under this project, and highlight the benefits of regular vineyard scouting for vineyard management of pests and diseases.
To access "Michigan Vineyard IPM Extension Program" and other wine grape research videos on a variety of topics, go to the Michigan State University Extension Grapes Research page or see below.
---