Visit the upcoming Lansing Home and Garden Show, March 19-22, 2015
Take an early step into spring at the Lansing Home and Garden Show and get great money- and time-saving tips for smart gardening.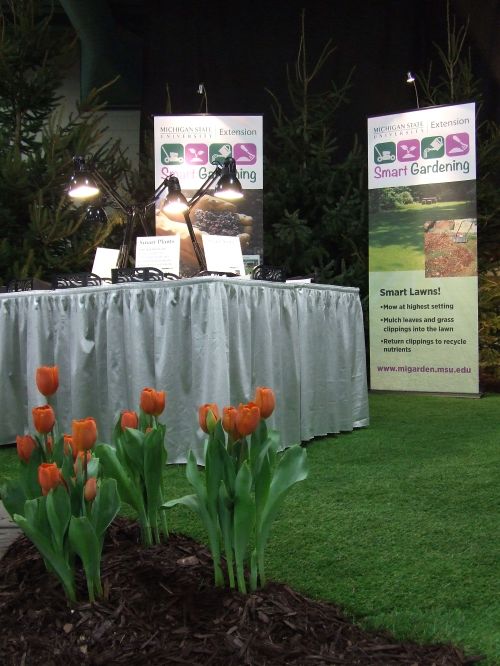 There is still snow on the ground, but the days are getting longer and the gardening catalogs are arriving, tempting us with pictures of tree-ripened fruit, colorful vegetables and bright blossoms on perennials and annuals. It's nearly time for the Lansing Home and Garden Show, a chance to leave winter behind and step into spring. At the show, you can walk through beautiful gardens, see new products and come home with fresh ideas to make your gardening and home care easier and more rewarding.
The Lansing Home and Garden Show takes place March 19-22, 2015 at the Michigan State University Pavilion, 4301 Farm Lane, East Lansing, MI 48824. When you arrive at the show, be sure to visit the Michigan State University Extension "Smart Gardening" booth. Get free tip sheets on topics from lawn care, soil and soil testing, to landscaping with native plants, watering and other environmentally-friendly practices to make gardening easier.
New this year are five tip sheets on vegetable gardening:
Learn about the Gardening in Michigan website and information that can be found there, including tips on growing vegetables and fruits and preserving food. You will also find information about the Master Gardener volunteer program and upcoming Master Gardener classes.
While you are at the show, plan to attend one of the gardening seminars presented by MSU Extension faculty and staff.
Thursday, March 19 seminars
6:00 p.m. – Smart Container Gardening
6:30 p.m. – Green Your Garden: A Smart Gardener's Journey
Friday, March 20 seminars
5:00 p.m. – Totally Tomatoes for the Smart Garden
5:30 p.m. – Bee Friendly Gardening
Saturday, March 21 seminars
2:00 p.m. – Be Pest Smart: Know the New and Unusual Pests in the Garden and Landscape
2:30 p.m. – Smart Tree Selection Using Underutilized Trees for the Landscape
7:00 p.m. – Native Shrubs for the Smart Garden
7:30 p.m. – Smart Gardening with Herbs
Sunday, March 22 seminars
1:00 p.m. – Smart Gardening with Herbs
1:30 p.m. – Build Your Own Bee House
We look forward to seeing you at the show and sharing gardening tips with you to make 2015 your best gardening season ever.
For more information on a wide variety of smart gardening topics, visit the Gardening in Michigan website at www.migarden.msu.edu or contact MSU's toll-free garden hotline at 1-888-678-3464. You can also visit us at the Novi Cottage and Lakefront Living Show Feb. 26-March 1 in Novi, Michigan; the West Michigan Home and Garden Show March 5-8 in Grand Rapids, Michigan; the Lansing Home and Garden Show March 19-22 in Lansing, Michigan; and the Garden Extravaganza Gardening Conference April 11 in Marquette, Michigan.
Did you find this article useful?
---