Viticulture experts converge for January Wine Grape Vineyard Establishment Conference
Faculty of five universities and leading industry practitioners will share their expertise in starting wine grape vineyards at the Jan. 21-22, 2014 Michigan Wine Grape Vineyard Establishment Conference.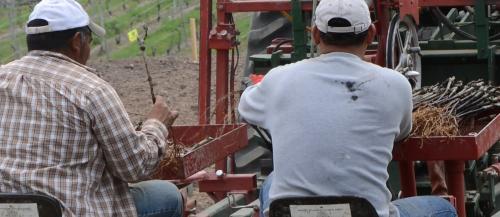 Michigan State University Extension will host a wine grape establishment conference on January 21-22, 2014. Conference attendees will have the added convenience of being able to select from three locations across the state to participate in the conference, which will be presented using a hybrid webinar format in Benton Harbor, Traverse City and Novi.
Joe Fiola, Extension Specialist in Viticulture and Small Fruit at the University of Maryland will address the selecting wine grape varieties. Fiola has more than 25 years of academic and industry experience in research and extension in small fruit production and breeding, viticulture and enology. Hans Walter-Peterson, Cornell University's Viticulture Extension Specialist in the Finger Lakes Region, will share his considerable expertise about the costs of starting a vineyard and Keith Striegler, current vice-chair of the National Clean Plant Network for Grapes, and a seasoned researcher in the area of cultivar and rootstock evaluation, will guide participants through the process of selecting rootstocks.
MSU Extension specialists, Tom Zabadal, Rufus Isaacs, Annemiek Schilder, and emeritus professor Stan Howell will join Extension Educators Duke Elsner and Diane Brown to address other important topics for beginning winegrowers such as: site selection, site preparation, planting and care, trellis construction; and pest management. Lee Lutes, head winemaker at Black Star Farms winery in Suttons Bay, Michigan will discuss how to market wine grapes, and Linda Jones, Executive Director of the Michigan Grape & Wine Industry Council will describe Michigan's wine and grape industry.
An optional pre-conference session will offer presentations designed to acquaint new growers with the basics of grapevine growth and development, pest management concepts, soil fertility, and an introduction to viticulture terminology. Jodie Creasap-Gee of Kent State University, and Carl Rosen of the University of Minnesota and MSU Extension Educators will present the session topics.
The registration fee is $115 for the basic conference and $25 for the pre-conference introduction. Space is limited, so pre-registration and payment is required by January 10, 2014 or until full. No walk-in registrations will be accommodated. A detailed agenda and registration information may be found at http://events.anr.msu.edu/winegrape14/.
The Wine Grape Establishment Conference is sponsored by Viticulture and Enology Science Technology Alliance (VESTA), and the MSU Product Center and the MSU Institute of Agriculture Technology.