Webinar shows gardeners how to support bees
A free, hour-long webinar gives background and tips for gardeners wanting to do their part to help "save the bees."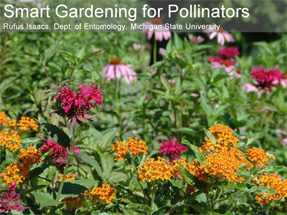 The public has been hearing a lot of news recently about the challenges faced by bees and the implications of that for our food crops. Gardeners have been responsive to this issue and are increasingly interested in what can be done in their own gardens to help support pollinators. As part of Michigan State University Extension's Smart Gardening Program, a webinar presentation titled "Smart Gardening for Pollinators" was delivered earlier this year by MSU entomologist Rufus Isaacs. This is now available online and can be accessed for free over the Internet.
The talk and associated colorful slides provide gardeners with an introduction to smart gardening for pollinators, including some background on bee biology, what bees need to be healthy, and some simple steps that can be used to provide nesting and food resources for some of the key pollinators. The talk emphasizes taking small steps and gradually building a more bee-friendly garden, and it highlights some of the resources at the MSU Horticulture Demonstration Garden that can be seen if people visit campus.
Dr. Isaacs' work is funded in part by MSU's AgBioResearch.
Did you find this article useful?
---
You Might Also Be Interested In