Weed scouting tips on Sept. 9 Field Crops Virtual Breakfast
The Field Crops Virtual Breakfast on Sept. 9, 2021, will feature MSU Extension weed specialist Christy Sprague discussing scouting for weed escapes and management.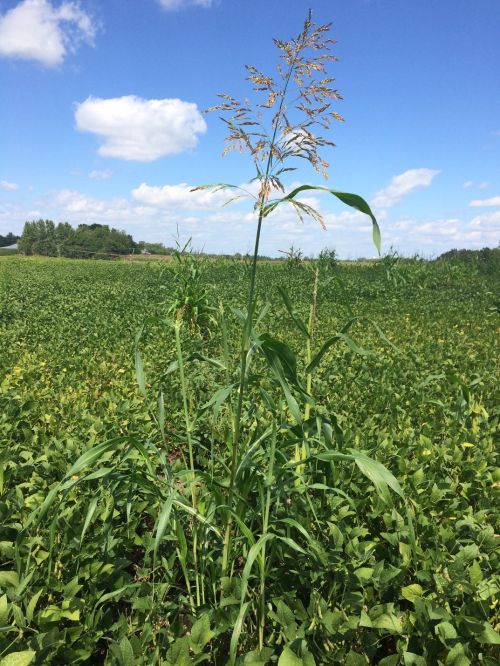 Michigan State University Extension weed specialist Christy Sprague will be addressing the importance of scouting for identifying escapes and general management during the Field Crops Virtual Breakfast session on Sept. 9, 2021, at 7 a.m. Prior to and during harvest is the perfect time to scout for weed escapes. Identifying where weeds are can help in getting a jump on weed management plans for the 2022 growing season. Additionally, other strategies can be implemented this fall to help manage winter annual, biennial and perennial weeds and reduce their impacts on the 2022 crop.
Waterhemp, horseweed, Palmer amaranth and both common and giant ragweed are weeds to look out for. Many of these weeds are resistant to glyphosate and can also be resistant to herbicides with other sites of action. If found, samples of these weeds can be sent to the MSU Plant & Pest Diagnostics to be tested for resistance. More information on testing costs and sampling strategies will be discussed during the Virtual Breakfast.
Attendees will be able to ask Sprague questions during the open Q&A session following the main presentation. MSU agricultural climatologist Jeff Andresen will hopefully give us good news about the upcoming weather as we look to finish up this crop and begin harvest.
Sign up for the free Field Crops Virtual Breakfast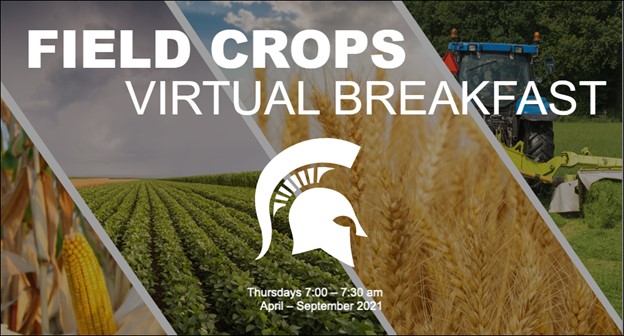 The Michigan State University Extension Field Crops Virtual Breakfast Series are held every week during the growing season via Zoom video or phone conference. These virtual meetings will take place every Thursday morning from 7-7:30 a.m. April 1 through Sept. 23, 2021. There will be a 30-minute Q&A session following the presentations.
Participating is easy and free! You can join the live meeting via Zoom using a computer, tablet, mobile device or regular phone line. If you are new to Zoom, simply download the Zoom app and you will be ready to join online every week to see visuals shared by presenters. A call-in by phone option is also available but note that you will only hear the audio portion.
Restricted use pesticide (RUP) credits and Certified Crop Advisor (CCA) CEUs are now available for attendees who attend the live meeting.
Participants must sign up to receive an email notification with instructions for joining the Virtual Breakfast. You only need to do this once and you will receive the Zoom link and call-in phone number, as well as weekly reminders every Wednesday. Participants receiving emails can opt in or out at any time.
Sign up for the free Field Crops Virtual Breakfast
If you cannot participate in the live session at 7 a.m., you can view the recorded version at any time. However, only the live session will be eligible for RUP and CCA credits. Recordings will be closed-captioned and available at the Field Crops Virtual Breakfast webpage and the MSU Extension Field Crops Team social media platforms: Facebook, Spotify, YouTube, Apple Podcasts and Twitter.
If you are unable to sign up online, call the Lapeer County MSU Extension office at 810-667-0341.