Weeds not controlled prior to soybean emergence can reduce yield
Editor's note: This article is from the archives of the MSU Crop Advisory Team Alerts. Check the label of any pesticide referenced to ensure your use is included.
Driving around the state, I have noticed several no-till fields that still have carpets of winter annual and some newly emerged early summer annual weeds, like common lambsquarters and giant ragweed. With the wet conditions keeping many growers out of the field, soybean planting is occurring at a slower pace and once conditions are favorable many growers may opt to plant first and apply a burndown later. It is extremely important that weeds that are currently in fields be controlled prior to soybean emergence. Ideally, these weeds should have been controlled prior to planting, but because many of these fields have already been planted it is important to control these weeds prior to soybean emergence. Timely burndown herbicide applications in no-till soybean fields are critical to protecting soybean yield.

Over the last several years, there has been the tendency for growers to plant their soybeans into a weedy mess and not worry about applying their burndown herbicide until later or to wait until most of the summer annual weeds have emerged before making their first postemergence glyphosate application. These delayed burndown applications can reduce soybean yield, by inhibiting soybean emergence and growth. Also by delaying these applications, weeds become larger and can often times can be tougher to control. Many times dense weed populations (or mats) can even interfere with planting. Competition from these early-season weeds can reduce soybean yield by as much as 16 percent (8.3 bu) (Figure 1). This reduction in yield can lead to as much as a $90 per acre loss in revenue at the end of the season with current soybean prices ($10.80). There is also some thought that these mats of winter annual weeds can serve as hosts for early-season insect pests that can then transfer over to soybean once they emerge.
Figure 1. Soybean yield due to delayed burndown herbicide applications. Applications of glyphosate (0.75 lb ae/A) + AMS were made at planting, at unifoliate soybean, V1 (1-trifoliate), and V3 (3-trifoliate) soybean.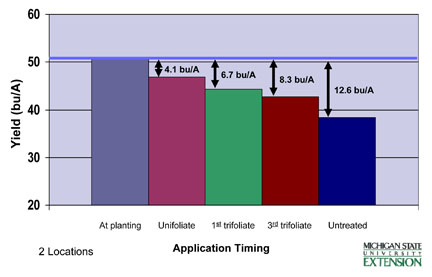 Remember early control of these weeds is important. If a burndown herbicide application can not be made prior to planting, it should be made shortly thereafter. Any delays in these applications can reduce soybean yield. A complete listing of burndown herbicides and their effectiveness ratings can be found in Table 2D of the 2009 Weed Control Guide for Field Crops (E-434) at: Remember with some of these treatments, especially treatments that contain 2,4-D ester (1 pt/A), there needs to be a minimum of seven days before soybean can be planting. See comments and label precautions on the safety of applying certain burndown herbicide treatments after soybean have been planted.
Did you find this article useful?
---