West central Michigan tree fruit update – May 24, 2022
Cool temperatures have slowed fruit growth and insect activity this week.
Weather update
Cool weather this week has slowed tree phenology and fruit development (Figure 1). Generally, stone fruit are at shuck split. Apple varieties range from bloom to fruit set. Based on the Hart weather station for May 23, current growing degree day (GDD) accumulation is 523 GDD42 and 271 GDD50 (Figure 2). Across the region, GDD accumulation is now above the five-year average, but accumulation will be slow this week (Table 1).
Weather will vary over the next few days with a warmup over the weekend and into next week. Highs will be in the 80s on May 30 and 31. Rain is also predicted over the next few days from May 25 – 27.
Table 1. Current and 5-year average GDD summary from Jan 1- May 23. Numerical integration was used for degree day calculations.

Station

2022 GDD Base 42 F

5-yr Avg GDD Base 42 F

2022 GDD Base 50 F

5-yr Avg GDD Base 50 F

Benona/Shelby

484

409.6

244

172.5

Elbridge/Hart

527

485.6

279

223.2

Fremont

565

540.1

300

254.3

Grant*

577

528.0

304

249.2

Hart

523

472.8

271

213.1

Ludington

513

453.0

268

200.7

Mears**

536

482.8

280

219.6

New Era**

526

483.9

273

216.3
*Averages were calculated using data from 2020-2021.
**Averages were calculated using data from 2018-2021.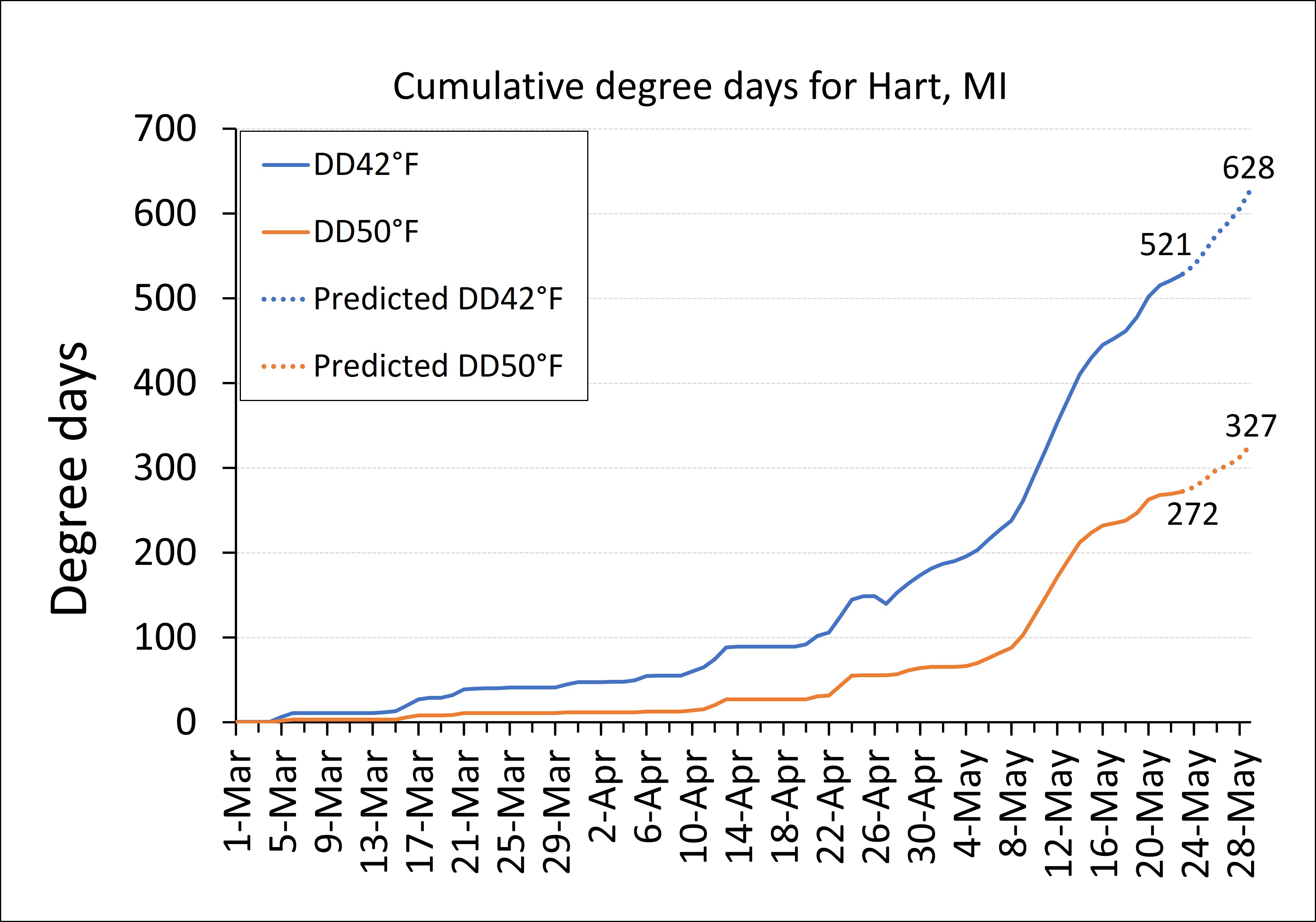 Weather data was gathered from MSU Enviroweather.
More information and reports on normal weather conditions and departures from normal can be found on the NOAA Climate Prediction Center website, NOAA U.S. Climate Normals website, NOAA Climate Normals Quick Access Page (which may be searched by region) and Midwest Regional Climate Center website.
Crop update
Cool weather will slow down fruitlet development and extend bloom in some areas across the region this week. By the end of the week, petal fall sprays will be needed for early season pests and diseases. Growers should delay spraying insecticides until petal fall to prevent risk to pollinators. A warmup this weekend will likely advance fruit development rapidly.
Apple varieties in the west central region range from bloom to fruit set. Early varieties such as Zestar and Idared are at fruit set. Later varieties such as Gala and Honeycrisp are at full bloom. Hart is at 523 GDD42 and 271 GDD50.
With cooler temperatures, consider thinning fruit early at each potential thinning window if possible. For some growers, petal fall applications may still be an option. For more advanced varieties, consider thinning at the fruitlet stages of 6 or 10 mm and thin aggressively where appropriate. For Hart, Michigan, the NEWA Cornell Apple Carbohydrate Thinning Model is predicting a carbon surplus and is recommending a 30% increase in chemical thinning rate. Warmer temperatures this weekend will be a critical opportunity for thinning this year.
For more thinning recommendations, access the 2022 Thinning Guide.
For specific information on thinning strategies for Honeycrisp in 2022, check out this article from MSU Extension specialist Anna Wallis, "Honeycrisp Crop Management for 2022."
Tart and sweet cherry buds range from bloom to shuck split.
Peaches range from petal fall to shuck split.
Pear varieties range from petal fall to fruit set.
Pest and disease update
In the west central region, cooler temperatures will slow pest activity this week. Consider your scouting reports and block history to target hot spots for early season pests in the orchard according to growth stage. Warmer temperatures this weekend will advance pest and disease activity particularly plum curculio. We may see stings on sweet and tart cherries as they come out of the shuck. Remain vigilant to protect against fire blight, cherry leaf spot, apple scab and powdery mildew given the rain and warmer temperatures later on this week.
Early season pests
Black stem borer adults are active in warmer temperatures. Trapping near woodlots or injured trees is recommended to monitor for flight of females.
Codling moth biofix was estimated for May 14. Sustained trap catch has occurred, and the start of first generation egg laying is predicted for May 26.
European red mite were observed this week. Warm and dry conditions are favorable for larvae activity so cool conditions are likely slowing down mite development. The recommended treatment threshold for European red mites is five to seven mites per leaf through July.
Obliquebanded Leafroller is predicted to have sustained catch in late May due to the cooler weather this week. Sustained catch is expected at 900 GDD42. Scout orchard blocks in the coming weeks to determine if a spray is needed. Consider Bt sprays in problem blocks.
Oriental fruit moth biofix 1 is estimated to have occurred on May 9. Sustained trap catch has occurred.
Pear psylla adults and newly laid eggs were found in the region. Early management is key to keeping damage thresholds low through the season.
Plum curculio damage was observed on apricots this week. No damage was observed on apple or cherry. Continue to monitor orchards for damage, especially in areas that border wood lots.
Redbanded Leafroller adult flight is low in the region. Continue to monitor this minor tree fruit pest.
Rosy apple aphid is a common pest in our region. Scout for colonies of dark purple nymphs in fruit clusters and treat blocks as needed.
San Jose scale is present in some orchards in the region. Targeted sprays or oils can be used for infested trees to manage scale and target adults. Monitor in blocks where scale were present on fruit in 2021. San Jose scale may feed on apple, pear, plum, apricot, and sweet cherry.
Spotted tentiform leafminer activity may be low this week due to cooler temperatures. Adults have been trapped in low numbers in the region. Larvae that feed on sap of leaves may not be present for one or two more weeks.
Disease update
RIMPro forecast is predicting that extreme infection risk for an apple scab infection on May 26-27 and a slight risk on May 28 (Figure 3). Wettings events are predicted on May 25-27. Spores continue to mature, and we expect another large spore release with upcoming rain events this week. Spore counts released from the May 18 wetting event were two, 494, and after the May 21 wetting event, 256 spores were counted.
Warm temperatures and high humidity later this week may result in powdery mildew infection. Powdery mildew causes infections on the underside of the leaf that lead to chlorotic patches or spots on the upper side of the leaf. It is important to manage powdery mildew because infected blossoms can cause poor fruit set or stunted and russetted fruit. Note that sterol inhibitors, strobilurins, and succinate dehydrogenase inhibitors control powdery mildew. Captan, Scala, Vangard, and EBDC fungicides will not control powdery mildew. Growers should continue to spray for powdery mildew through midsummer.
Tart cherry growers should begin cherry leaf spot management programs if they have not already. Wetting events this week may lead to infection periods for the cherry leaf spot fungus, Blumeriella jaapii. Disease pressure was high in 2021 in west central Michigan and maintaining coverage of new tissue will be critical this season. Cherry leaf spot should be managed in both bearing and non-bearing orchards.
Fire blight infection risk is predicted for the next week, and high-risk periods are predicted for May 25-26 and May 30 according Enviroweather model predictions for the Hart weather station. Some apples are still in bloom across the region, and it is important for growers to keep blossoms protected once they open. Growers are encouraged to continue an active fire blight management program and target shoot blight with an Apogee and Actigard program.
For pest and disease management recommendations, please refer to the E-154 for product guidelines.
For more information about regional reports, please visit the Michigan State University Extension webpage.