West central Michigan field crops regional report – June 2, 2016
Scout winter wheat this week for stripe rust and monitor conditions for head scab infection.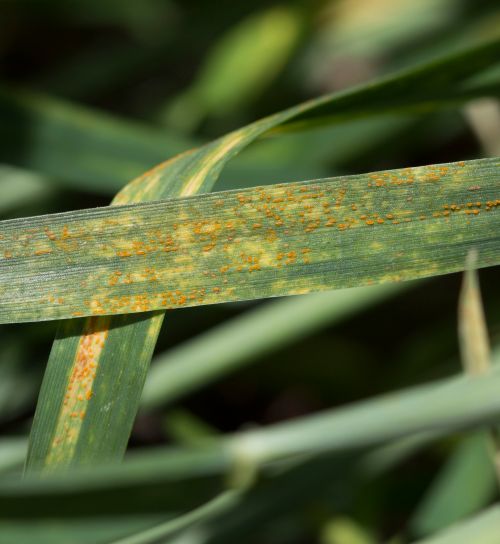 Weather
Air temperatures in Entrican, Michigan, ranged from the mid-70s to upper 80s for highs this week. Low temperatures ranged from the low 50s to mid-60s. Soil temperatures continue improving with minimum temperatures in the mid-60s in Entrican this week on bare soil. Soil conditions remain variable with some poorly drained soils still remaining too wet to work, while well-drained soils are getting dry, especially where actively growing crops such as wheat are using soil moisture rapidly.
Crops
Much of the wheat crop is flowering (Feekes 10.51) or will soon be flowering. A few fields are just breaking boot. Disease issues are at the forefront in wheat this week. Several fields, especially those planted to a susceptible varieties, are showing symptoms of stripe rust around the region. This disease can spread quickly and cause significant yield losses. Fungicides are effective, including many of the commonly used fungicides for head scab control.
Fusarium head blight (head scab) is an annual concern. The Pennsylvania State University model can be accessed at Fusarium Head Blight Prediction Center. As of June 2, it is showing a low risk of head scab infection. Powdery mildew and Septoria leaf blotch can be found, in most cases low in the canopy, however these are diseases that should be assessed on a field-by-field basis.
Corn planting is at 95 percent or more complete and is continuing. Most growers finished last week. Early planted fields are at V2 to V3. Stands are generally good, however there are some less than desirable stands where field conditions were not optimal, or even close, at planting.
Soybean planting continues and is estimated at 85 percent complete. Several fields have emerged. Very early fields have first trifoliate expanded.
Dry bean planting is just getting underway. Many growers are waiting for the week of cooler weather that is forecast to pass before going full speed ahead. To avoid root rot problems, rapid emergence and early growth is key. It is important dry beans are planted into soils that have warmed to at least 60 degrees Fahrenheit and are not excessively wet.
Alfalfa harvest of first cutting continues as weather allows. Alfalfa weevil feeding is becoming more common and concerning in some cases. Cutting is the best control option for most cases. Michigan State University Extension suggests monitoring regrowth after taking first cutting for additional feeding.
Many rye fields are in late flower with several filling grain.
Oat stands are generally good with lots of variability in maturity. Early fields are at Feekes 6, showing first node above ground (jointing). It is important to note that applications of growth regulator herbicides should be applied before Feekes 6.
Insects
Continue scouting sensitive crops for black cutworm damage and true armyworm damage. Even though flight has been low in west and central Michigan, it may be possible to find isolated locations with a few larvae.
Cereal leaf beetle is present in many small grain fields including winter wheat. Cereal leaf beetle rarely reaches threshold levels in Michigan, but it is still worth keeping an eye on.