West central Michigan tree fruit regional report – June 2, 2015
All tree fruits are setting very well despite poor weather during bloom.
Crop stage and growing degree days (GDD)
On the Ridge, apples are mostly in the 12 to 18 millimeter stage. At this time, it appears fruit are setting, and this will be a big week for apple thinning. In many blocks, only the tops of trees need thinning. The latest Carbohydrate Models for west Michigan are below.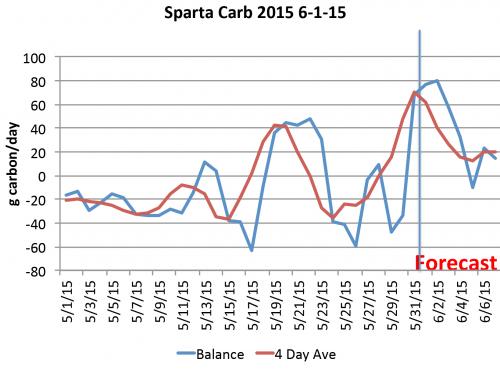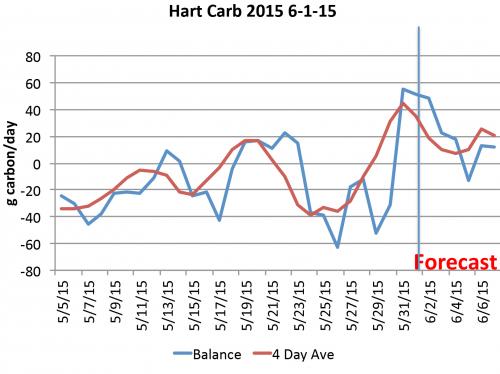 Michigan State University Extension fruit educator Phil Schwallier states that the Carbohydrate Models continue to predict a period of no stress for the next several days for Sparta and Hart, Michigan. Use normal to aggressive rates on big fruit set too heavy. Set is light on some varieties and early varieties are near the end of thinning. We are nearing the end of the thinning window – use good combination rates on moderate to heavy set blocks.
Growth stages from the MSU Clarksville Research Center as of June 1 as examined by Dan Platte, assistant farm manager:
Apples
Empire – 15-17-millimeter green fruit
Honeycrisp – 12-16-millimeter green fruit
Jonagold – 13-15-millimeter green fruit
Red Del – 11-13-millimeter green fruit
Gala – 12-16-millimeter green fruit
Tart cherries
Montmorency and Balaton – 0.5-inch green fruit
Apricot – 1-inch green fruit
Pluots – 0.5-inch green fruit
Benton sweet cherries
In "protected culture" – 0.5-0.75-inch green fruit
In "unprotected culture" – 0.5-0.667-inch green fruit
Nectarines – 0.5-inch green fruit
Peaches – 0.5-inch green fruit
Apple scab
Heavy rain fell over the past weekend with all areas experiencing a heavy apple scab infection. Spore numbers are declining, but we are still trapping them, so primary scab is still on and full rates of fungicides are needed for the next possible infection event. All areas of west Michigan should now be at 100 percent maturity for primary spores, but it usually takes two or three rain events to discharge them all.
Fire blight
There are a few reports of individual blossom blight strikes in very susceptible apple varieties, but in general, fire blight does not appear to be an issue yet this season.
Powdery mildew
Powdery mildew is just beginning to be seen in unmanaged apples. The warmer and drier periods of weather this spring will favor mildew establishment. Scouts should be looking carefully for mildew.
Tree fruit insects
Black stem borer first adults were trapped May 8. A few were in traps last week. Initial sawdust toothpicks were present May 18. Expect adult flight to continue. Trunk sprays can go on now if you have sites with this sporadic pest.
There are continued reports of plum curculio egglaying. Activity has been slowed with cooler weather, but is likely to rebound when warmer weather returns later in the week. Plum curculio is expected to be active for at least seven to 10 days or until fruits become too large for egglaying, about 20 millimeters for apples. Reapplication of plum curculio covers should be considered where rainfall is totaled over 1.5 inches.
Codling moth first adult flight in high pressure blocks began May 16. First flight in low to moderate pressure blocks started 10 days later. Use an early biofix or problem blocks and later for all others. A regional biofix was set for May 26 (357 GDD50 from Jan. 1); GDD50 since biofix is 68. Problem blocks are at 175 GDD since May 16 with a biofix of peak egglaying; early egg hatch is to begin in five to seven days. Looking ahead in low to moderate pressure blocks, the start of egglaying is estimated for June 3 or 4, the timing for IGR's. Early egg hatch estimated to be in 14 days.
European red mite egg hatch continues in the west central region. New eggs started to be reported with warm weather late last week. Continue to monitor, especially in blocks with no petal fall miticides applied.
Many obliquebanded leafroller larvae are now pupating and controls will not have any effect. Adult flight just began near Fennville, Michigan. Adult flight could begin at any time and traps should be set. Expect first flight approximately 1,000 to 1,100 GDD42 from Jan. 1.
Spotted tentiform leafminer larvae are in the tissue feeding stage. Pupation should begin soon. Continue to monitor.
White apple leafhopper new nymphs are present in low numbers. There are a few adult potato leafhoppers being found, but numbers are also low. White apple leafhopper peak egg hatch typically occurs around first cover. The earliest nymphs are often found on the underside of older leaves.
Various species of aphids are found in all tree fruits, but overall numbers appear to be much lower than expected. Continue to monitor for all aphid species and the beneficials that often attack them. Woolly apple aphids should begin to show up soon.
Overwintering San Jose scale are present, adult male flight began around May 23 and should be nearing a peak. You should be closely monitoring known hot spots. Crawlers typically appear about 10-14 days after first adult males are trapped, around mid-June. Monitor for crawlers by attaching tape to infected limbs with the sticky side out.
Oriental fruit moth first generation flight continues but is declining. Egg hatch is at a peak. A regional biofix was set for May 6 (256 GDD45); GDD45 since biofix is 381. Expect first generation egg hatch to end in 14 days; maintain cover sprays until that time.
Apple rust mites started to be reported last week. It is very difficult to find them. Monitoring should be done in blocks with a history of apple rust mites. Red Delicious is a favorite variety for rust mites.
American plum borer flight continues. Lesser peachtree borer and greater peachtree borer flight just began. No dogwood borer flight yet. Monitor with traps for adult activity. Look for dogwood borer frass and pupal cases in burr knots. Mating disruption for all borer species can start to be placed now.