West central Michigan vegetable update — Aug. 16, 2017
Cool, overnight temperatures have reduced foliar disease development on carrots and asparagus. Onions look good and insect pests are present but not overwhelming.
August 16, 2017 - Author: Ben Werling, Michigan State University Extension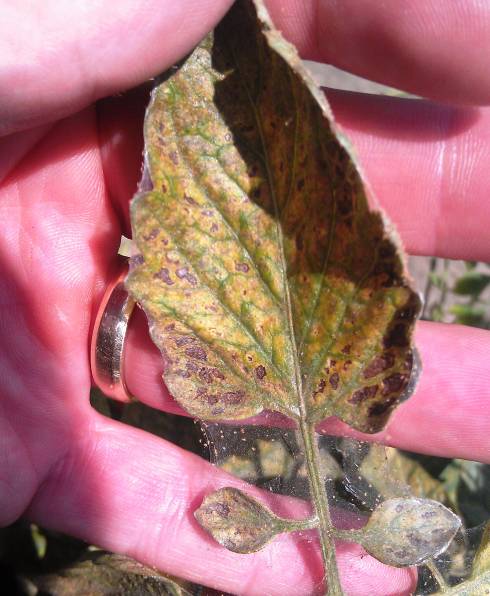 In asparagus, five Disease Severity Values accumulated at Michigan State University TomCast sensors in Oceana County from Aug. 8 to 14. Cool, overnight temperatures and low dew points created weather less conducive to asparagus purple spot. There are plenty of lesions visible and disease progress will ramp up if and when longer periods of leaf wetness with warmer temperatures return.
When controlling insects, for any given application choose the active ingredient most suitable for controlling the pests at hand. For example, if you have Japanese beetles and common asparagus beetles, a full rate of carbaryl should be effective. For resistance management, consider rotating between modes of action between applications if desired. The active ingredients carbaryl and permethrin still can provide cost-effective control of insects during fern season. Permethrin is effective against asparagus beetle larvae, but may provide inconsistent control of adults.
Is a product not working as well as it used to? Make sure your spray tank pH is good, you are using a full rate and getting good coverage. For example, if you are using carbaryl, use the full rate (e.g., 1 quart for Sevin XLR Plus, not 1 pint). Also, make sure your spray tank pH is not too basic; residual activity of carbaryl declines greatly with high pH. For more information, see "Effect of water pH on the stability of pesticides" from MSU Extension.
If a product is still not working, consider rotating to another mode of action with activity against the pests you are most concerned about.
Active ingredients labelled for controlling various asparagus pests

Active ingredient (example tradename)

Pesticide class

Common asparagus beetle

Japanese beetle

Tarnished plant bug

European asparagus aphid

Permethrin (e.g., Perm-Up, Arctic, Permstar)

Pyrethroid

Controls

Controls

Does not control

Carbaryl (e.g., Sevin XLR)

Carbamate

Controls

Controls

Does not control

Does not control

Methomyl (Lannate)

Carbamate

Controls

Does not control

Does not control

Does not control

Chorpyrifos (Lorsban)

Organophosphate

Controls

Does not control

Does not control

Does not control

Dimethoate (e.g., Dimet)

Organophosphate

Controls

Does not control

Does not control

Controls

Acetamiprid (Assail)

Neonicotinoid

Controls

Controls

Controls

Controls

Spinetoram (Radiant)

Spinosyn

Controls

Does not control

Does not control

Does not control

Spinosad (Entrust)

Spinosyn

Controls

Does not control

Does not control

Does not control
*Japanese beetle is not on the target pest list in asparagus for Sevin XLR Plus (though it is for many other crops), but experience has shown that applications of this product for asparagus beetle can provide good control of Japanese beetle.
In carrots, we had a nice break this week with cool nights, creating weather that was less conducive to foliar disease than earlier this summer. Disease is present and will increase if longer periods of leaf wetness with warmer temperatures return. Symptoms of aster yellows continue to be present on a low percentage of plants.
Scouts report aphids are currently the most common issue in celery. Colonies were present in the heart at some locations. At other locations, distorted plant growth is visible along field edges. Movento (three-day pre-harvest interval) applied with a penetrating surfactant can provide effective control.
Scouts also report they have observed trace amounts of bacterial leaf blight in some locations. Copper products help reduce spread of bacterial disease (e.g., Badge SC, zero-day pre-harvest interval). Celery leaftier moths have been noted, but with the cooler weather, caterpillars seem to be staying at the tops of plants and not moving to hearts. Trap catches of variegated cutworm moth have been low across the region in recent days.
Cucurbit downy mildew spore counts were high Aug. 1-7 in Muskegon County. Overall, drier weather and using highly effective products may have slowed spread of this disease this year. However, there could be a resurgence at the end of August if weather becomes conducive, especially for late plantings.
Symptoms of virus have been reported in west Michigan cucurbits. These can include warty fruit, green discoloration of yellow-fruited squash and yellow mottling or distortion of leaves. Only fruit produced after infection become symptomatic. Using virus-resistant varieties is our main defense, but requires knowing which virus is causing you problems. MSU Diagnostic Services can determine which virus is infecting your plants.
Squash vine borer moths were present in one Oceana County zucchini field I visited this week. Typically, this pest is mostly a problem in smaller plantings. The simplest way to scout is to look for the moths, which have red, hairy legs and are unusual in that they are day active. They are easy to spot flying in cucurbit fields on sunny days. Symptoms include wilted vines with entrance holes and frass. Moths lay eggs on the crown and petioles of plants.
Insecticides need to be on the plant before eggs hatch so the larvae contact it and die before entering the stem, where they are protected from insecticide. There are many products labelled for squash vine borer.
Powdery mildew is present in full force and it is now apparent in fields that have not been protected with fungicide. Apply effective powdery mildew products earlier in the summer to avoid these late-season problems.
In onions, note that Stemphyllium is an aggressive pathogen that seems to be displacing botrytis and purple blotch as a major issue in the northeast. This means the programs of protectant fungicides that once protected against botrytis and purple blotch, such as mancozeb and chlorothalonil, are no longer providing good control where Stemphyllium is an issue. Incorporating products such as Luna Tranquility into your program ahead of problems will help protect foliage. Overall, onion crops are looking good this year according to scouts.
Be on the lookout for mites in tomatoes with our recent dry weather. Symptoms of problems with twospotted spider mites include bronzing of leaves and webbing at the base of leaves. Products labelled for mites include Acramite (three-day pre-harvest interval, spider mites only, not for other mites), Agri-mek (seven-day pre-harvest interval), Nealta (tomatoes only, three-day pre-harvest interval), Oberon (one-day pre-harvest interval) and Portal (one-day pre-harvest interval).
In sweet corn, corn earworm trap catches have continued to be low in Oceana and Ottawa counties. A five-day spray interval would be appropriate where trap catches are consistent but low. (For example, one to five moths per night in a large, wire cone trap or less than about an average of 0.2-0.5 moth per night in mesh traps.
Other caterpillar pests have been noted in sweet corn. I observed fall armyworm caterpillars feeding in whorls in Kent County this week; this pest can also damage ears. Western bean cutworm and European corn borer have also been noted in harvested ears in other parts of the state. Consider these non-earworm pests along with buyer tolerance for a percentage of wormy corn when deciding about whether or not to spray.
---