West central Michigan vegetable update — May 9, 2018
Spring is finally here in west Michigan!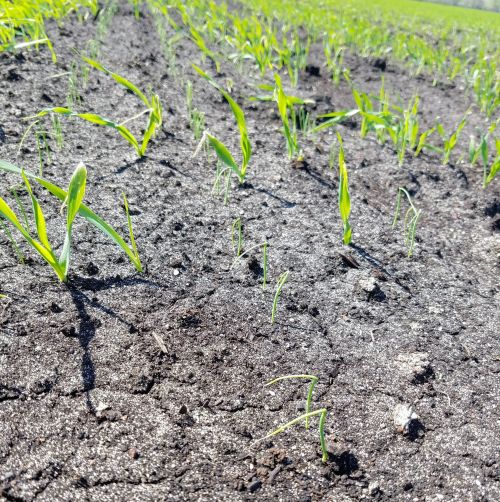 For asparagus, Michigan State University state climatologist Jeff Andresen noted there could be a slight chance of frost overnight Thursday, May 10, into Friday with temperatures likely reaching the mid- to upper 30s. However, there will hopefully be clouds and wind to prevent freezing temperatures. It is worth keeping an eye on the weather to see if calm and clear conditions could develop Thursday night.
Growers were making their final pass with a mower to chop herbicide-killed rye and stubble down to the ground as of Monday, May 7, or had already finished mowing. On Monday, growers had observed spears up on row ends here and there, but not in the middle of fields.
There have been reports of spotty problems with common asparagus beetle in southwest Michigan. Products with a one-day pre-harvest interval for beetle control include:
[Example product (active ingredient, chemical class)]
Assail 30G (acetamiprid, neonicotinoid class)
Lannate LV (methomyl, carbamate class)
Lorsban 4E (chlorpyrifos, organophosphate class)
Perm-Up (permethrin, pyrethroid class)
Sevin 4F (carbaryl, carbamate class)
If beetle control is necessary during harvest and you have been having control issues, consider using the full and not the half-rate of carbaryl (e.g., 1 quart versus 1 pint), and trying Assail—this has proven effective in trials in other states for beetle control.
Processing carrot planting has progressed well. Some Oceana County growers began applying graminicides to wheat cover crops. In past years, some growers have observed spotty cutworm damage in carrots, so it may pay to scout for this pest over the coming weeks. A variety of pyrethroids are labeled for control, including esfenvalerate (e.g., Asana XL), β-cyfluthrin (e.g., Baythroid), bifenthrin (e.g., Brigade) and zeta-cypermethrin (e.g., Mustang Maxx).
For cucurbits, Ridomil Gold SL Can be applied at planting time to protect against seedling death from damping off due to Pythium; over many years it also has shown good activity against Phytophthora capsici in trials. MSU Extension plant pathologist Mary Hausbeck recommends applying it in a banded application over the row after the furrow is closed. Doing it this way avoids having the product directly contact the seed and any problems that might arise due to miscalibration or poor mixing with in-furrow fertilizer. Ridomil will move with rain or irrigation down into the soil to help control soilborne disease. Areas with a long history of Ridomil use may have Phtyophthora capsici that is resistant to it. Contact me at werlingb@msu.edu if you're interested in testing for resistance.
Most onions were sown in Newaygo and Ottawa counties by May 1 with long hours on the planter by our growers. In visits Tuesday, May 8, onions were in the flag stage at one earlier-planted Newaygo County field I visited (see photo), and growers were applying Buctril and Prowl to other onions before they emerged. At the one-leaf stage (one true leaf with second leaf showing in addition to the flag leaf), consider using Goaltender to help control weeds such as common lambsquarters, ladysthumb, marsh yellowcress and Virginia pepperweed. Sets planted in March were doing well last week at one southwest Michigan location.