Western bean cutworm egg mass identification
Use this two-page handout to help identify western bean cutworm egg masses and determine egg mass age and health.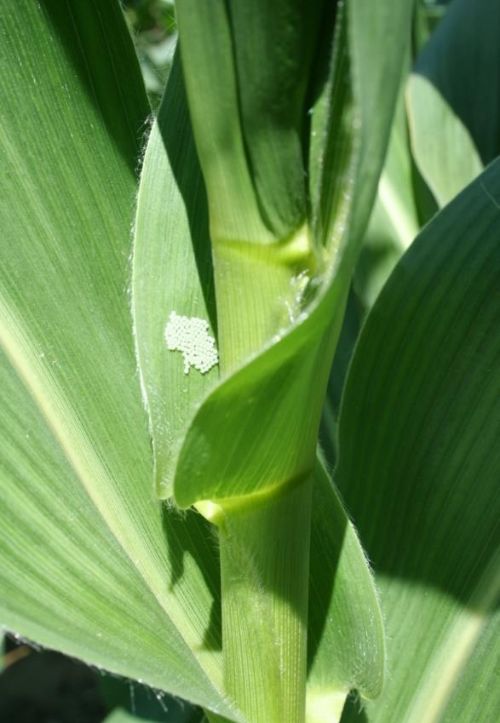 I had my first western bean cutworm moth catch on the Michigan State University campus at the end of last week. My trap numbers are low so far. The Purdue University network also has generally low catch, except for a few hot spots. They attribute this pattern to the wet conditions in May/June, since western bean cutworm pupae were trapped underground in saturated soil.
Meanwhile, multiple people sent in pictures of egg masses over the past week. Some pictures were indeed western bean cutworm, others were not. Some of the egg masses didn't look very healthy. To help with egg mass identification, I made a two-page handout to help you ID egg masses as western bean cutworm and determine egg mass age and health. Use or forward to others.
Download Western bean cutworm egg mass identification handout.
Join me on Thursday's Virtual Breakfast
On Thursday, July 25, 2019, at 7 a.m. I will be covering insects on the MSU Extension Field Crops Virtual Breakfast and will be available to answer any questions you may have. Following my insect discussion, MSU's agricultural meteorologist Jeff Andresen will present the current weather conditions and the seven- to-10 day forecast.
Participating is easy!
You can join using your computer or mobile device (audio and visual) following the Zoom link: https://msu.zoom.us/j/552324349. Or, call in from your phone (audio only) by dialing 669-900-6833 and enter meeting ID 552-324-349.
To receive a weekly email reminder of the Virtual Breakfast, sign up at http://eepurl.com/gm-PIv. Participants receiving emails can opt in or out at any time.
Can't make it Thursday morning? Watch the recording!
For those who cannot join on Thursdays at 7 a.m., the Virtual Breakfast sessions will be recorded for later viewing with closed-captioning on the Field Crops Virtual Breakfast webpage. Podcasts are also available on iTunes and Spotify.
Don't forget to follow us on social media. Stay up-to-date on what is happening in Michigan field crops by liking the MSU Extension Field Crops Facebook page or following @MSUEFieldCrops on Twitter.
Scheduled topics and dates
Note that these may change to cover breaking pest and weather situations.