What are community capitals?
Community capitals are resources and characteristics identified with successful and sustainable communities.
Every community possesses a variety of resources and characteristics that interact between and with each other. For example: a financial institution connects with a borrower, the borrower purchases from a retail outlet, the retail outlet employs a community member, the community member pays a babysitter and so on.
All communities have specific characteristics and resources that link to each other. Working together, these characteristics and resources develop a synergy that allows a community to grow and prosper. The process of identifying and linking resources takes effort, but the result can dramatically improve the economics of a community.
A 2009 USDA paper, Analyzing Change and Reporting Impact, states "all communities have resources that can be reduced or dissipated, saved for future use or invested to create new resources. When those resources are invested to create new resources over a long time horizon, they are referred to as "capital." The capitals are both ends in themselves and a means to an end. Only by a dynamic balance among the capitals and capital reinvestments can sustainable strategies emerge to address the threats posed by a global economy, a rapidly changing climate and other critical issues facing communities across America."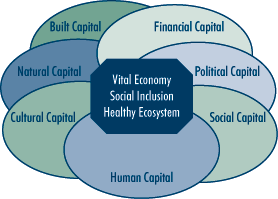 A community capitals framework was created by Flora and Flora (Iowa State, 2008) to map the strategies and impact capitals are playing in a community's well-being. Through their research, Flora and Flora identified that if successful communities learned to leverage all of their capitals in a useful way, more vibrant communities emerged. The seven community capitals are financial, built, social, human, cultural, natural, political and human.
Community capitals play an integral role in the economic and community development of an area. A vital economy, social inclusion and healthy ecosystems demonstrate it is likely that the seven community capitals are working well together. Therefore, Michigan State University Extension recommends that communities who want to actively invest in their future may wish to use the community capitals framework to analyze and monitor their overall health and vitality.