What is a community food system?
Learn about the seven components of a community food system that are necessary to sustain and enhance your community's economy.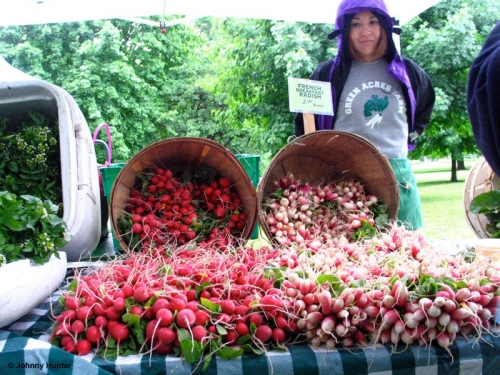 An increasing number of organizations are banding together to form and work on community food system issues. What is a community food system? That is a common question Michigan State University Extension often receives, and as a member of Extension's community food systems work team I am constantly asked the question. The community food systems team partners with local organizations and individuals to educate communities on food system issues.
According to the Michigan Good Food Charter, a food system is all the people, processes and places involved with moving food from the seed the farmer plants to your dinner table, your local restaurant or the cafeteria lunch line.
In order for a community food system to be sustainable and enhance the vitality of the community it needs to integrate the seven components of a food system. The components include growing food/producing, processing, preparing, eating, retailing, distributing and waste management.
Growing
Growing is producing food via a variety of methods. Food production can include growing the raw product including grains, fruits and vegetables, and raising animals for meat or other products, including milk or cheese.
Processing
Processing takes the raw food products and prepares them for consumption. Food processing can be as simple as cleaning the raw fruits and vegetables or preserving for later consumption. Processing also can include taking raw ingredients such as grains and grinding them into flour to create baked products.
Preparing/Eating
Preparing and eating is taking food and making it ready to eat and then consuming the food to help meet our nutritional needs to sustain our bodies.
Retailing
Retailing is selling food products directly to consumers. Local food can be purchased through farm and farmers markets or roadside stands. Retailing includes larger venues as well, including small and large grocery stores as well as online sales.
Distributing
Distributing involves the collecting and delivering of food. Transportation costs are significantly lower when purchasing local food because local food does not have to travel many miles either through air or trucking to arrive to the point of purchase.
Waste Management
Waste management involves handling the food waste that occurs across the food system -- from the farm including post-harvest to the consumer level.
All seven of these components are equally important when assessing a food system in one's community. Once a community has examined these seven components, opportunities are often identified that can address any gaps.
To learn more about community food systems issues visit the Michigan Good Food Charter to read the policy priorities to create "good food" for Michigan.
Michigan State University Extension has educators working across Michigan who provide Community Food Systems educational programming and assistance. For more information, contact an educator by conducting a search with Extension's Find an Expert search tool and using the keywords, "Community Food Systems."