What's new at this year's Heating the Midwest with Renewable Biomass Conference and Expo
Building on the sustainable communities theme, attendees will learn about new biomass technologies.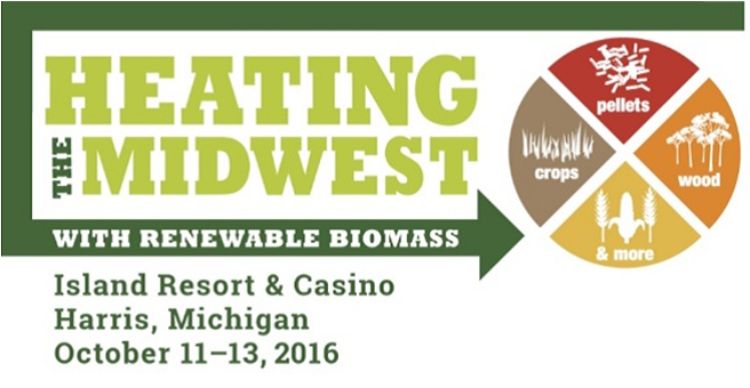 The fifth annual Heating the Midwest with Renewable Biomass Conference and Expo is getting closer! The event will take place Oct. 11-13 in Harris, Michigan at the Island Resort and Conference Center (14 miles west of Escanaba). This year's theme is "Adopting Renewable Biomass Heat: Investing In Tomorrow's Sustainable Communities."
Did you know that every year, nearly 1.2 million households "export" more than $2.2 billion energy dollars out of the United States? And, according to Environmental Impact Assessment (EIA) estimates, in the Midwest region alone, there are over two billion dollars exported for oil and propane, with a lost job potential of 130,000+ jobs. This money does not circulate through the local and regional economies, does not generate local commerce, and does not create or support local jobs. Based on each state's ability to sustainably produce biomass fuels, the conversion of those 1.2 million households would generate more than $419 million in new annual income.
The goal of this conference is to provide the information needed to support local biomass for heat, cooling, and combined heat and power applications to help make Midwest communities more sustainable. An opportunity is provided for a pre‐conference tour to visit sites that use biomass systems and manufacture biomass systems. Topics at the 2016 conference will include: investing in our communities with biomass, developing new markets for wood heating, biomass technologies and much more!
The event also offers a Biomass Heating Expo with indoor and outdoor exposition areas where over 30 vendors, businesses and organizations will demonstrate the latest in biomass technologies, information and support.
New to this year's event is a two‐part technical workshop, "In the Trenches with System Designers and Installers." Members of AIA, AEE, and BPI will be eligible to receive up to seven continuing education credits for attending those workshops. HVAC contractors will receive a certificate of course completion.
We hope you will come out and enjoy everything this great event has to offer! More information can be found at: www.heatingthemidwest.org.