What's up doc? Carrots are!
It is carrot season once again and with that comes a great source of Vitamin A.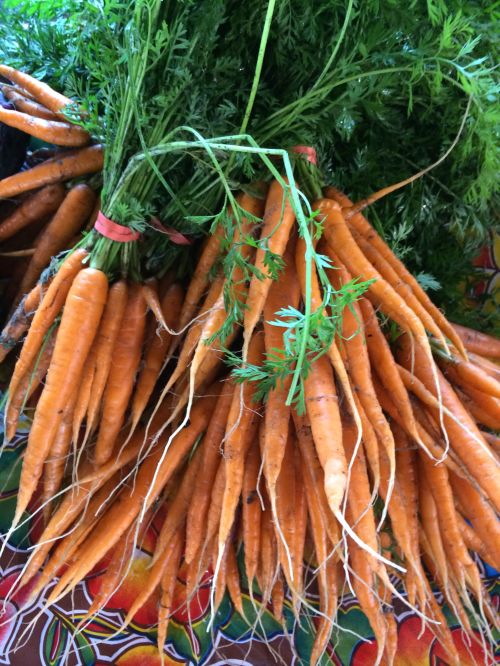 Michigan fresh carrots are starting to make an appearance at local farmers markets and should be readily available in the coming weeks. This low-calorie vegetable has no fat and provides large amounts of healthy antioxidants and beta carotene (Vitamin A). Carrots can be used in a variety of ways, both raw and cooked. They can be grated, sliced, eaten whole or juiced. Try using them as a dash of color in salads, stir fries, baked goods, and sandwiches or as a simple healthy snack to go.
As you make your carrot selections at the market, look for carrots that are about 1 ½ inches around and are smooth and firm. A larger diameter carrot will tend to be less flavorful and a bit tougher. Five to seven medium sized carrots will equal approximately 2 ½ cups shredded or sliced. Prior to use, carrots should be scrubbed under cool running water to remove all dirt. The greens should be removed along with any part of the carrot that is not orange. Carrots can be preserved by canning and freezing with preservation instructions available on the Michigan Fresh Carrot Fact Sheet.
If you would like to grow your own carrots, Michigan State University Extension provides a variety of gardening tips for several fruits and vegetables. Tip sheets for harvesting carrots and other vegetables are also available. To read additional information about carrots, or other Michigan fruits and vegetables visit MSU Extension's Michigan Fresh website.
Looking for a farmers market close by that might offer garden fresh carrots or other Michigan fruits and vegetables? Visit the Michigan Farmers Market Association to find a farmer's market near you.
The online USDA Recipe Finder is a handy recipe site. When you go to the site enter your selected ingredient, like carrots, in the ingredient search and several recipes that include carrots will be generated. The USDA Recipe Finder will also assemble a shopping list for any recipe on the site. Kansas State University Research and Extension's Fix It Fresh! Recipe Series highlights a nice hot side dish Rice with Raisins and Carrots that can be found on page 68. The recipe is low in sodium.
Below is a low cost Carrot Cookie recipe submitted to the USDA Recipe Finder by the Virginia Cooperative Extension. A serving size is 2 cookies, with a calorie count of 130. Including vegetables in recipes like this is a way to incorporate more vegetables into your diet. For additional tips on including more vegetables in your meals, visit the USDA MyPlate vegetable tip sheet.
Yield
30 servings
Ingredients
1⁄2 cup margarine (soft)
1 cup honey
1 cup carrot (grated raw)
2 egg whites (well beaten)
2 cups flour (all purpose)
2 teaspoons baking powder
1⁄4 teaspoon baking soda
1⁄4 teaspoon salt
1 teaspoon cinnamon
2 cups oatmeal, quick cooking (raw)
1 cup raisins
Instructions
In a large bowl, cream together margarine and honey. Stir in carrots and egg whites.
Stir together flour, baking powder, baking soda, salt, cinnamon, oatmeal and raisins. Gradually stir flour-oatmeal mixture into creamed mixture, just until all flour is mixed. Do not over mix.
Drop from teaspoon on greased baking sheet. Flatten slightly and bake at 350 degrees for 10 minutes, or until lightly browned.
Cost
Per recipe: $3.92
Per serving: $0.13
You Might Also Be Interested In