Wheat planting tips on Sept. 2 Field Crops Virtual Breakfast
The Field Crops Virtual Breakfast on Sept. 2, 2021, will feature MSU Extension wheat specialist Dennis Pennington discussing wheat planting considerations for this year.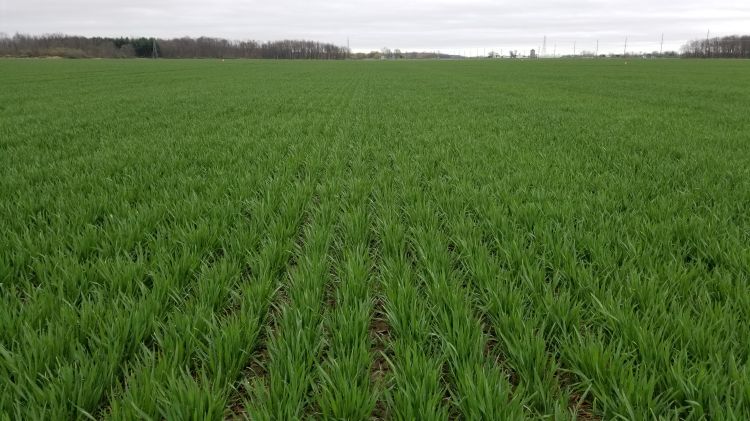 As they say, a crop's yield potential is highest when the seed is still in the bag—or at least right after planting. There are several key factors to manage to ensure a winter wheat crop is successful. Uniform seeding results from good seedbed preparation and attention to detail in getting planting equipment adjusted and calibrated. Seedbed prep can look very different depending on the tillage system desired, and there are pros and cons to utilizing even a minimal amount of tillage. Seeding date is important to ensure that sufficient time for root and tiller development is allowed to prepare the plants for overwintering. Although the Hessian fly is no longer considered a significant pest in Michigan, the fly-free date is still a good timeframe for wheat planting.
Fall nitrogen recommendations depend on how early in the fall the crop gets planted as excessive growth in the fall is also not desirable. Recommended seeding rate is 1.2 to 2.2 million seeds per acre with the precise rate being dependent on planting date and field-specific factors. It is also important to know how to calculate the seeding rate in terms of pounds of seed which will change for different wheat varieties and seed lots.
Sound like a lot to manage? Well don't worry, help is on the way! Michigan State University Extension wheat specialist Dennis Pennington will be addressing all of these management decisions and more during the Field Crops Virtual Breakfast session on Sept. 2, 2021 at 7 a.m. Attendees will also be able to ask Pennington questions during the open Q&A session following the main presentation.
MSU agricultural climatologist Jeff Andresen will also give a sneak peak into what the weather may be like during the planting window. This will be a don't-miss opportunity to hear valuable recommendations and reminders for all Michigan wheat farmers.
Sign up for the free Field Crops Virtual Breakfast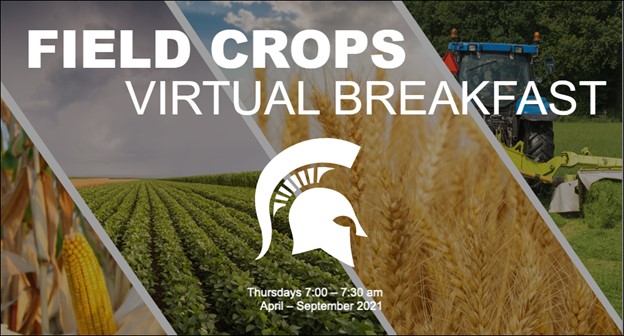 The Michigan State University Extension Field Crops Virtual Breakfast Series are held every week during the growing season via Zoom video or phone conference. These virtual meetings will take place every Thursday morning from 7-7:30 a.m. April 1 through Sept. 23, 2021. There will be a 30-minute Q&A session following the presentations.
Participating is easy and free! You can join the live meeting via Zoom using a computer, tablet, mobile device or regular phone line. If you are new to Zoom, simply download the Zoom app and you will be ready to join online every week to see visuals shared by presenters. A call-in by phone option is also available but note that you will only hear the audio portion.
Restricted use pesticide (RUP) credits and Certified Crop Advisor (CCA) CEUs are now available for attendees who attend the live meeting.
Participants must sign up to receive an email notification with instructions for joining the Virtual Breakfast. You only need to do this once and you will receive the Zoom link and call-in phone number, as well as weekly reminders every Wednesday. Participants receiving emails can opt in or out at any time.
Sign up for the free Field Crops Virtual Breakfast
If you cannot participate in the live session at 7 a.m., you can view the recorded version at any time. However, only the live session will be eligible for RUP and CCA credits. Recordings will be closed-captioned and available at the Field Crops Virtual Breakfast webpage and the MSU Extension Field Crops Team social media platforms: Facebook, Spotify, YouTube, Apple Podcasts and Twitter.
If you are unable to sign up online, call the Lapeer County MSU Extension office at 810-667-0341.