Wheat watchers report – May 24, 2021
The lack of rain has been a major concern to wheat watchers around the state.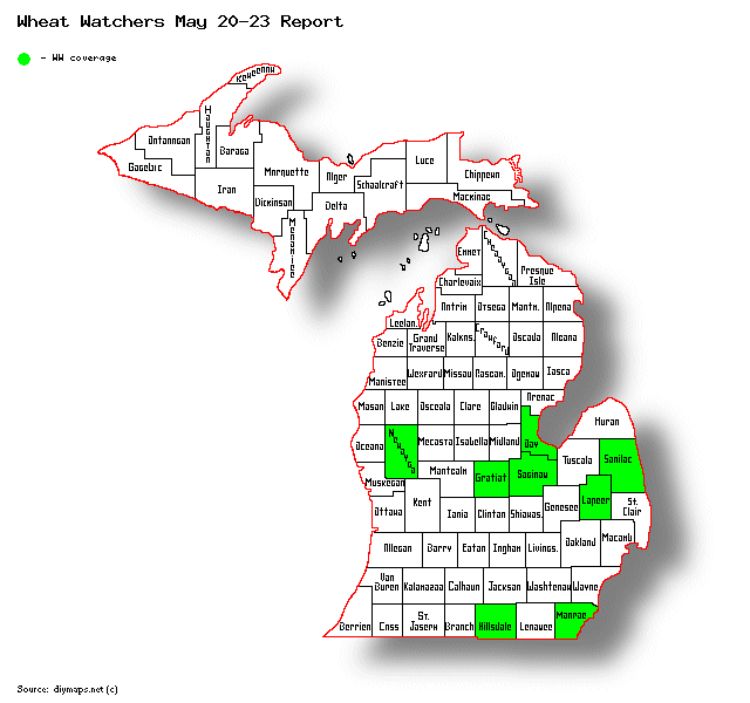 For several years before his retirement from full-time wheat support, Michigan State University Extension's Martin Nagelkirk has worked with a "wheat watchers" group to gather perspectives from wheat growers, extension educators and agribusiness representatives from across Michigan about wheat growth, development and the progress they see in the field. Wheat watchers comments are now being collected by Nagelkirk along with Ricardo Costa and Dennis Pennington and shared bi-weekly on the MSU Extension Wheat website.
Below we share what wheat watchers across the state saw in their wheat fields between May 19-23, 2021.
Hillsdale County (Camden) – Denny Person (May 24)
Wheat crop is starting to head out and rated a 7. It's been hot and dry, so disease isn't a primary concern as of now. I have disease out there, but I planted Sunburst (soft red winter wheat variety), and I've never seen a field of Sunburst that isn't disease-free.
My wheat went down a notch this week due to the sandy ground starting to burn up. The picture below was taken in the drought areas in the field. The field still has some decent potential there if we'd get significant rain in these drought-prone areas. Also, I noticed a few of the heads were starting to put flowers on in these sandy areas. The remaining areas of the field still look really good.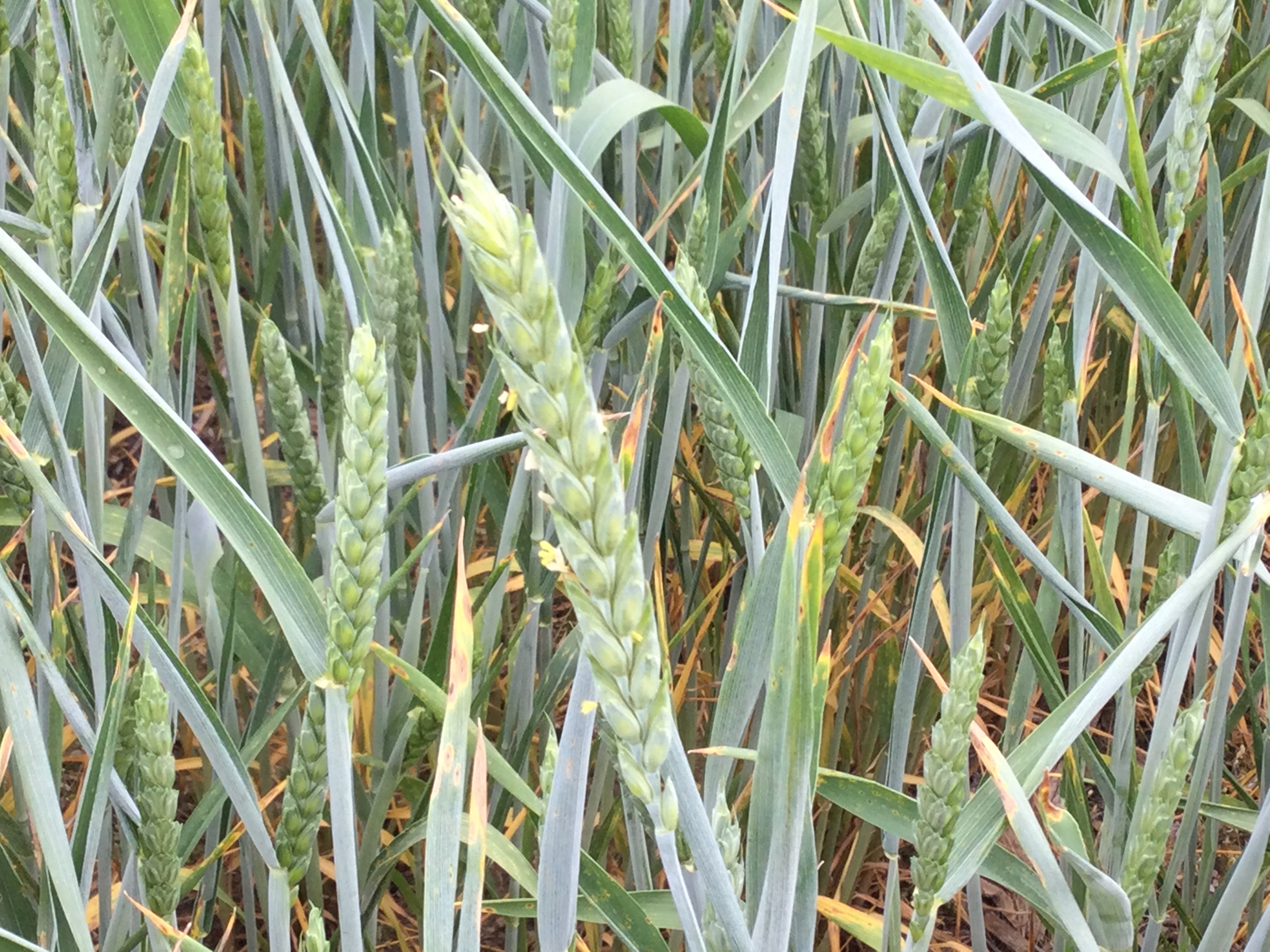 Bay County (Auburn) – Chris Schmidt (May 23)
Wheat crop is rated a 9, and ranging from Feekes 10 to 10.1. Fieldwork with the exception of head scab fungicide application is complete. The continued dry conditions in the Saginaw Valley have lessened the concern for fungal outbreaks. I switched from Huskie to PowerFlex (herbicides) this season to control Cheat and Wind Grass and have excellent results so far.
Gratiot County (Carson City) – Ben Wilson (May 22)
Wheat crop is at Feekes 9, approaching 10 and rated an 8 (1-10 scale). This week we performed some applications for foliar disease control since the flag leaf was exposed. Powdery mildew and Septoria have continued to develop up into the higher plant canopy. Some fields have been treated for disease control. Aphids can be found, but little insect pressure beyond that in the wheat canopy. Dry and hot weather this week really pushed it along.
I expect heads to continue to push out through the weekend and into next week. Plenty of nutrient stress due to dry weather. The crop could use rain to maintain yield potential. Anyone with irrigation has been keeping a tight schedule with the unseasonable weather.
Sanilac County (Applegate) - Martin Nagelkirk (May 22)
Most wheat is rated as 8. Wheat is at the growth stage of flag leaf fully extended, growth stage 9. Maturity is one week ahead of last year and a few days ahead of average. Fertilization and herbicide applications are completed. Powdery mildew is exceptionally severe in some fields and some Septoria leaf spot can be seen as well. Some fields require a fungicide application to protect the flag leaf. Armyworm trap numbers are very low. The weather is exceptionally dry, and some loss of potential yield may be experienced on some well-drained soils.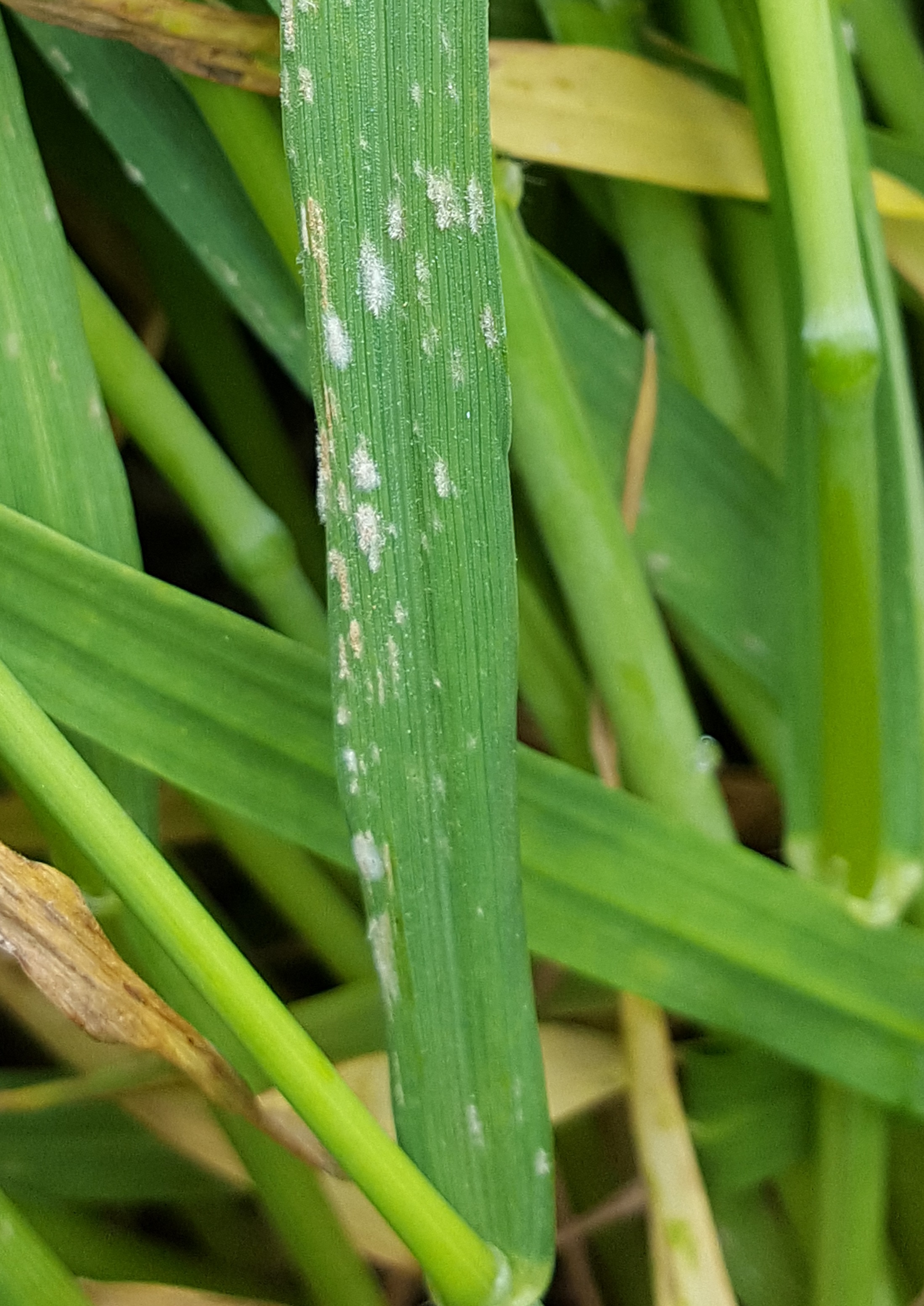 Saginaw County (Saint Charles) – Jerry Kovach (May 21)
Wheat is rated between 7-8 and is at Feekes 10.1 stage. Most fieldwork is complete. Now we are waiting for rain, growth and post spraying. No weed, insect or disease concerns but we need rain badly!
Newaygo County (Newaygo) - Katie Derks (May 21)
The crop is at Feekes 9-10 stage and rated a 6-7. It has been a dry spring. The wheat in our area is in need of water. With rain in the forecast and wheat coming into flowering, we are recommending producers to use fungicides specific for head scab.
Sanilac County (Deckerville) - Reggie VanSickle (May 21)
Wheat crop is rated an 8-9 and is at Feekes 8 growth stage. Fieldwork is complete until the upcoming fungicide application at flowering. There is a prolonged dry period, and we have received 1 inch of rain since April 14. Our biggest rain has been two-tenths of an inch. Lack of rain coupled with the 80-plus degree daily highs is concerning. The question is what impact is this having on yield potential?
Monroe County (Ida) - Mark Metz (May 20)
Crop is rated as 10. Wheat in the area is at Feekes 10 stage. We are waiting for the wheat to get to the flowering stage for fungicide application. We are running on the dry side. Rain within the next five days will be critical as temperatures run near 90 degrees Fahrenheit and head emergence is imminent. This is the best-looking wheat ever; therefore, rain is needed soon.
Gratiot County (Alma) -Monica Jean (May 20)
Wheat is rated an 8 and is at Feekes 9 stage in the area.
St. Joseph County (Centreville) - Eric Anderson (May 20)
The crop is rated as 9 on average. Wheat is at Feekes 10 growth stage, and awns are starting to poke through on a minority of plants. Fungicide application is continuing in the area. The hot weather has sped up development.
Lapeer County (Lapeer) – Phil Kaatz (May 20)
Wheat crop is rated as an 8, and the crop is at Feekes 9 (as of Tuesday, May 18). All herbicide and pesticide applications are done. The weather is very dry.