Will a giant, floating pile of garbage become the world's newest country? — Part 2
These resources and lesson plans can help youth learn and teach others about Goal 14 of the Sustainable Development Goals.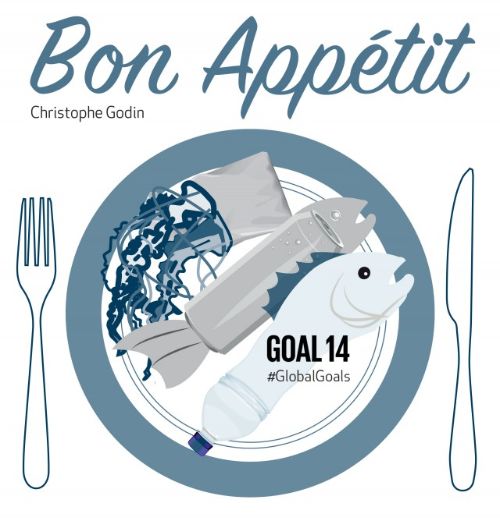 Goal 14 of the Sustainable Development Goals includes a variety of targets to promote ocean and marine resource and ecosystem protection and sustainability. The targets include preventing marine pollution (especially from land-based activities), tackling the problem of ocean acidification, restoring fish stocks by combating overfishing and illegal fishing practices, eliminating harmful fishing subsidies that contribute to the loss of fish stocks, and increasing the sustainable use of marine resources through increased scientific knowledge, technology and the implementation of international laws. To learn more about these topics, download this overview of Goal 14 by the United Nations (UN).
Adult and youth leaders can help other youth and children learn about topics related to Sustainable Development Goal 14 in order to be informed and active global citizens. Here are some resources and lesson plans that can be used to help learn, and teach others, about these issues.
Teach Ocean Science
Teach Ocean Science is a website with a vast amount of educational resources covering many topics related to ocean science. While developed primarily for classroom-based teachers, the educational modules, curriculum and STEM lessons on the website could easily be adapted for other groups of young people outside of a traditional classroom setting.
Educational topics on the website related to ocean science include aquatic food webs, sea level rise, coral reefs, climate change, land and sea connections, water quality, ocean science, and dead zones (among other topics).
The resources on the website, which is maintained by the University of Maryland Center for Environmental Science, were developed by teachers for high school-aged youth, and have been reviewed and approved by scientists, ensuring that the educational resources are fact and research based.
Protect Life Below Water
Protect Life Below Water, a lesson plan available from The World's Largest Lesson, helps youth ages 11-14 to "develop knowledge of threats to the ocean" and "explore ideas of how to use the ocean sustainably." The lesson plan covers a variety of topics including plastic waste, acidification and overfishing, and invites young people to explore possible solutions to these problems.
Life Below Water - Marine Litter
Life Below Water - Marine Litter is a lesson plan that helps youth ages 8-15 dive deeper into the issue of plastic waste in our oceans and think about how they can be a part of the solution to this significant global issue. Developed by The World's Largest Lesson and the UN Environment Programme, the lesson provides comprehensive background information on the issue and encourages young people to brainstorm and come up with ideas for ways they can make a difference in reducing marine pollution.
Youth can dive deeper into the issue and see an example of the positive impact other young people are having on the issue by learning about Melati and Isabel Wijsen, two sisters whose efforts have led to Bali deciding to go plastic bag-free by 2018. At the ages of 10 and 12, the sisters formed the organization Bye Bye Plastic Bags in order to "get the people of Bali to say no to plastic bags." Their efforts have reached over 5.5 million people to date.
4-H Grab and Go: Ocean in a Bottle
4-H Grab and Go: Ocean in a Bottle is a short activity for middle school-aged youth that can be used to explore a variety of different science concepts, including oil spills and aquatic environments. The activity is a part of Exploring Your Environment, a larger 4-H curriculum that "explores environmental questions or issues and allows youth to jump right into activities that focus on real-world issues." The Ocean in a Bottle activity is available as a free download, and the Exploring Your Environment is available to purchase from Shop 4-H.
Through these and other related educational experiences, young people can learn about challenging global issues they and other youth can have a positive impact on through their leadership and engagement. This can be done by engaging in projects within their own community that are related to larger global issues. By doing so, youth are able to improve their local community and join other young people around the world as positive global citizens who are helping to achieve the Sustainable Development Goals.
To learn about the positive impact of Michigan 4-H youth leadership, citizenship and service and global and cultural education programs, read our 2016 Impact Report: "Developing Civically Engaged Leaders." Additional impact reports, highlighting even more ways Michigan State University Extension and Michigan 4-H have positively impacted individuals and communities in 2016, can be downloaded from the MSU Extension website.
Other articles in series