Winter malting barley performs well in southern Michigan
Preliminary data from the winter malting barley trial at the W.K. Kellogg Biological Station shows promising yield results.
Beginning in 2016, the MSU Malting Barley Research Program began looking into the viability of winter malting barley to supply the burgeoning craft malt, and subsequently beer, industries. Much interest was generated in the crops' potential for increased yield, and even the potential for double-cropping with a later-planted crop such as soybeans. Researchers decided to enroll in the Winter Malting Barley Trial (WMBT), managed by the University of Minnesota barley breeding program, to access 30 promising winter lines to examine at the MSU W.K. Kellogg Biological Station (KBS). The WMBT is conducted in over 20 other states throughout the country.
The trial was planted Sept. 27, 2016 with a seeding rate of 26 seeds per square feet. A starter fertilizer was applied at planting and consisted of 20 pounds of nitrogen, 100 pounds of phosphorus, and 50 pounds of potassium per acre. There was good establishment and plant growth going into the winter, which saw a bit higher than normal precipitation, but mostly in the form of rain, not snow. Spring and summer were a bit dryer than normal. In April 2017, 102 pounds of nitrogen and 10 pounds of sulfur per acre was top-dressed. Fungicide was applied at heading to control Fusarium head blight. Although cereal leaf beetle had to be controlled in the spring barley crop, the earlier-maturing winter crop was not affected. The winter barley also appeared to control grass weeds better than the spring varieties. The WMBT was harvested on June 30.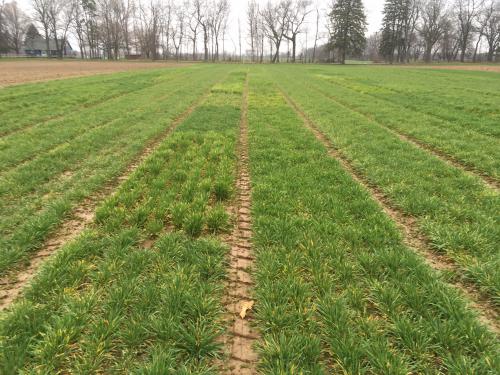 Preliminary results of the trial can be found at the MSU Extension Malting Barley website, which includes yield and test weight. A full quality analysis is underway at the MSU Malting Barley Quality Lab on each variety to determine its suitability for malting purposes. The yields, which averaged 130 bushels peracre, were very attractive, and the barley came off the field clean and bright, compared to the duller spring crop that typically is impacted by more disease and grain weathering. Furthermore, some of the varieties in the plot matured a full three weeks earlier than some of the more traditional varieties, leading to great potential for double-cropping. The WMBT will be repeated in the 2017-2018 season, along with a cropping system trial that will examine further the double-cropping option with some of the earlier varieties.
This trial was funded through an MSU Project GREEEN grant and is also supported through the American Malting Barley Association.
If you are interested in malting barley or malt production in Michigan, contact Ashley McFarland at 906-439-5176 or ashleymc@anr.msu.edu. McFarland is the Coordinator of the Michigan State University Upper Peninsula Research and Extension Center in Chatham, Michigan.
| | | |
| --- | --- | --- |
| Variety | Yield (bu/acre) | Test Weight (lbs/bu) |
| 05ARS561-208 | 94 | 42 |
| 06ARS617-25 | 135 | 46 |
| 06ARS633-3 | 104 | 44 |
| 07ARS515-7 | 110 | 45 |
| 2011-725-002 | 121 | 50 |
| 2014-519-08 | 128 | 51 |
| 2014-519-10 | 132 | 51 |
| 2WI14-7462 | 101 | 48 |
| 2WI14-7465 | 123 | 40 |
| 2WI14-7577 | 135 | 49 |
| 2WI14-7581 | 132 | 50 |
| AC09/327/2 (Lyberac) | 135 | 50 |
| Calypso | 155 | 48 |
| Charles | 109 | 41 |
| DH130004 | 108 | 48 |
| DH130718 | 115 | 49 |
| DH130910 | 154 | 48 |
| DH130939 | 146 | 52 |
| Endeavor | 115 | 48 |
| Flavia | 151 | 49 |
| Hirondella | 156 | 45 |
| LGBB13-W102 | 151 | 43 |
| McGregor | 163 | 47 |
| Mission | 117 | 44 |
| MW12_4007-001 | 123 | 45 |
| MW12_4028-007 | 119 | 46 |
| MW13_4107-010 | 110 | 44 |
| MW13_4159-012 | 112 | 43 |
| Puffin | 127 | 51 |
| SU-Mateo | 152 | 49 |
| Thoroughbred | 161 | 49 |
| Violetta | 140 | 49 |
| Wintmalt | 128 | 47 |
| Grand Mean | 130 | 47 |
| CV | 10.2 | 2.4 |
| LSD @ 5% | 21.6 | 1.8 |