Wyckoff & Madill share expertise on planning, placemaking and economic development
The Michigan Association of Planning hosted its annual Planning Michigan Conference Oct. 26-28, 2016, in Kalamazoo.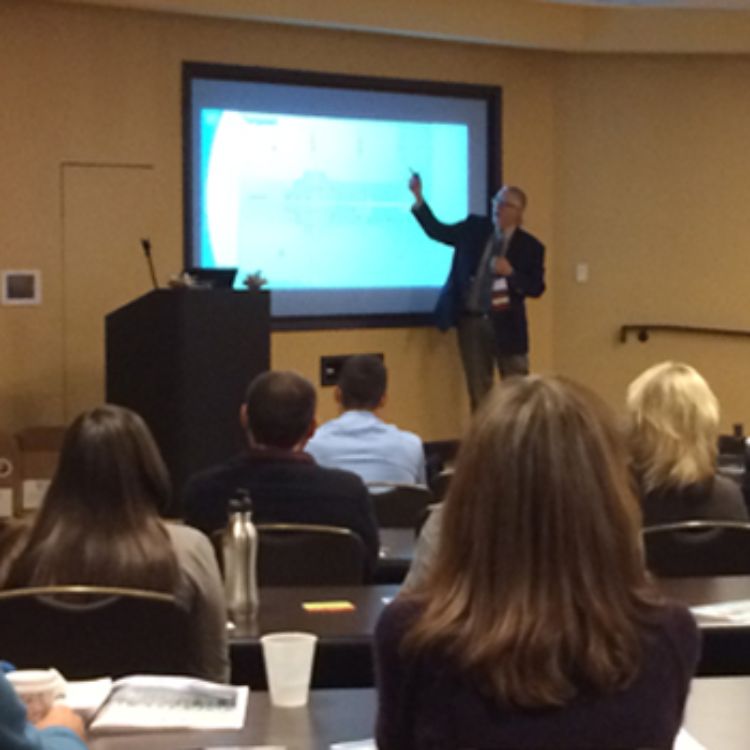 At 2016 Planning Michigan Conference
The Michigan Association of Planning hosted its annual Planning Michigan Conference Oct. 26-28, 2016, in Kalamazoo. With near record attendance, more than 600 planning professionals, planning commissioners, zoning board of appeals members, elected officials, engineers and other allied professionals convened to share best practices and ideas. Mark Wyckoff, FAICP, senior associate director of the MSU Land Policy Institute and director of the Planning & Zoning Center at MSU; and Holly Madill, LPI's outreach specialist, were on-hand to make presentations during the event.
On Thursday, Oct. 27, Wyckoff facilitated the plenary session to about 300 attendees titled, 21st Century Solutions for 21st Century Challenges. Eric DeLong from the City of Grand Rapids; Evan Pratt, PE, the Washtenaw County drain commissioner; and Rich Bowman from The Nature Conservancy explored how community planners are key implementation leaders for a new paradigm for infrastructure planning and investment. Local planners can also help elected and appointed leaders develop solutions based in thoughtful and efficient planning.
The panel discussed key principles included by Governor Snyder's 21st Century Infrastructure Commission, which was charged with identifying long-term strategies to help ensure Michigan infrastructure remains safe and efficient now and into the future. Though created in the shadow of the Flint water crisis, Michigan's infrastructure challenges have been in the making for many decades, but the findings of the Infrastructure Commission will guide decisions for decades to come. The commission will release its report at the end of the month.
Also on Thursday, Madill and Wyckoff co-presented the breakout session on Using the New Guidebook on Placemaking as an Economic Development Tool. The session helped about 40 participants learn how to put the Placemaking Guidebook to use when preparing for and implementing a placemaking project, using examples from both small and large communities.
Also, Wyckoff taught the Legal Aspects of Planning and Zoning session of the MSU Extension Michigan Citizen Planner Program, while Madill taught the session on Best Practices for Innovative Planning and Zoning Techniques to about 30 interested citizen planners from across the state.